Why GDC boss has fallen out of favour with board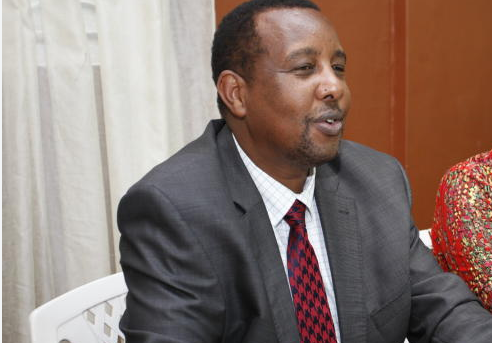 A bid by Geothermal Development Company CEO Johnson le Nchoe to bag three more years at the firm has run into the headwinds after the board returned a No verdict.
Plucked from a Liberian firm where he was rebuilding the country's electricity network, Eng Nchoe was appointed the company CEO on April 1, 2016 for a three-year term.
Late last year, and with his term grinding to a halt, he wrote a letter to the board copied to Energy Cabinet Secretary Charles Keter proposing to stay on for another three years.
But in February this year, the board chaired by lawyer Gershom Otachi held a special meeting in which they not only rebuffed his advances but also put ink to paper on the same.
Replacement
"At the 172nd Special General Meeting of the Board of Directors held at Kawi House on February 18, the board resolved to recommend to you that his term NOT to be renewed as per a copy of the resolution annexed hereto," the letter dated February 25 to CS Keter says.
Before moving to Liberia, Nchoe had previously worked as Chief Manager, IT & Telecommunications at Kenya Power until 2013.
At GDC, he was taking over a fully government-owned special purpose vehicle tasked with developing steam fields and selling geothermal steam for electricity generation to KenGen and to private investors.
"The board proposes to commence the exercise of recruitment of a replacement as soon as possible and seeks your direction in the matter," Otachi's letter on behalf of the board said. Besides Otachi, members of the board include new entrants Nelly Yatich, Kamau Kuria and Ann Too among others.
The board's recommendation against Nchoe comes at a time when it is reeling with possible loss of billions of shilling of in geothermal well projects, including the Sh1.4 billion loss to a Chinese firm.
Though, Nchoe had barely settled in office in April 2016 when the Chinese firm was awarded the tender.
Late last year, however, the board's audit committee returned a harsh verdict on the status of GDC field offices.
The Anne Too-led committee visit to Menengai Well 25, Tank area, Laydown One and Laydown Two painted a picture of a rundown institution whose multi-billion worth of equipment had been left idle and un-utilised.
It's Central workshop whose mandate is to service, repair and maintain GDC vehicles turned out to be a shell - poorly manned, underfunded and neglected. The workshop was found to have only three staff, all on temporary contracts.
"The workshop, spare part stored and rig spares stores have no CCTV. This reduces chances of accountability in case of insecurity," it said.
It found that despite the company's workshop having a spray booth and a wheel alignment facilities, they have never been used since installation in 2013. GDC vehicles were found to have been serviced, painted or aligned in private garages.
Never been cleaned
At the Laydown area, the committee found that there was no weighbridge to measure the quantity of the cement received from suppliers. Instead, the company was relying on a private weighbridge.
"Only 4 out of the 46 cement silos are installed with load cells, of which none of them is working. It is therefore impossible to establish the amount of cement in the silos at any one time," the report added.
Also, the board audit committee was shocked at the number of broken down vehicles. But it was the finding that GDC bought unsuitable buses that may have irked them most.
At the time, five of the 11 buses had broken down. The committee said they were unsuitable for the Menengai terrain.
"The buses should be disposed-off and better suited ones for the Menengai terrain should be procured," the board's final verdict on the buses said.
Still in Menengai, the firm's 50,000 litre fuel tank was found to have never been cleaned since it was erected.
Pastoralists set for export boon
Kenya is set to build Africa's largest livestock quarantine export processing zone in what is likely to more than double the income of pastoralist fam