Kenya denies imposing leadership on Jubaland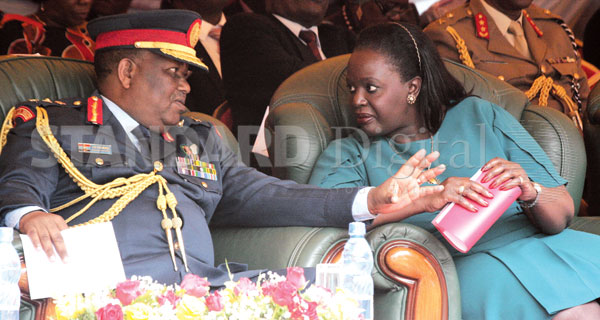 Chief of Defence Forces Gen Julius Karangi (left) and Defence Cabinet Secretary Raychelle Omamo at the National Defence College, Nairobi.
By CYRUS OMBATI
KENYA: Kenya has denied imposing leadership on Jubaland in a bid to deter terror activities from Somalia.
The Chief of Defence Forces Gen Julius Karangi said on Thursday no Kenyan was involved in the election of Ahmed Mohamed Islam, best known as Ahmed Madobe, as the President of the regional State of Jubaland on May 15.
Gen Karangi said the residents of the region held elections on their own and elected Madobe in accordance with their laws.
"It is a decision of their own and I cannot comment further because their constitution allows them to do so the same way they cannot comment on our elections," said Karangi.
He also said Kenyan troops under Amisom still control large parts of Jubaland and in particular Kismayu.
Protests
Karangi was reacting to protests from leaders from Mogadishu who claimed the Kenya Defence Forces were imposing leadership in the region.
Karangi said the troops control more than 300,000 square kilometres of the region and that they will leave the country after the African Union (AU) orders so.
"We are under AU and we will leave there if and when the AU orders so. I cannot say when the Kenyan troops will withdraw," he added.
He spoke yesterday after officiating the graduation of 41 officers from 13 countries who have been undergoing a one-year course at the National Defence College.
Karangi said the military in the area would remain neutral about the ongoing political process.
AU urged Mogadishu to "timely convene and lead a reconciliation conference" to chart out a way to set up an interim administration in regions recently liberated by Kenyan and allied forces.
Friday's decision was reached after the AU received a report from a confidence building team it sent to Mogadishu and Kismayu last week to sound out the various stakeholders on Jubaland state formation.
Call for single SME licence in counties
The Ministry of Industrialisation and Enterprise Development plans to harmonise licensing of Small and Micro Enterprises (SME) to make it easier to market their products in all counties.