Britam set to pay a Sh631m dividend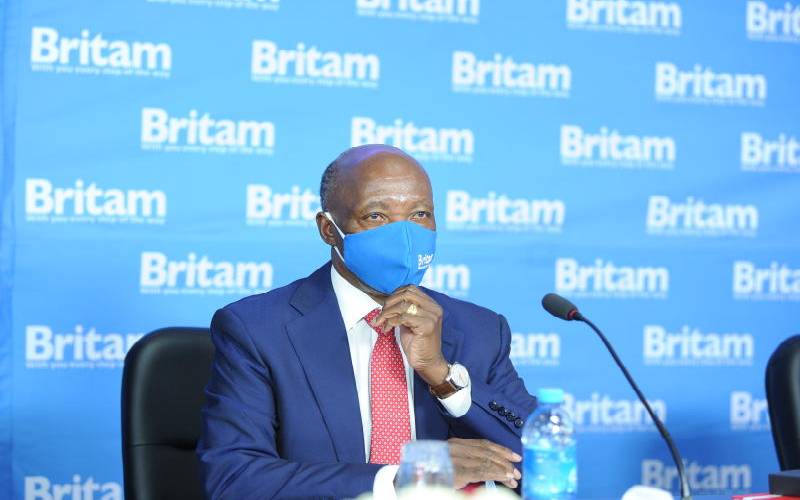 Shareholders of Britam Holdings have approved a final dividend of 25 cents per share for the financial year that ended on December 31, 2019.
The approval was made during the company's 24th Annual General Meeting (AGM), which was held virtually yesterday.
The group reported a net profit of Sh3.5 billion, in 2019 from a pre-tax loss of Sh2.2 billion the previous year, where no dividend was declared.
During the year in review, gross earned premiums and fund management fees registered a growth of 11 per cent.
This was at the backdrop of strong revenue growth in life assurance and international general insurance businesses which achieved growths of 17 per cent and 22 per cent respectively.
The life business continues to cement its leadership in the Kenya life industry with a 24.5 per cent market share, more than ten percentage points ahead of competition.
International business contribution to gross earned premium, grew to 19 per cent up from 18 per cent in 2018.
The firm, like other listed companies, held virtual AGM in a bid to comply with government guidelines banning large gatherings to contain spread of Covid-19.
Britam Group managing director Benson Wairegi noted that the global Covid-19 pandemic had introduced unique challenges.
"In these uncertain times, we at Britam have made it our primary focus to look out for the health and well-being of our employees, financial advisors and customers," Wairegi said.
"We have incorporated the guidelines provided by the government and introduced necessary measures to minimise the impact of the pandemic on our stakeholders."
He also noted that Britam's heavy investment in technology through the project Jawabu was paying off by ensuring business continuity during the quarantine period.
This investment in Information Technology (IT) has propelled the business, racking up a number of firsts in the industry - Britam Life Company was the first company to issue electronic policies (e-policies) and to provide monthly e-statements to customers.
"We are also the first company to enable our financial advisors to step into the 21st century with fully digital capabilities from the issuance of quotations to customers on boarding right through to the issuance of policies," Wairegi said. He added that the effects of Covid-19 would lead to a slowdown in the 2020 financial year.