Sign up or lose, State tells anxious Uchumi suppliers
The Government has told suppliers of the troubled Uchumi Supermarkets that they have to take the proposed bailout option.
Trade Principal Secretary Chris Kiptoo prevailed upon the suppliers to accept the deal to convert half of their debt into shares as "it was the only choice they had of getting back their money." "The Government is committed to providing the necessary support but it is hinged on suppliers signing the deed," said Dr Kiptoo.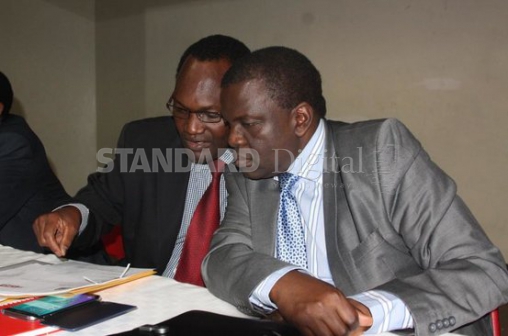 The issue of bailing out the retail store by suppliers was described as a "do or die." Suppliers of embattled Uchumi Supermarkets agreed to sign an agreement that would see them convert their debt into equity in a meeting held at Ufungamano House, Nairobi.
In a stormy meeting between Uchumi's leadership and suppliers yesterday, the suppliers agreed to convert 50 per cent of their old debts, about Sh1.8 billion into equity. The retailer owes suppliers about Sh3.6 billion.
The lawyer for suppliers Maurice Mutua Kimuli told the suppliers that should they agree the retail chain to be wound up, which was the only other option, they would get nothing. There is already a court case filed by one of Uchumi's suppliers petitioning the court to declare Uchumi insolvent.
Chief Executive Officer of Jamii Bora, Uchumi's main shareholder said he has reached to the other main shareholders who said they had no problem with their stake being diluted. An analysis done by Standard Investment Bank, based on the retailer's current share price at the Nairobi Securities Exchange, shows a sharp decline in stake held by the current owners that include the State.
"According to our estimates, against Wednesday's share price of Sh3.50, current investors could face a dilution of about 58.5 per cent," SIB said in a note to investors. Suppliers will in effect be jointly the controlling shareholders. After signing the deed, the suppliers are expected to begin delivering goods to the supermarket whose shelves have been running on empty as soon as next Monday.
However, shareholders of the 40-year-old retail chain will have to keep their fingers crossed as the revival is premised on a number of conditions. Suppliers will be expected to walk the talk and actually convert 50 per cent of their old debts into shares to the company. Moreover, the company will pray that the Cabinet discusses and approves a bail-out package of Sh1.2 billion from the Government.
Also, the suppliers who have sued the company for winding up will be expected to withdraw their case so that the retailer can receive much-needed credit from banks.
Dr Kiptoo said that in Uchumi there is also a moral-hazard that needs to be dealt with before the government can pump in money. The Sh1.2 billion from government will be used to pay about 800 suppliers with debt of less than Sh200,000.
Uchumi CEO Julius Kipng'etich said they have since discussed with the regulator Capital Markets Authority (CMA) on the modalities. Dr Kipng'etich also said the company's efforts to cut out waste which included laying off 2,300 employees, closing seven of Kenyan branches as well as regional branches in Uganda and Tanzania, has started bearing fruits.
He noted that earlier they used to lose around Sh200 million in a year, but now this has been reduced to Sh50 million. "What Uchumi is now lacking is stock. The cost side of the business has already been settled with," said Kipng'etich.
Escrow account
"That is why we assume that we will pay you every 30 days." They have also narrowed down to three strategic investors, out of which they will pick one. Uchumi also estimates that the firm will cruise into profitability by August 1 and thus be able to pay all the outstanding debts.
Nigerian-based UBA-Kenya, for example, has about Sh300 million that they are supposed to advance to the retailer but are held back by the petition. They will also be hoping that Uchumi's share price currently trading at Sh3.50 more than doubles in a year. He gave the example of 2006 when Uchumi suppliers bought shares at Sh10 only for them to appreciate to Sh22 in five years.
About 80 per cent of net proceeds from the sale of land will be used to pay part of the outstanding debts, while 100 per cent of Sh1.2 billion from government will be used to pay the remaining debt. The parties also agreed to open an escrow account since they do not trust each other. All goods sold for the new suppliers shall be deposited in this account and used to settle debt.