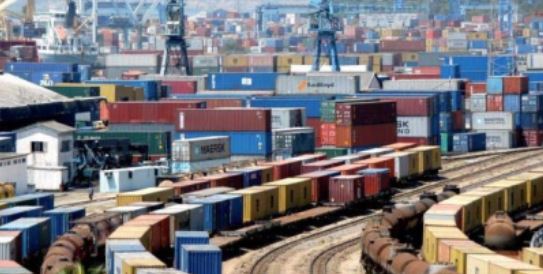 NAIROBI, KENYA: Trade flowing from the East African Community to the Democratic Republic of Congo is declining to leave the market of over 80 million people to be dominated by imports from China and South Africa.
The findings in the report titled "The opportunities for trade in the Democratic Republic of Congo" reveal that 47 per cent of the DRC's imports are dominated by two supplying markets (China and South Africa) and that the DRC is sourcing most of what the EAC can ably supply from very distant markets.
Given its geographic proximity, the EAC is better placed to supply most of that the DRC imports. The findings reveal that trade flows from the EAC into the DRC are declining, except exports from Rwanda and Uganda.
According to the report, the value of goods imported in the DRC in 2019, stood at over Sh600 billion. However, EAC exports to the DRC in 2018, stood at Sh92.8 billion, representing 11.5 per cent of total DRC imports.
Read More
The value of EAC partner states exports to the DRC in 2018 were as follows; Rwanda - Sh36.6 billion, Uganda - Sh22.1 billion,Kenya- Sh16.1 billion, Tanzania- Sh15.7 billion and Burundi at Sh2.0 billion.
The study reveals China is the top exporter to the country commanding a share of 31.2 per cent, followed by South Africa at 15.8 per cent and Zambia 13 per cent.
During the launch of the study, EABC CEO, Dr. Peter Mathuki urged EAC partner states to fast-track the admission of DRC into the regional bloc noting that it sources for goods that the EAC can ably supply, from very distant markets.
"DRC will benefit from the larger EAC Common Market and Common External Tariff framework. It will also have access to seaports of Mombasa and Dar es Salaam at competitive rates. Their huge population of 81 million people also provides a vast opportunity for SMEs from the EAC region," Dr Mathuki said.
The study finds that non-tariff barriers in DRC have hampered business translating to the high cost of doing business in the country.
"EABC being the apex body for the private sector in the region will play a critical role in advocating for ease of doing business in DRC which will in turn lower cost of doing business, making DRC competitive, as we prepare to join the African Continental Free Trade Area (AfCFTA)," Dr Mathuki said.
The study reveals that there is a large market for SMEs in EAC partner states in various sectors. It made recommendations for particular niche areas where SMEs can take advantage of. This includes; SMEs in the textile clusters particularly those handling clothes made from cotton.
SMEs handling processed foodstuffs such as raw cane sugar and sugar confectionery; food preparations, such as tomato sauce, vinegar, and baking soda; plastic and rubber.
Trade opportunities for Kenya's Small and Medium Enterprises in processed foodstuff cluster include
Food preparations, preparations for sauces-excluding soya (2103.90), active yeasts (2102.10), protein concentrates (2106.10), prepared baking powders (2102.30) and tomato ketchup and other tomato sauces (2103.20).
However Kenyan SMEs should expect competition from; Belgium, South-Africa, China, and France.
For SMEs in the sugar and sugar confectionery business; raw cane sugar (1701.14) and Chewing gum (1704.10) are promising sectors, and they should expect competition from Zambia, Brazil, and India.
Manufactures of Tomatoes, preserved otherwise than by vinegar or acetic acid (2002.90) ought to explore the DRC market and should expect competition from South-Africa, china, Belgium and Zambia.
SMEs in the textile cluster
For Kenyan and Tanzanian SMEs in the textile sector, the products that present a good potential for growth are; Men's or boy's trousers and shorts of cotton, knitted (6103.42), Jerseys, pullovers, cardigans (6110.20) and Women's or girls' jackets and blazers of cotton (6104.32).
Plastics and Rubber clusters
The East African Community (EAC) SME's in the Plastics business ought to explore the following categories of plastics: •Polypropylene, in primary forms (3902.10) •Acrylic polymers, in primary forms (3906.90) •Articles of plastics (3926.90) •Sacks and bags, incl. cones of polymers of ethylene (3923.21) •Plates, sheets, film, foil, and strip (3920.10).
SMEs dealing in rubber products ought to explore the following products: •New Pneumatic tyres of a kind used on construction, mining or industrial handling (4011.80), •New Pneumatic tyres of a kind used for buses and lorries (4011.20), •Gaskets, washers and other seals of vulcanised rubber (4016.93)and Articles of vulcanised rubber (4016.99).