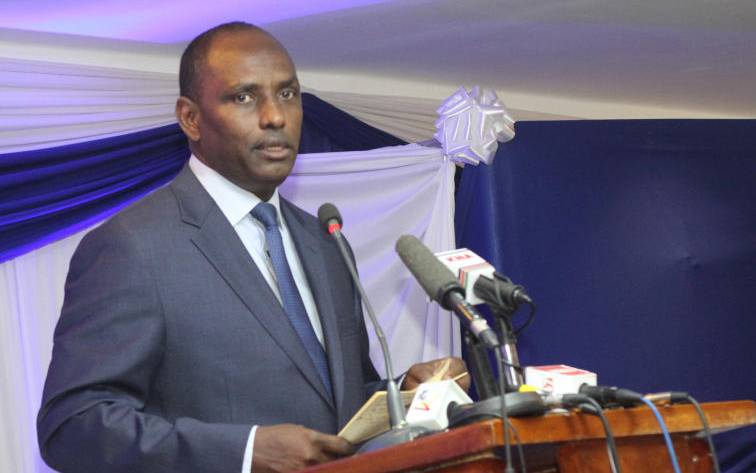 The Government has announced planned austerity measures to scale down expenditure owing to the shrinking revenue competing with ballooning public debts. In a memo drafted by the acting Cabinet Secretary of the National Treasury and Planning Amb Ukur Yatani, sent to cabinet secretaries and departmental finance officers; the Government plans to cut spending across various areas. The CS states in the memo that the decision is in coherence with the pursuit of the Big Four Agenda, and that it is only prudent that the Government lives within its means. It has also advised the County Governments to follow the norm as the bid to scale down on recurrent expenditure takes effect today. The memo partly reads:
SEE ALSO: President Uhuru signs six Bills into law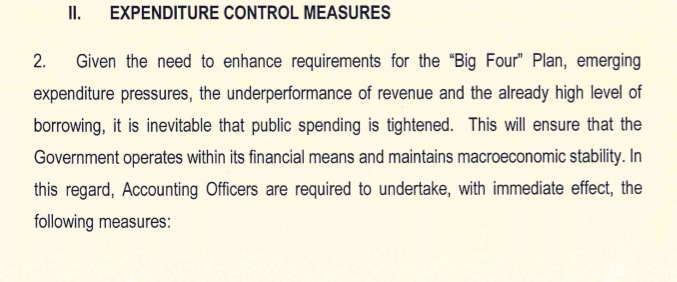 A scale-down on spending will affect various sectors, with mainstream media being the likely casualty after the withdrawal of adverts on newspapers. "Accounting Officers should henceforth stop the usage of newspaper supplements to publicize strategic plans, service charters or events and emphasize the use of Ministry's websites," the memo states in part. This will equally extend to the reduced purchase of the copies of newspapers which the government intends to minimize to one quarter. The Government has directed that government-sponsored courses be provided in the country to avoid offsetting training bills outside the country. To that effect, the State has decided that where possible, the Embassies be utilised and teleconferencing be used for learning to save costs of travels.
SEE ALSO: Lack of proper data key challenge to achieving SDGs: CS Yattani
The Accounting Officers have been instructed to ensure that costs to be shouldered by the government during travels fit only a small group of government officials. In the memo is a proposal to reduce the number of individuals accompanying cabinet secretaries and principal secretaries abroad. Even those who travel will be required to provide a befitting reason for that. The memo states: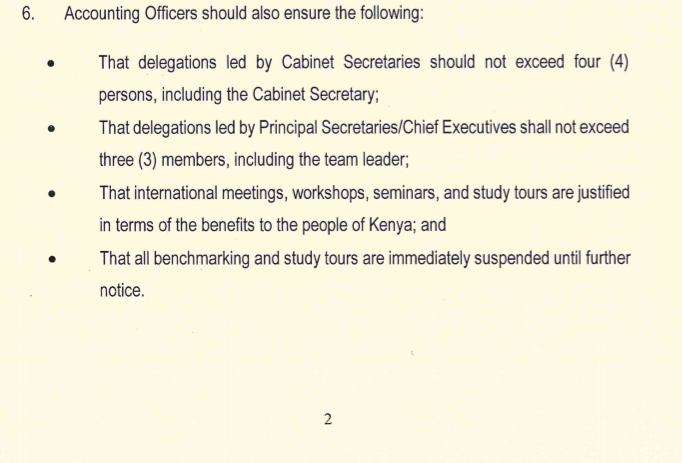 Also affected is the airtime allowance which has been sliced by 30 per cent. According to the memo, internet calls could be the best bet in cutting down such costs. There is also a reduction in the purchase of furniture by 75 per cent. The memo is categorical that government officers on commuter allowance found to be using government transport outside working hours will be charged.
SEE ALSO: Treasury to try re-introducing betting tax by December
On the measures to curb wastage on transport the memo states: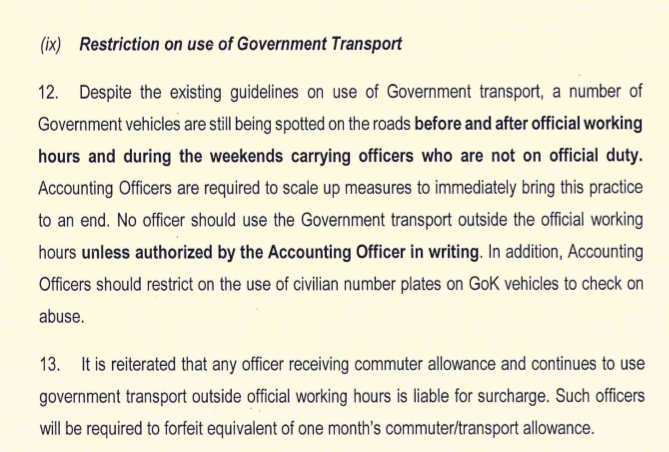 The move comes after President Uhuru Kenyatta signed into law the Division of Revenue Bill 2019 paving the way for the release of funds to counties on September 17, 2019. The new law allocates Sh378.1 billion to county governments for the 2019/20 financial year. Out of the total allocation, Sh316.5 billion is the equitable share of national revenue while 61.6 billion are conditional allocations to the devolved units. The total allocation of Sh378.1 billion to county governments represents 36. 46 per cent of the audited and approved revenue of the National Government for the financial year 2018/19 against the constitutional threshold of 15 per cent. The National Treasury has already disbursed over Sh50 billion to counties for the months of July and August. Additional reporting by PSCU