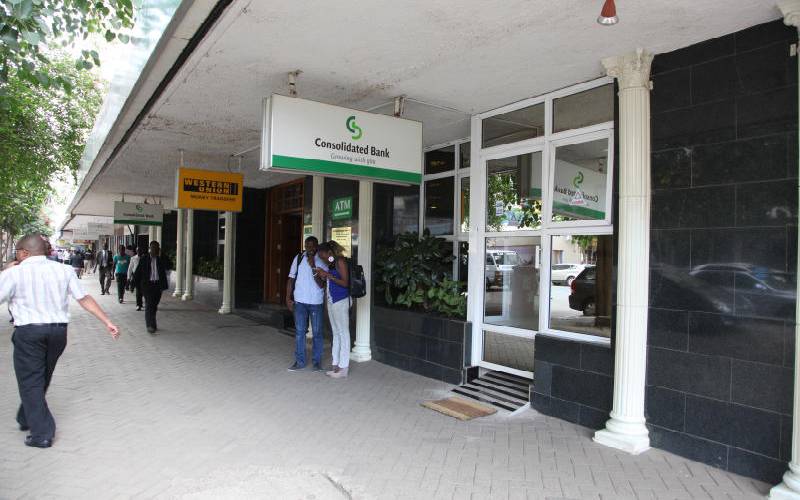 Troubled Consolidated Bank has pleaded with investors to give it three more months to pay its Sh1.5 billion seven-year bond. In a statement published yesterday, the lender said it had requested for an extension, pending capital injection from Treasury, its largest shareholder. The bank, which for the last four years has been in breach of critical capital adequacy ratio, was to pay an outstanding Sh1.5 billion to holders of senior notes as part of the Sh2 billion medium note issued on July 30, 2012.
Final payment
SEE ALSO: Laikipia saccos to access loans at 5pc
"The bank through the Note Trustee has communicated to the noteholders informing them of its intention to propose an extension of the maturity by three months on the same terms. "The last and final payment of the outstanding principal payment (together with interest for the extended period) would be made on 22nd October 2019," said Consolidated Bank in a statement in the local dailies signed by its company secretary Wakonyo Igeria. The proposal for the extension of the maturity dates, Mr Igeria noted, was reached after consultation with the National Treasury which owns 85.8 per cent of the bank. "The extension is necessary to allow National Treasury to finalise the process of capital injection into the bank," he explained. Efforts to get a comment from National Treasury Principal Secretary Kamau Thugge on when they would recapitalise the lender were futile as our texts went unanswered by the time of going to press.
SEE ALSO: Kenya's coveted corner offices where careers end in tears
Other shareholders of Consolidated Bank include the Local Authorities Pension Trust, the Local Authorities Provident Fund, NSSF, Kenya Reinsurance Corporation and Co-operative Bank of Kenya. The bank was, however, to pay the interest rates technically known as coupon yesterday.