By Moses Njagih
The giant mugumo tree rises from three sturdy trunks to tower above lush vegetation on the slopes of the Aberdare Ranges, as though imposing its importance among the jungle foliage.
The stout tree trunks, interspersed magnificently and veined with rugged strips of bark and tendrils, tell of its great age but imply nothing of its rich history.
Its branches extend to a wide radius casting a cool shadow that offers an ideal shelter for herds of grazing wild animals at the Aberdare National Park, where it is centrally situated.
Read More
But, over 50 years ago during the height of the struggle for independence, the trunks of the spectacular mugumo attracted more than buffaloes and zebras.
Mau Mau freedom fighters who had taken refuge in the Aberdares among other hideouts made the tree a secret rendezvous for fighters and messengers and also made the gaping crevices on its trunks their 'post office'. Commanders of the two main battalions in the forest would leave each other letters. Fighters based in Mt Kenya Forest also found the 'post' office and used it to communicate with their counterparts.
To most of the fighters, the tree came to be known as the Kimathi Post Office, in respect to their leader, Field Marshal Dedan Kimathi, who was said to have mooted the idea of having one point where Mau Mau would deliver and collect letters to communicate with sympathetic villagers and among troops.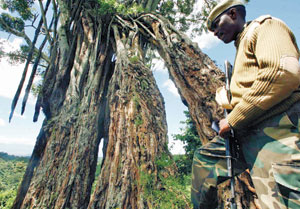 A KWS ranger stands guard during a survey by journalists of the tree in Aberdare Forest once used by the Mau Mau as a 'post office'. [PHOTOS: GEORGE MULALA/STANDARD]

The mugumo tree was said to have become a popular communication point from 1952 at the height of the Mau Mau uprising against British colonial rule. Former freedom fighters say the secret 'post office' was remained undiscovered by the colonial forces who often penetrated the forest, until towards the end of the war when one officer stumbled on it.

Ideal secret

Former freedom fighter Theuri Njugi, alias General Kimbo, says it was Kimathi who pinpointed the tree as an ideal secret 'post office' as it had natural deep crevices into which written papers could be tucked in and remain undetected.

"Mau Mau messengers knew the crevices like post office boxes. They knew where to place which letters for whom. Messengers coming for letters for their generals would retrieve them from those 'boxes', mostly in pitch darkness," says Njugi.

Njugi says a specific person would be selected by the Mau Mau team leaders and would scribble a note using charcoal or even blood after cutting their flesh. Since paper was rare, a piece of animal hide, rubbed to become soft, was the common writing material on the inner side.

"Messages had to be short and coded, like 'sunset will be at 3am'. That would mean an attack at that hour and a call for reinforcement of troops," Njugi recalls.

He says the messengers operated under cover of darkness to and from the 'post office' and slipped or retrieved notes from various 'post boxes'.

"The whole thing was risky and had to be done in haste," says Njugi, adding that though many fighters were in the forest, not all of them were let in on the secrets of the 'post-office'.

Betrayal

"We feared that our colleagues who found it difficult waging the war and opted to surrender to authorities might betray us. Those given the responsibility had to be strictly vetted and given an oath of secrecy," says the former Mau Mau general.

Njigi emphasises the importance of the mugumo tree to the freedom struggle, saying communication on revolutionary co-ordination of the war between the troops in Mt Kenya and that in Aberdare was crucial.

He says that contrary to what many Kenyans believed, the two troops were well commanded and co-ordinated under various generals.

"If all the secret information that passed through this tree was documented, Kenyans would be baffled at how organised our army was. The tree was the silent listener to every revolutionary conversation that eventually aided our fight," said Kimbo during a Madaraka Day interview at his Kieni home where he settled after moving out of the forest.

Struggle symbol

He added: "Messages of victory, of defeat and subsequent plans on the war would be communicated through this tree. To those of us who operated from the forest, it was an important symbol of the struggle."

Another freedom fighter Field Marshal Muthoni Kirima says without a central communication point, it would have been impossible to co-ordinate troops.

"There were brilliant people like Kimathi who knew that for the war to be fought effectively, communication was crucial," she said at her Pembe Tatu Estate home in Nyeri town.

Muthoni said even when Mau Mau fighters wanted food or other basics from the village, they would pass the information through a note where a selected person in the village would mobilise other residents to contribute food, which would secretly be taken to the post office for collection.

Sadly, Muthoni says, a European official later came to know about the post office, although much later in the struggle.

"We suspect that one of those people who had surrendered had been tortured and forced to reveal deep secrets. Some messengers were arrested when they went to pick notes. That is when we stopped making use of it," she said.

The tree, which still stands firmly rooted to the ground, is now a protected monument which attracts many tourists visiting the national park.

However, the park's road network is poorly developed and only tourists with hardy off-road vehicles can manage to reach the steep incline where the tree is located.

Even as KWS says it is in the process of upgrading infrastructure in the park, the challenge of accessing some of area's in this wildlife-rich sanctuary remains its big drawback.

Wildlife in the park has been increasing in leaps and bounds after the recent completion of a fence project that locks animals in and protects underlying farmlands.