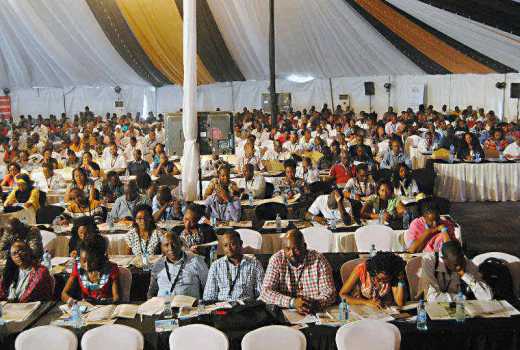 The umbrella body for certified accountants in Kenya has opposed plans to review the interest rates cap law, saying the challenges that led to its introduction have not been addressed.
The Institute of Certified Public Accountants of Kenya (Icpak), which boasts of 23,000 members, said it was too soon to evaluate or assess the impact of the law on lenders and borrowers.
"Our position is that the interest law cap should be retained. The reasons or challenges that informed the move have not been addressed," said Icpak vice-chair Rose Mwaura.
The law, which came into effect in September 2016, sets maximum lending rates at not more than four per cent above Central Bank of Kenya's base rate. Currently, the base rate is at 9.5 per cent.
Recently, President Uhuru Kenyatta appeared to support the push by financial institutions to have the law repealed, saying it had stifled or led to slow loans uptake.
Read More
Small enterprises
Yesterday, the accountants said repealing the law would lead to the crowding out of small enterprises and individuals like was the case before rates cap was introduced.
"Market fundamentals that would allow the market to operate freely without disadvantaging private firms and SMEs should be put in place before the cap is removed," said Mwaura.
Accountants from across the country are meeting in Mombasa for their annual summit, where they are deliberating on, among other things, rising corruption in the country.
Icpak chairman Julius Mwatu said accountants also support the roll-out of accrual-based accounting for the public service, saying the move would solve issues of pending bills.
Reports by the Auditor General and Controller of Budget indicate that by September last year, county governments' pending bills stood at Sh99 billion.
According to the report by the Inter-Governmental Budget and Economic Council the counties were supplied or issued contracts in the hopes that local revenue collection would increase.
"Accrual-based accounting for public service will ensure that State agencies live within their means. It will lead to sound financial management," said Mwatu.
Graft war
He said Icpak was also concerned that the implementation of the Big Four agenda could lead to the duplication of development projects by the national and county governments, adding that the fight against corruption should have focus on Uhuru's agenda.
The accountants also questioned the Government's failure to make the public-private partnership model to work.
They called for the model's revision, noting that no major project had been realised since its enactment in 2013.