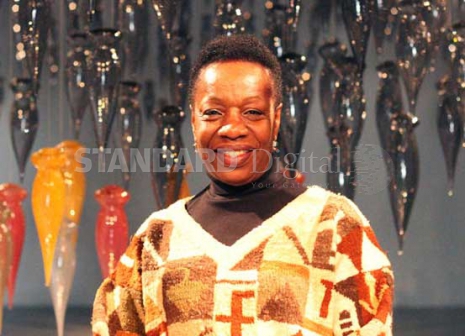 Kenyan born Prof Magdalene Odundo was recently appointed the chancellor of United Kingdom's University of Creative Arts, the first specialist arts university in the UK. After an illustrious career as a creative, she now occupies one of the highest position in art academia. She takes over at a time when governments around the world regard art almost as a bother, with art often being the first victim of funding cuts, and in some other instances such as within the Kenyan education system, being almost erased from curriculums. In a candid interview with the Sunday Standard writer Daniel Wesangula, Prof Odundo talks about her much celebrated position, life as an African academic abroad at a time of African awakening as well as the importance of maintaining art courses in all levels of education. She also tells us about some of her most memorable art exhibitions in her career as an artist that spans decades.
Where were you born?
Nairobi, at Pumwani Hospital.
Could you tell us a bit about your family background?
My immediate family is not large. However, I am part of a very proud very closely knit extended family who live in Kenya and overseas. We all work very hard, have fun and laugh a lot when together, care for each other but also cherish our privacy as a family.
Read More
My home is in Bunyala in Budalang'i, Busia South, Western Kenya. Like most Kenyans of my generation, I started school in Nairobi but during my youth and teenage years, we lived in Mombasa where Kiswahili became our first language.
What has your educational journey been like?
I loved school and as far as I remember. I went to primary schools in Nairobi at Our Lady of Mercy, Shauri Moyo, then Marycliff, Tudor, in Mombasa. I then went to secondary school at Loreto Convent, Limuru, and did my A levels at Pangani Girls. I became an apprentice at SH Benson Advertising Agency (Ogilvy & Mather) and took part-time commercial art classes at Kenya Polytechnic in 1968. Before that, I won the youth Blood Donors poster design competition and received a camera, which I still have, won the Esso youth calendar painting competition, the National Youth Festival Poster competition (used countrywide to advertise the festival) for two years running. The 1967 prize was awarded by the late Tom Mboya. I then worked for Neon General sign manufacturing company as an assistant sign designer and quality controller, before leaving for the UK in 1971.
Does your middle name, 'Namakhiya' have a meaning? If so, which one?
Namakhiya is my clan name and I choose to use it because it gives me that filial identity and association. It is who I am and who I belong to but nothing more than that.
How did you get interested in ceramic works and photography?
I became disenchanted with commercial art and advertising because at the time, advertising was very consumer led. I thought it was materialistic and not educational in an African context. I found ceramics more creative as it gave me an individual and personal sense of engagement with the material. Printmaking allowed me to be more abstract using a flat canvas to work on and photography a means of observing the world through a lens, if you like. In a way, watching what was going on from a distance.
Could you tell us a bit about your years at British universities, first as a black student in the arts as well as a teacher at a time of global black awareness?
I went to Cambridge Art School for my foundation. While there, I mingled with the brightest African students. One time, former Foreign Affairs minister in the Jomo Kenyatta government, Dr Njoroge Mungai, came to spesak. I also clearly remember Wole Soyinka's presentation and being mesmerised by it.
These gatherings gave us a good sense of belonging and made us aware of the drive for African freedom and independence movements such as the Black Power movement, the philosophy of negritude, books, music and so on. When I made the switch to study crafts at Farnham, the notion of who I was had been firmly instilled. I was comfortable to be part of the journey of being an artist from Africa, researching and discovering more about African art and culture, and more importantly learning how to make my own work. Therefore, being at Farnham and later at the Royal College may have been challenging but perhaps not an identity problem, although I was aware of the ongoing racial issue.
The broad liberal arts programme at West Surrey College of Art and Design was based on practice with academic support in art history and complementary studies, and supported elective study and the development of a strong visual portfolio. That disciplined routine suited me and was exactly what I needed. I continue to work in printmaking, photography and enjoy life drawing and sketching.
Who are the biggest influencers in your work?
My teachers at Farnham, including the school head, were of great influence. I do, however, owe my career as a ceramics artist to my foundation pottery teacher at Cambridge Art School, Zoe Ellison, who persuaded me to go to Farnham to study under Henry Hammond. When I left Farnham in 1976, I went to work at the Commonwealth Institute in museum education before going to the Royal College of Art. It was only when I left the Royal College of Art in 1982 that I realised what a privilege it had been to work under RCA tutors who included Eduardo Paolozzi and Lord David Queensberry, a great mentor and friend.
As an African, what would you say is the role of art in society in an era where many governments, such as Kenya's, are driving students towards the sciences?
African countries are not the only ones misdirected in dividing sciences and arts into two different studies. You only have to listen to the political leaders in America and Europe declaring cuts to education and support of arts and sports. The irony is that these same politicians love being seen at theatres and sports arenas, opening events and giving out medals. They ignore or forget that they and their partners are dressed in clothes designed by people who went to art schools, and that their logos are designed by artists. They have paintings in their offices, sit on chairs made by artisans, drink from cups made by potters, use silver cutlery by silversmiths, and toast their successes from beautifully cut glass. The film and media industry generate enormous income, and we must not forget that the digital world began its life as an art form. Creative arts contribute more to the economy than is acknowledged.
Of all the exhibitions you have had over the years, which one has stood out for you and why?
It is always the present that stands out. Universal and Sublime at the High Museum, Atlanta, is a highlight so far. "Universal and Sublime: The Vessels of Magdalene Odundo" is an exhibition that traces the trajectory of my work over the course of three decades, from its genesis in the early 1980s through the most recent innovations. It closes on October 15.
Any advice for upcoming artists, particularly those in artistic fields that might be looked at as unconventional on the journey to success?
Art is not an alternative; it is what you want to do and who you want to be. Professions and practices that involve making art, music, writing, acting, or being a curator, museum director, photographer, gallery owner or designer are just as important as becoming a lawyer, doctor, mathematician, banker, politician, road sweeper or grocer. These occupations have always co-existed. I would say, persist stubbornly with your passion to be an artist, be focused and work hard.
Any plans on coming back home and maybe establishing an arts university such as the one you will soon be heading?
I come home when I can. Kenya has established art departments at Kenyatta University and the School of Art, University of Nairobi. The potential is there for these two to develop into fully fledged international art schools. A new art school is not going to be more beneficial. Creating and supporting an international postgraduate and art research centre at an institution like Kenyatta University that can attract international students would be more helpful. It is imperative to support art organisations, museums, projects such as the Godown Art Centre, art initiatives and the work that they do. The government should reintroduce art, music, sports and cultural studies in schools, supporting them financially at higher education. We need funding support and patronage, and more trained art teachers to educate and mentor the next generations.