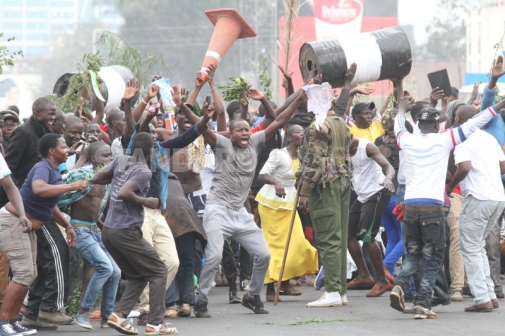 No one could stop them. They could not be contained. Kenya's largest informal settlement of Kibera was like a river that had burst its banks in a rainy season. It was song here, a dance there, screams on the other end with every one shouting at the top of their lungs to have their voice count in what has become a historic occasion in the country's democracy. Known for its loyalty to the National Super Alliance(NASA) Presidential Candidate Raila Odinga, the picture portrayed on Friday after Supreme Court nullified the August 8 presidential election was a total contrast compared to when the results were announced just weeks before. Despite the heavy presence of anti-riot police in the area and its environs armed to teeth with guns, clubs and teargas canisters, none was put to use.
SEE ALSO: Rasta Lawyer Mathenge: Legalize it!
There was no gun shot, no stone thrown and the police seemed to uphold the constitution for the first time in the area by providing protection to the residents who were celebrating 'violently.' Before Chief Justice read the ruling, areas of Ayany, Kamkunji, Olympic, Makina were calm with business running as usual and the roads clear. But when Chief Justice Maraga made the pronouncement, the mood immediately changed. Business came to a standstill with people flocking the roads chanting the famous NASA tag lines of 'Tibim' and 'Tialala'. Placards, and posters of Raila emerged from nowhere and the message was clear: "For the first time we have seen justice in Kenya." Another message written on a manila paper read: "Maraga Tibim. Justice at long last. God bless us."
SEE ALSO: Judge temporarily halts release of tell-all book by Donald Trump's niece
Even well-dressed men and women who appeared like they had just sneaked out of their offices went on undressing, 'twerking' and sprawling themselves on the already heated tarmac road to show their excitement. Police who were stationed at Ngong Road which is under construction could do nothing but watch in amazement. The most they could do was just to plead with the residents not to head to the city centre. Interestingly, they obliged and turned heading to Olympic next to Kamkunji grounds where Raila made his first rally after the pronouncement by the Independent Electoral and Boundaries Commission (IEBC) declaring Uhuru Kenyatta winner of the August presidential election. It is here that hell broke loose as the crowds blocked the roads that even public service vehicles could not operate. During all this commotion, no one torched a stall or a matatu with some of the drivers explaining how scared they were.