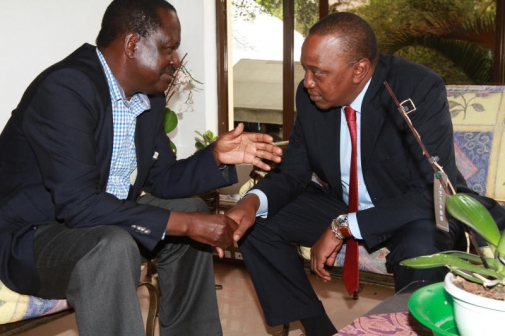 Latest opinion polls have suggested the presidential election is too close to call.
Two pollsters had President Uhuru Kenyatta and his main challenger Raila Odinga in a neck-and-neck race.
To be declared winner in the first round of voting, the winning candidate must garner 50 per cent plus one of the total votes cast.
The polls showed a sizeable number of undecided voters could settle the contest in the first round should they back either of the two leading contenders.
Sunday, with just 14 days to polling day, an Ipsos survey showed President Uhuru leading with 47 per cent and Raila at 43 per cent.
Margin of error
And considering Raila's popularity has gone up by one per cent, with the survey's margin of error of +/- two per cent, both leaders are now in a neck-and-neck race to State House at an average 45 per cent preference for both.
Separately, an Infotrak poll indicated Raila, the National Super Alliance (NASA) flag bearer, was slightly ahead with 47 per cent compared to President Kenyatta's 46 per cent.
Infotrak's survey had a margin of error of +/-2.1 per cent, which puts the two leaders on rather the same level.
However, Ipsos lead researcher Tom Wolf and Infotrak's Chief Executive Officer Angela Ambitho insisted "chances of a run-off are very slim".
This was based on the five per cent of voters who are still undecided as per the Ipsos release and six per cent according to Infotrak.
Dr Wolf said since there is no ballot with 'undecided' option, it means at the end of the day, this group has to make a decision.
"Elections can be won in the first round if the six per cent of the undecided voters are won over and convinced by the two (Uhuru and Raila)," added Ambitho.
When the numbers narrowed down to regions, it is the Musalia Mudavadi and Moses Wetang'ula's Western turf that has the highest number of undecided at 14 per cent according to Ipsos and 17.8 per cent as per Infotrak's numbers.
In this region, Ipsos shows the Raila-led NASA enjoys a 56 per cent preference of presidential choice compared to the Jubilee Party's at 22 per cent. For Infotrak, it is 66 per cent for Raila compared to 15 per cent for Uhuru.
Out of the eight regions (former provinces), each of the two presidential candidate also enjoy preference in four areas.
While Uhuru leads in Central with 88 per cent, Raila takes lead in Nyanza with 76 per cent as per the Ipsos numbers.
In her survey that sampled 2,000 respondents, Raila is also gaining momentum in Rift Valley at 38 per cent against Uhuru 57 per cent.
"Generally, it is two-horse race between Raila and Uhuru because all the other candidates combined make up just one per cent," said Ambitho.
Interestingly, according to the surveys, the country's direction and how people's lives have changed have very little to do with Kenyan's decisions on the ballot.
This is despite President Kenyatta taking the biggest chunk of the blame at Infotrak's 54 per cent followed by politicians as a whole at 18 per cent.
Infotrak indicated at least 49 per cent of Kenyans believed the country was heading in the wrong direction compared to 47 per cent who held a contrary opinion.
But it is not all who will be voting, as Ipsos revealed.
According to the poll carried out between July 3 and 12, the major reason why there might not be 100 per cent voter turn out is that some polling stations are far as documented by 24 per cent of the 2,209 Kenyans who were polled.
Another 26 per cent may skip voting due to lack of confidence in the electoral body and fear of violence.
True results
An earlier poll by Ipsos dated July 20 revealed only four out of 10 Kenyans had a lot of confidence that the Independent Electoral Boundaries Commission (IEBC) would announce the true presidential results.
According to the findings as released by Ipsos, only 46 per cent of Kenyans believe the Wafula Chebukati-led commission will declare the true presidential election results.
The rest of the population is either somewhat confident in IEBC's ability (29 per cent), not very confident (13) and not confident at all at six per cent.
However, of the 46 per cent who are 'very confident', a majority of them (63 per cent) are Jubilee Party supporters while those of NASA who share the same opinion are almost half at 33 per cent.