Two-horse presidential election would save all of us a lot of trouble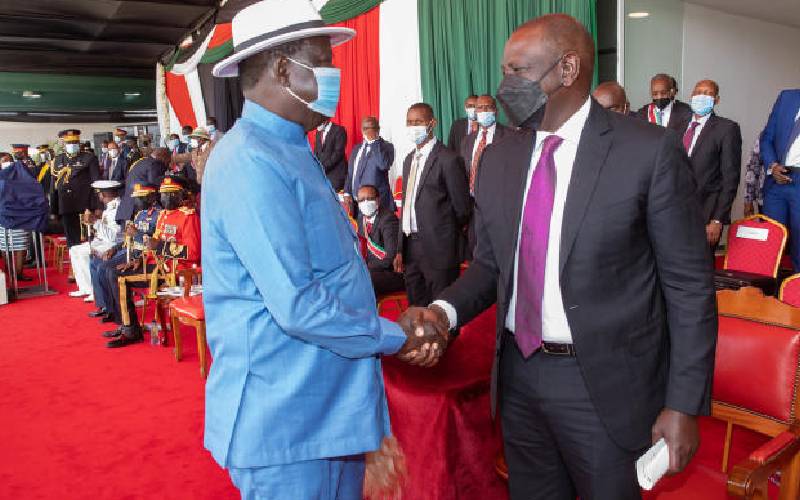 Early last year, a journalist asked Baringo Senator Gideon Moi about his relationship with Deputy President William Ruto. Without hesitation, the senator replied, "I love him as much as he loves me".
The answer spoke of intelligence, circumspection and situational awareness. I leave to your imagination what the other party would probably have said.
Lately, I have listened to Moi addressing rallies. His utterances are often loaded with innuendo. My reading of his speeches is that he has surreptitiously been telling his One Kenya Alliance (OKA) buddies to align themselves with the political realities on the ground, but he might as well have been whistling in the wind.
Cyrus Jirongo, another OKA principal is equally the voice of reason in the OKA constellation. In October this year, he cautioned Kakamega Senator Cleophas Malala to tread cautiously when the latter chose to vent his spleen on Raila Odinga.
Lately, the senator's public utterances whenever he goes hammer and tongs at Raila and ODM are mostly vacuous.
Three OKA principals did not honour an invite to attend Raila's launch of the Azimio la Umoja movement at Kasarani on December 10, 2021.
While it was within their purview to honour or decline, the refusal perhaps arose out of the fear that attending the function would have been viewed as an endorsement of Raila for the 2022 presidency, yet they have also vowed to go the full hog.
By electing to massage their egos, they scored goals in their own goalmouth. The pokes they got from netizens on social media said it all.
There is no gainsaying the fact that the sacrifices Raila has made for Kenya are akin to those Nelson Mandela made for South Africa.
It is not for nothing that Raila is called the Mandela of East Africa. He has been there, seen it all and has acquired wisdom that makes him lovable and measured in his deliberations, an attribute that not many share.
To the believers, Raila's time for a reward from the highest God is nigh. No amount of sulking or epithets will change what has the hallmarks of inevitability. Like Mandela, Baba is likely to be a one term president; the last of the old guard and what Ruto derisively calls dynasties.
No doubt, the Young Turks could have the field to themselves from 2027. And for that reason, it makes sense for the OKA principals to face the reality. From where I sit, they are not in any vantage position to hold candles to the two 'horses'; Raila and Ruto.
Most Kenyans are tired of cheap, dishonest promises are averse to 'donkeys' messing up the race of 'thoroughbreds' next year. I don't buy into that twaddle that avers everybody has the democratic right to contest any seat for which they are eligible, and that is because constitutional rights do not override common sense.
How I wish we could go the American way and make our choices from two parties. That would serve several purposes. First it will take the burden off a beleaguered Independent and Electoral Boundaries Commission.
Second, it will help a majority of Kenyans who get confused counting beyond two. Why else do we make blunders every five year in the facade of choosing leaders?
The recalcitrant OKA principals, and indeed any other presidential hopeful would be doing Kenyans a service and saving themselves money, logistical challenges and embarrassment if they threw their lot behind either of the two horses. That will make the race worth the wait and hype.
There is no point clinging onto some vainglorious ideals while hoping for manna from heaven. Come to think of it; even in the Bible, it was a one off occurrence.