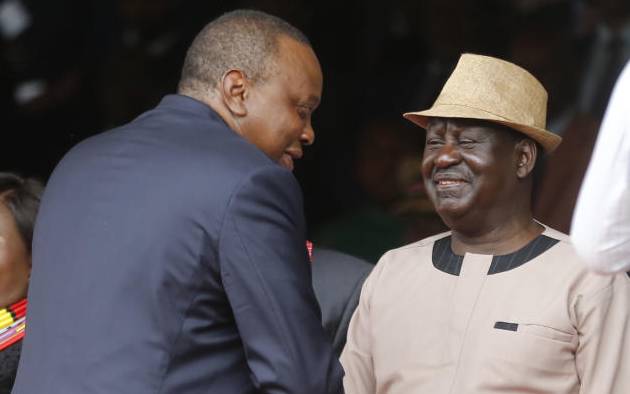 There has been a level of political lull that by all appearances is transitory. The daggers are still drawn, never having been returned to their scabbards despite that rigmarole of a truce on the steps of Harambee House on March 9, 2018. And what better proof than the Kibra parliamentary seat by-election? Never truly enemies, but made to look so by their pseudo-ideological stands, President Uhuru Kenyatta and the 'Peoples President', Raila Odinga, shook hands on the steps of Harambee House to heal a deeply divided country following the familiar script of disputed elections. They had boxed themselves into tight corners but had enough presence of mind, or were made to acknowledge that Kenya was bigger than any of them by our powerful allies. By virtue of its geographical location and standing on the African continent, Kenya is critical to military, political and economic interests of some superpowers. Those economic interests, however, do not favour Africa if the turmoil experienced in oil and mineral-rich countries like Nigerian, Sudan and DR Congo among others prove anything.
SEE ALSO: Deep State? That's you, Raila responds to Ruto
While the oil and gold leave Africa, the benefits are never visible to us because we are too busy fighting each other over issues on which we cannot place a finger. Given the undercurrents in Turkana region of Kenya, we are on the way to joining that league of African countries.
Opposite direction
Over time, the efficacy of arms mass-produced in the West and China has been tested on the African continent and continues to. While China tries to upstage the US at a time that President Donald Trump is determined to make America great again, Africa provides the stage for the bruising battles that will not end any time soon. And while we are distracted, all the dumping, whether of nuclear waste or substandard goods goes on in Africa, of course, with the tacit approval of elected, yet mercenary leaders. Anyway, that is by the way. Among issues that forced the handshake was the economic slide precipitated by a lack of investor confidence. The lofty campaign promises on double-digit economic growth by Jubilee and unrealistic World Bank economic projections were moving in the opposite direction in a politically tense environment. The shilling was taking a dip to the discomfort of Treasury mandarins. Eroded investor confidence led to closure or relocation of companies to other countries. That trend has not been reversed to date, prompting the Senate to investigate the causes of the loss of more than 14000 jobs in recent times. Understandably, the handshake was to become the antidote to the numerous slugfests we usually have in the villages every five years during campaign time. It was supposed to bring national healing and reconciliation, revamp an electoral body that has been at the core of our political fights because it is perceived to be partial. Vitally, it was supposed to fix the economy and make our politicians lucid.
SEE ALSO: Baba: Reggae was on 'half-time'
Communist dictatorship
In all that, it has failed. The economy is still tanking by World Bank projections. Inflation is having a field day among Kenyans. Desperation is high. Nothing was ever going to change as long as ego remains the fulcrum of our politics. Non-ideological politics is the hallmark of the Kenyan politician who finds satisfaction in perpetrating violence against opponents to intimidate them because they cannot articulate issues coherently. The Kibra by-election has shattered the façade of a truce by bringing out the worst in both Jubilee and ODM. Fights have been orchestrated by leaders who now point accusing fingers at each other. ODM MPs, who should know better, stormed IEBC offices and intimidated officials over claims regarding the doctoring of the voters register and voter bribery. While reporting such to the police and EACC would have made sense, the not so honourable individuals who make Kenyan politics nothing more than a perfection of thuggery, are at home employing brawn over brains. Hermann Wilhelm Göring, a German military cum political leader during the Nazi days opined that: "Naturally, the common people don't want war. It is the leaders of a country who determine the policy, and it is always a simple matter to drag the people along, whether it is a democracy, a fascist dictatorship, a parliament or communist dictatorship. Voice or no voice, the people can always be brought to the bidding of the leaders.
SEE ALSO: I will deliver on my pledges, Uhuru says
That is easy. All you have to do is to tell them they are being attacked and denounce the pacifists for lack of patriotism and exposing the country to danger. It works the same in every country". It has worked perfectly for our leaders for decades, which means the handshake has little, if any chance, of making real change in our politics. And to quote American politician Tulsi Gabbard: "The divisiveness that threatens the fabric of our nation - whether due to race, religion, political ideology, gender, sexual orientation, or other - must end". Mr Chagema is a correspondent for The
[email protected]