Parliaments must ensure we get a conflict-free great lakes region- President Uhuru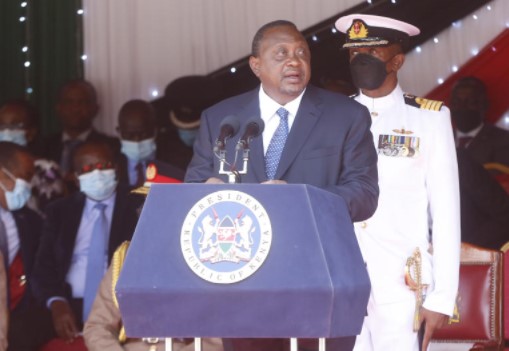 That the Great Lakes region continues to grapple with conflict is not a secret; one, that has for decades dogged the twelve (12) member states namely; Angola, Burundi, the Central African Republic, the Republic of Congo, the Democratic Republic of the Congo, Kenya, Rwanda, South Sudan, Sudan, Uganda, Tanzania, and Zambia.
It is for this reason that national parliaments of the twelve member states have converged in Nairobi for the 12th Ordinary Session of the Forum of Parliaments of the Member States of the International Conference on the Great Lakes Region, running until Wednesday.
In a speech delivered by Interior Cabinet Secretary Dr. Fred Matiang'i on behalf of President Uhuru, member states have been called upon to help their parliaments pass legislative laws geared towards achieving a conflict-free great lakes region.
"This Assembly has the task of providing our 12 nations with a comprehensive and achievable roadmap to our Parliaments contributing more towards conflict resolution. We will only achieve that if we make this 12th Plenary Assembly a questioning conference." Uhuru noted.
The Summit themed 'The Role of Parliaments in Conflict Resolution in the Great Lakes Region' seeks to make a significant parliamentary contribution to the implementation of the Pact on Security, Stability, and Development in the said region.
"Conflict increases unemployment, especially of young people, fuels sexual violence against women and girls, deepens the indignity of food insecurity, and absolute poverty of populations living in areas of armed conflict. It drives the illegal exploitation and trade in natural resources that provides income to armed groups and gives greater impetus to the proliferation of small arms and light weapons," he said.
The Head of State proposed a five-point questioning framework to guide and chart the way forward for the participants. To examine the role of parliament preventive or responsive after the fact; When parliament intervenes, at what stage in the conflict cycle should it intervene and how; How should parliaments intervention's role be exercised within the context of the rule of law and the separation of powers and roles; What collegiate and peer review mechanisms can parliaments in the regions adopt to both support each other and hold each other accountable; How do governments inculcate public participation in conflict resolution framework.
The Executive Committee and the Conference of Speakers will review and approve the agenda and the topics to be discussed in the plenary, as well as some internal issues of the forum.