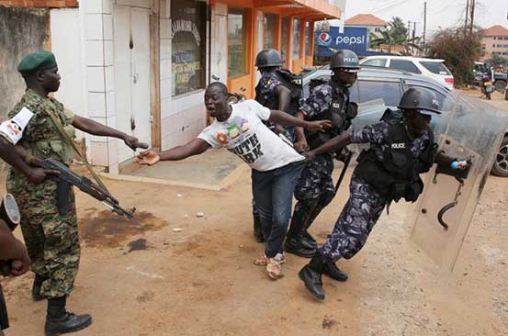 Ugandan police yesterday arrested Uganda's main opposition candidate Kizza Besigye and fired tear gas at his supporters as early results showed President Yoweri Museveni was set to extend his 30-year grip on power.
Police in Kampala set off stun grenades and loobed tear gas outside the headquarters of Besigye's Forum for Democratic Change (FDC) party as tensions rose after largely peaceful voting on Thursday.
Besigye was later detained for the third time this week, being bundled into the back of police van along with several of his supporters, according to a Reuters witness.
Early results showed Museveni, had a sizeable lead of 62 per cent based on a count of ballots in 37 per cent of polling stations. Besigye trailed with 33.5 per cent of the vote.
Read More
Tension has gripped parts of Kampala with fears that violence could erupt if Besiyge is not declared winner in the hotly contested polls.
The police arrested the opposition leader alongside FDC President Mugisha Muntu, Chairman Waswa Birigwa and Mobilisation Secretary Ingrid Turinawe, over claims of planning to announce him the winner from the results of the parallel tallying centre they had set up.
Besigye was picked after he released a statement saying that on the polling day, FDC had busted a police operated rigging and tally centre located at Naguru in East Kampala.
Anti-riot police pitched tent at the party's headquarters along Entebbe Road for the better part of the morning interrupting the oppositon leader's intended press briefing.
A contingent of Police led by Kampala Metropolitant Boss Felix Kawese stormed Besiyge's meeting with party officials saying they wanted to maintain law and order. More than 20 FDC supporters were arrested for being at the tallying centre.
Mr Kawese held talks with the FDC leader before a press briefing.
Besiyge's supporters camped at the entrance singing and chanting FDC's slogan 'One Uganda, One People', blocking the anti-riot police from the venue.
Another Presidential candidate 'Go Forward' leader John Patrick Amama Mbabazi's home was cordoned by the Anti-Riot Police for the better part of the day.
In an exclusive interview with Mbabazi at his Kololo home, he said there was no law hindering any presidential candidate or any candidate from having a parallel tallying centre, given that its only the Electoral Commission's results will be upheld.
"Its not unlawful to have a parallel tallying center. I am a Presidential candidate and I need to know how the voting and results are coming in," said Mbabazi.
The former Prime Minister maintained that he will only concede defeat if the process is free and fair.
The Democratic Alliance Director Bishop David Zac Niringiye also claimed that the results do not represent the will of the people of Uganda. "Evidence of stuffed ballot boxes is rampant, the state closed down social media to curtail information on the rigging, delay in opening up polling stations denied millions of voters access to ballot boxes, and security forces are ready to crash any protest to the abuse of the Democratic process," claimed Niringiye.
- Rawlings Otieno and Reuters