Family demands justice for brother allegedly killed for protecting wife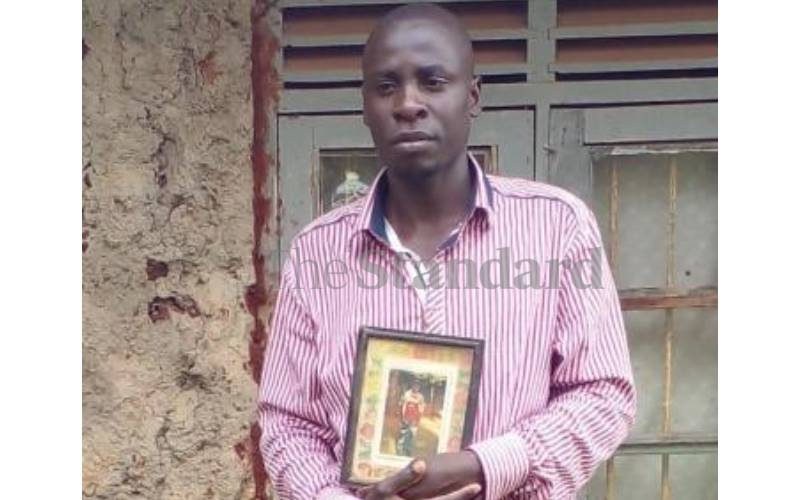 A family in Bungoma is demanding justice for their kin who was allegedly killed after he refused to surrender his wife as a bribe.
Before his death, Robert Nasongo, 30, used to sell traditional brew at Misikhu village in Bungoma County.
His brother Josphat Nasongo said Robert's home was raided by members of the Nyumba Kumi community policing group led by the area assistant chief on April 5 last year.
Josphat claims after being arrested, his brother was asked to surrender his wife in exchange for his own freedom.
"They demanded a bribe in form of his wife in order to allow him (Robert) to continue selling chang'aa and busaa uninterrupted, but when he refused, they started beating him," Josphat said.
He said that six Administration Police officers went to his brother's home on April 25, two weeks after the first arrest and took him away.
"We would have expected them to arrest Robert without making any demands. Why would they demand to be given someone's wife in exchange for freedom, I don't understand," said Josephat.
He said the officers arrested Robert on April 25 and the family could not locate their kin.
"A week after the arrest, I was called by the police from Misikhu Police Station who informed me that my brother was arrested for assaulting an administrator," Josphat said.
"We visited the police post but were told that Robert had been taken to Webuye District hospital after falling ill while in custody."
The family was told that Robert attempted to escape from the police cell through a window and fell, sustaining serious leg injuries.
"We rushed to the hospital and to our shock, the management told us that our brother was long dead when the officers brought him in," Josphat said.
Robert's father Michael Nasongo believes his son could have been tortured before he was killed while in police custody.
"I suspect they took the body to Webuye Hospital mortuary long after he had been killed, the assistant chief framed my son over false accusations," said Mzee Nasongo.
The family says they reported the matter to Webuye main police station under Occurrence Book number (OB) 32/25/4/2020.
"Police promised to conduct thorough investigations into the mystery death of my son," said Mzee Nasongo.
Contacted on phone for comment, the local administrator dismissed the allegations stating that, "I had gone to disperse a gathering due to Covid-19 restrictions at the deceased's home but on arrival, Nasongo became violent and attacked us, that is all."
Delayed investigations compelled the family to seek the intervention of the Directorate of Criminal Investigations (DCI). They also sought the help of the Independent Policing Oversight Authority (IPOA) in Kakamega and Nairobi.
IPOA officials in collaboration with the DCI officers from Webuye police station visited the deceased's Misikhu village home in an attempt to unearth the truth.
Mzee Nasongo says the three offices of IPOA, DCI and the County Criminal Investigation Offices (CCIO) do not seem to be making progress on the case.