New twist as DPP converts inquest witnesses into suspects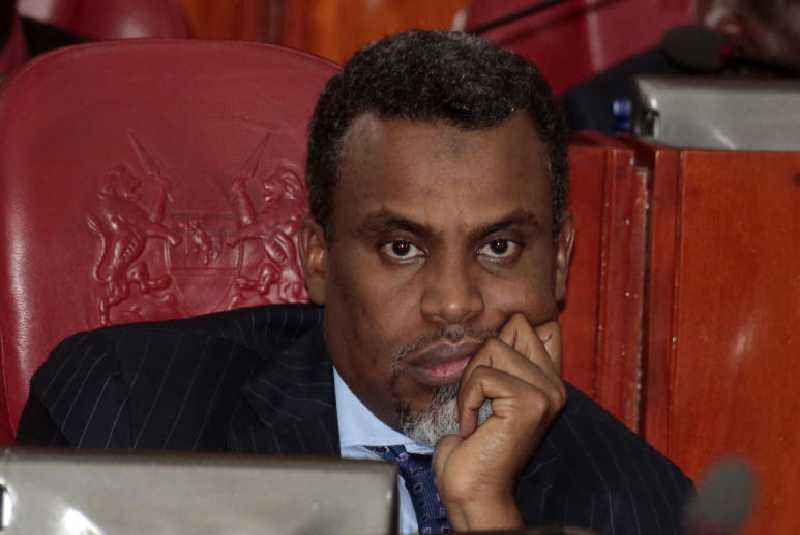 Two top officials from the prisons department will now be treated as suspects in the murder of their colleague's wife and daughter in an inferno.
This is after the Director of Public Prosecution (DPP) Noordin Haji (pictured) through State Counsel Hilda Omondi told the court that there is overwhelming evidence that they have been adversely mentioned by the previous two witnesses of colluding with convicts to commit the felony.
Warders Hillary Ominde (Kamiti Maximum Prison) and Thomas Wanjala (Busia GK Prisons) were linked with working closely with convicts and ex-convicts to torch Inspector Francis Jumba's house.
During the time of the arson the two were serving at Kakamega Main Prison.
In the arson, Jumba's wife Petronilla, 44 and daughter Nicole Oside, 9 were burned to death in what is said to be a revenge mission for Jumba's attempts to fight contrabands at Kakamega GK Prison.
Ominde and Wanjala who were waiting outside as prosecutions witnesses three and four were shocked to be told they shall no longer be witnesses but suspects.
"According to the two witnesses who have testified and a report done by former Officer-in-Charge at Kakamega Main Prison, we shall no longer treat two of our witnesses as such but they are now suspects. Clearly, there were part of the officers working closely with in-mates to commit the offence," said Ms Omondi.
Allowing the prosecution's prayer, Kakamega Senior Magistrate Erick Malesi ordered Senior Deputy Commissioner of Prisons (DCP) Rose Muturi and Senior Assistant Commissioner of Prisons (ACP) David Kerundo to present their findings on investigations they conducted.
This is after the court was told the Director General of Prisons sent the two to assist in intelligence and investigating the inferno.
The two were ordered to make such a report available, if any, through the Directorate of Criminal Investigation (DCI) Kakamega under a month but not later than December 11.
According to a report produced by former Officer-In-Charge at Kakamega Prisons Cyrus Mutambu after independent investigations, Ominde and Wanjala worked closely with the main suspect, Senior Sergeant Daniel Kangu.
Mr Mutambu, now an Assistant Commissioner of Prisons told the court that he concluded that Mr Jumba's house was targeted since he was fighting drug trafficking, ownership of phones and simcards at the prisons precincts.
He said some officers sympathized with some convicts and would occasionally illegally sneak in the contrabands.
"Inspector Jumba was among the officers who were fighting against contrabands at the facility. His 'rogue' colleagues who were suspicious their activities would be known resorted to work with inmates in a revenge mission hoping that they will be threatened and eventually stop conducting searches at the prisons," said Mr Mutambu.
He narrated that on the night of the arson on January 26, 2015, he was sent a message saying 'we are done with Jumba's house, yours is next'.
Mutambu is now based at Prisons Headquaters. He was testifying in the inquest where Kangu, a retired Senior Sergeant is the prime suspect.
Jumba burst in tears during his testimony, narrating that the investigating agencies established that the arsonists were ferried to his Ikonyero house, Lurambi sub-county by a vehicle belonging to one of the warders.
Jumba who is in charge of transport and stores said that experts said the fire was intentional and a form of arson. It started at the sitting room and spread to the entire house.
On the night of the incident, he had travelled to their rural home in Nandi County only to be informed his family was stuck in the fire.
Petronilla, a former Deputy Principal at Matende Girls High School was asleep with her two daughters and a house-help.
She was confirmed dead on arrival at Kakamega County General Hospital alongside Nicole while Natasha Ejai (daughter) and Eunice Milimo (house-help) escaped death on a whisker.
In his sworn testimony, Jumba Lamented that the initial investigating officer was compromised by the suspects despite there being overwhelming incriminating evidence.
The matter was adjourned to March 7, 2019.