Bungoma Governor Kenneth Lusaka denies buying Sh2.7million executive seat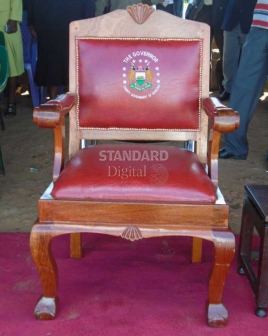 Bungoma Governor Kenneth Lusaka has refuted to claims doing rounds on social media that he had bought himself an executive seat worth Sh2.7 million.
Speaking Friday during the burial of Jackline Barasa in Masuno village in Bumula Sub County, Lusaka said his detractors were raising the voter's temperatures for nothing.
"I have not bought any executive for myself. The one I am using is just a sample and the tendering process is ongoing, in fact the tender will be awarded to the lowest bidder. I'm I mad to buy a seat worth that price when locals are wallowing in poverty?" posed Lusaka.
He said that instead of purchasing such a seat with an exorbitant pricing, he will use the money to start a water project to help the local women who travel far in search of the essential commodity.
"Am asking my rivals to look for something better to criticize my administration instead of basing on non issue to taint my image, I can't and won't buy such a seat when the Prison department can get me one at a cheaper price," said Lusaka.
Lusaka called on County leaders to unite and develop the region instead of fighting each other to gain political mileage.
Bungoma Senator Moses Wetang'ula questioned the criteria used and arrived at to buy such a seat which is costly to the tax payer.
Speaking at Kanduyi Red Cross Hall in Bungoma, Wetang'ula accused Lusaka of perpetuating corruption in his administration that was denying the locals the much needed development projects.
"We are saddened by the ongoing corruption in Lusaka's administration, he has portrayed us as a corrupt county, look at the Wheel barrow saga and now an executive seat costing millions of Shillings, that's why I want him removed in the next general election and replaced with somebody who will take care of our resources," said Wetang'ula.
The Ford Kenya party leader reiterated the need to guard the County resources so that it can benefit the local residents