Masai Mara ranked among 'most instagrammable destinations' globally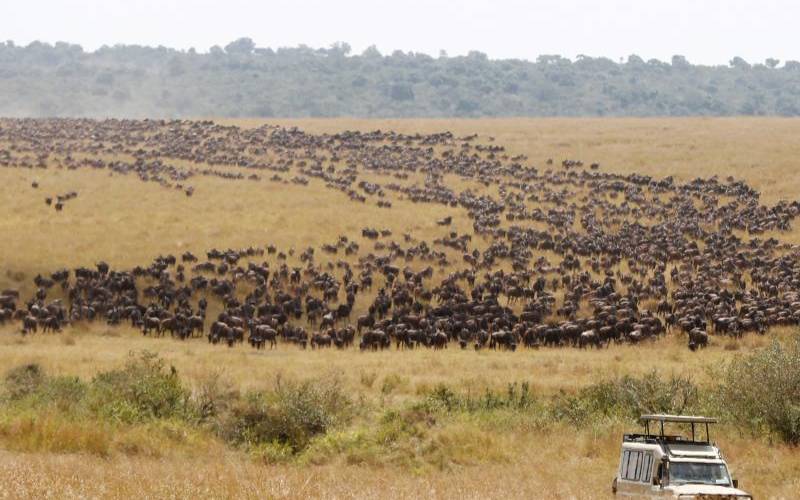 The Masai Mara National Reserve has been ranked among the top 50 most photographed places in the world.
Masai Mara poped among world-famous destinations with the most hashtags making it on the hit list of the 'Most Instagrammable Places in the World 22'.
It ranked position 35 globally in a scoring system that analysed the number of hashtags per destination.
Masai Mara now ranks among destinations such as Singapore, one of Asia's art hubs, that ranked top destination. The most attractive features of the Mara include the wildebeest migration.
"Often, reality can't live up to the saturated hype of Instagram, but that's far from the case in the Masai Mara. Its 583 sq. miles sweeping grasslands are home to hundreds of lions, cheetahs, leopards, hippos, and more.
"The best way to ensure Insta-worthy snaps is to book onto a reputed reserve tour," stated Bigseventravel.com, a global organisation that analyses travel trends.
It added: "Following survey results from our social audience, and input from our editorial team, we've rounded up the destinations that are guaranteed to get likes. From sparkling city views to ocean-fringed paradise, here's your Instagram bucket," the organisation said.
Mara was also trending among destinations such as Boracay in the Philippines, Oahu in Hawaii, Tokyo in Japan, Newyork City, and Banff in Canada.
It also ranked alongside colourful Italy's Amalfi Coast, photo-friendly Chicago, Illinois, Lisbon in Portugal, and Ha Long Bay in Vietnam.
In the rankings, Mara's hashtags topped those shared on the ancient temples and modern city of South Korea's Seoul, Poland's Warsaw, and the 'insta-aesthetic' Malaysian capital Kuala Lumpur.
Mara also topped Ireland's jaw-dropping Kerry, Georgia's colourful Capital Tbilisi, stunning beaches of Phuket in Thailand, and Tahiti in French Polynesia.
Closing the top 50 list was Baku in Azerbaijan, Interlaken in Switzerland, Dubrovnik in Croatia, Nepal, Nice in France, Ibiza in Spain.
On Singapore, the review said: "This tiny city-state off southern Malaysia is full of photo-ops. From the iconic Supertree Grove at Gardens by the Bay to the vibrant kaleidoscope of street art through Haji Lane.
"In addition to permanent gems, since Singapore is one of Asia's art hubs, there's almost always a unique exhibit going on perfect for those 'wow' pics."
The listing comes as Kenya makes efforts to have Masai Mara added to the list of Unesco world heritage sites.
Sites that have been inscribed in the Unesco World Heritage enjoy the global limelight as protected areas. The status also gives these sites an avenue for mobilising resources needed for conservation.
For a site to be upgraded to a Unesco World Heritage Site, it has to have outstanding values.
Kenya is using Masai Mara's annual wildebeest migration to campaign. The rare phenomenon has earned the park the status of one of the Seven Wonders of the World.
The reserve is widely regarded as the cradle of mankind as well as Africa's greatest wildlife reserve. The process to have it listed as a Unesco world heritage site started in 2010.
In 2020, World Commission on Protected Areas World Heritage Network representative Cyril Kormos said: "Masai Mara is one of the iconic places on the planet and it was expected that it will make it to the Unesco list.
"Mara was the missing piece in the system when Tanzania's Serengeti was inscribed in 1981. We have been waiting for decades and Kenya will finally present its nomination to Unesco."