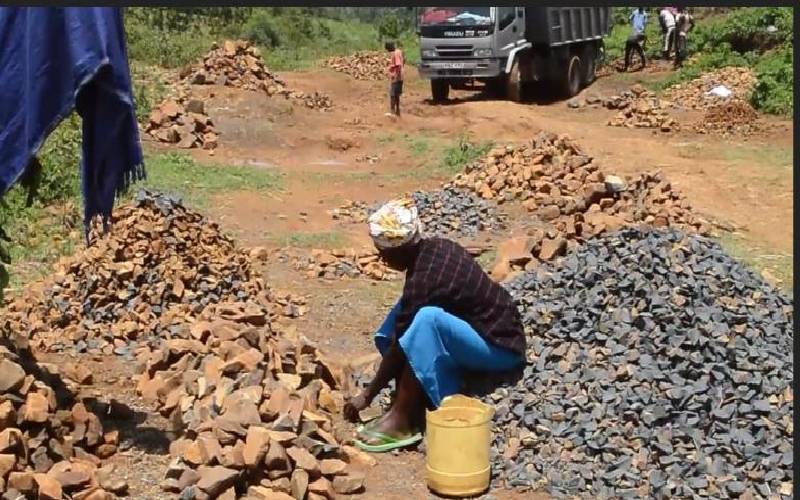 She is used to hard work and is a study in grit and optimism for many in Mumias. Hammers are her tools of the trade and the stones in the compound her livelihood.
Meet Judith Akinyi, the stone crusher, whose life over the last few years has drawn a lot of inspiration to many in Indangalasia village and beyond. Akinyi is optimistic that through her hard work, she will raise money for her husband's treatment, though odds appear to be stacked against her.
To the villagers, the mother of three stands head over shoulders above her peers, especially her resolute approach to seeking treatment for her ailing husband, who was diagnosed with cancer. She plans to do that through sheer hard work and with every penny she earns through the sweat of her brow.
Akinyi's husband was involved in a grisly accident in 2012 that left him incapacitated.
The incident marked the beginning of Akinyi's misery. From struggling to meet basic needs to fears of the unknown about her husband's health. Each day came with its own challenges.
It did not take long before roles changed in the family. From mainly doing household chores and taking care of their children, Akinyi found herself in the unfamiliar role of the family's breadwinner.
She takes up any available job, sweating through the heat of Indangalasia village, Mumias East to eke a living. As you drive through the earth road that is pot-holed and dusty, you notice very little happening, save for people working on their farms cutting sugarcane.
Ordinarily, like many other villages, Indangalasia is usually laid back and quiet. But Akinyi's story is loud and well-known throughout the area. Tracing Akinyi is easier, just ask for enyumba ya omukhasi wa omachina, which loosely translates to 'home of the stone woman.'
"That is what they call me and I have come to accept the name, though many have not understood why I do this work,'' said Akinyi.
As she prepares for the interview, her husband is helped out of their mud-walled house to bask in the sun. Every morning, the father of three is swathed in a blanket brought outside the house. According to Akinyi, this prevents him from falling into depression and self-pity.
"All was well until my husband, a taxi driver, was involved in a grisly accident. Since then, I have been doing all sorts of menial jobs to sustain our young family,'' said Akinyi.
Quit business
After the accident, Akinyi, who was selling vegetables at a roadside market, quit the business as it could not meet all her needs.
Though her husband was against the idea, Akinyi braved hurdles and settled for the male-dominated job eke out a living.
"When I informed him of my plan, he was opposed to it, as he thought it would affect my health. This kind of job is not common among Luhya women. But sometimes we do what we do for the sake of our families. Our family is young and they all depend on me,'' said Akinyi.
At the quarry, she is the only woman crushing stones. She says that sometimes strangers gossip in hushed tones whenever they spot her carrying loads of stones on her shoulders.
It's around noon and she looks exhausted, though she tries to hide it. The sweat and dry lips, however, betrays her. Her day ends only after she meets her target of crushing and emptying 32 buckets of stones.
It takes her around nine days to fill a truck, at least after this period she is sure of walking home with between Sh8,000 and Sh11,000.
For the last five years, crashing stones has been her main source of income. Akinyi hopes that from her income, she will be able to meet her family's needs and husband's bill. Though her primary objective of seeking treatment for her husband recently got a blow after he was diagnosed with cancer, at St Mary's Hospital in Mumias, Akinyi remains upbeat.
In the village, Akinyi stands out tall as the only woman who has defied all social norms and stereotypes to thrive in jobs reserved for men. Her circumstances, coupled with financial challenges like the ever-rising cost of living, have combined to push her to do what she does.
"Many have questions. You know in Luhya culture, women rarely do this type of work. When I started, some people ridiculed me, but with time, they understood my situation," Akinyi said.
At least from the proceeds, though little, her children are fed. Though this is not what Akinyi wanted to do, fate has forced her to shelve her dreams and adjust.
"Sometimes, I get very tired, but reflecting on the agony my husband goes through inspires me to continue," she adds.
Her several attempts to raise funds for her husband's treatment have been unsuccessful.
"Doctors recommended that he go for amputation because the cancer cells had spread to his legs. He ought to have been attended to earlier but we couldn't afford it. Even now, what I raise is not enough,'' said Akinyi.
With every passing day, Akinyi hopes that a well-wisher will come to her rescue, help fund her hubby's treatment and save her family from the distress.
"Things are really tough, especially with the coronavirus pandemic. Sometimes, I feel for him as the pain becomes unbearable. But I have to weigh options and prioritise. The little money I make is used to buy food and other necessities."