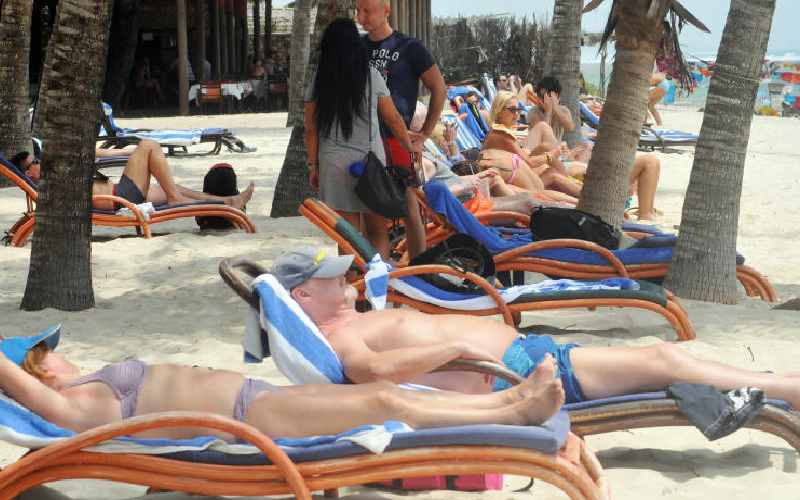 In 2018, Kenya earned nearly Sh100 billion less than what Tanzania made from tourism despite receiving over 30 per cent more visitors than our southern neighbour.
Official data from the two nations' tourism agencies reveal that Kenya earned $1.6 billion (Sh173 billion) from 2,025,206 foreigners while Tanzania raked in $2.44 billion (Sh264 billion) from 1.5 million visitors.
In the same year, Tourism and Wildlife Cabinet Secretary Najib Balala warned that Kenya was losing tourists to Tanzania because of her superior hotel standards.
In an interview that received widespread coverage in Tanzania, Balala stated that lack of adequate world-class hotels in Kenya had made Tanzania a better proposition for tourists eyeing East Africa.
Read More
The reduced inflow of tourists and disparities in earnings help to paint a picture of an industry that has been bedevilled by problems for the last 20 years.
Industry players say Kenya continues to rely on the traditional safari and is perpetually dependent on the low-value-added tourism segment despite the changing needs of increasingly young travellers.
Lack of coordination or autonomy of 11 agencies or departments under the Ministry of Tourism, high taxation and stringent work permit regulations for investors are also to blame, the stakeholders add.
Other factors like terrorism, election jitters, global economic shocks and, currently, the Covid-19 pandemic have also conspired to stifle growth in the once-profitable industry.
It is also emerging that lack of proper linkages between the sector and major tour operators and financing institutions, poor infrastructure and failed policies have a detrimental effect on the number of visitors.
A report by the World Travel and Tourism Council shows that in 1999 the tourism industry employed 429,500 workers, with the numbers projected to rise to 574,000 by 2028.
To underscore the importance of tourism, the government created the National Tourism Strategy (NTS) 2013-2018 that was plugged into the country's long-term development plan, Vision 2030, which projected that tourist arrivals would hit the three million mark in 2017, up from 1.7 million in 2012.
Under the NTS, the State undertook to develop resort cities, develop niche products and bolster efforts to market underutilised parks.
There was added focus on promoting the meetings, incentives, conferences and exhibitions (MICE) tourism segment, rolling out of premium parks initiatives, and marketing Kenya as the cradle of humankind.
But due to lack of progress in six flagship projects identified under the NTS, the State established a task force to come up with new strategies.
This led to the creation of the National Tourism Blueprint 2030 that focused on product development to expand attractions beyond beach and safari tourism to include sports, adventure, heritage and cuisine, as well as coming up with innovations, marketing strategies and investment in infrastructure.
Sai Rock Hotel General Manager Robert Kiri said there were no incentives for investors to put up modern hotels or to market the country.
"The standards of a 2-star in Tanzania are like a 3-star or even 4-star hotel in Kenya because their government supports investment in the industry," Kiri said.
According to tourism officials, investors in Tanzania are allowed to hire at least 10 expatriates who are automatically eligible for work permits.
"Tanzania has done digital mapping and a tourist in Europe can see where a hotel is situated and make their choice. Taxes are also lower compared to Kenya," said one official.
He added that the Tanzania Government has created zones for hotels thus making it easy for investors to decide where to put up either a 5-star or 2-star hotel.
Local industry players said various measures that the government has put in place to accelerate growth in the tourism industry have not yielded fruits.
They attributed this to lack of clear policies, failure to innovate, terror-related insecurity and global economic shocks.
TERROR ATTACKS
Kenya experienced at least 65 terror attacks between 2011 and 2017, which hurt the tourism sector and led to shedding of thousands of jobs especially along the Coast.
The industry has also been crippled by the Covid-19 pandemic with several hotels laying off staff and ceasing operations in the last six months.
Kenya Association of Hotel Keepers and Caterers Executive Officer Sam Ikwaye estimated that over 12,000 workers have been rendered jobless.
But even before the first Covid-19 case on March 12, Ikwaye said, the industry's growth lacked any semblance of guidance, innovation or diversification.
"We have not addressed the needs of the new travellers who are the youth," said Ikwaye, who has in the past criticised the country for possessing a "cage tourism mentality."
"The youth want to be entertained. We have little investment towards entertainment especially at the Coast. The scene isn't supported by the government," he said.
In the early 2000s there was a vibrant nightlife at the Coast courtesy of bustling entertainment venues that attracted local and international tourists. But famous joints like Mamba, Salambo, Tempo, Bingo and Istanbul have since closed shop.
"In the 1990s and early 2000s, soldiers from the US, Britain, France or India who visited the port of Mombasa used to flock to Casablanca Night Club. It was booming business," said a veteran DJ known only as Mike.
Isaac Rodrot, a hotelier in Watamu, said, "In Italy we have Verona, in the US there is Miami, and in Spain there is Catalonia and Andalusia. We must revive beach parties and nightlife or clubbing.
Rodrot said Kenya must transform its tourism into a high-value low-density (HVLD) industry by creating bio-diversity and cultural exchange centres, free ports and water sports.
"In stark terms, we focus on the low-value, high-volume (LVHV) market because we only offer the beach, wildlife and conferencing segments.
"Demand eventually and inevitably declines because visitors feel that we are offering inferior packages compared to those offered by rival destinations like Tanzania and Seychelles," he said.
A recent World Bank assessment report on tourism in Kenya warned that higher tourist numbers could result in lower revenue if prices were slashed to attract more visitors.
According to the report, HVLD restricts supply and targets the high-end segment of the market while LVHV operates on slender margins, is intensely price competitive, and needs huge numbers to make profits.