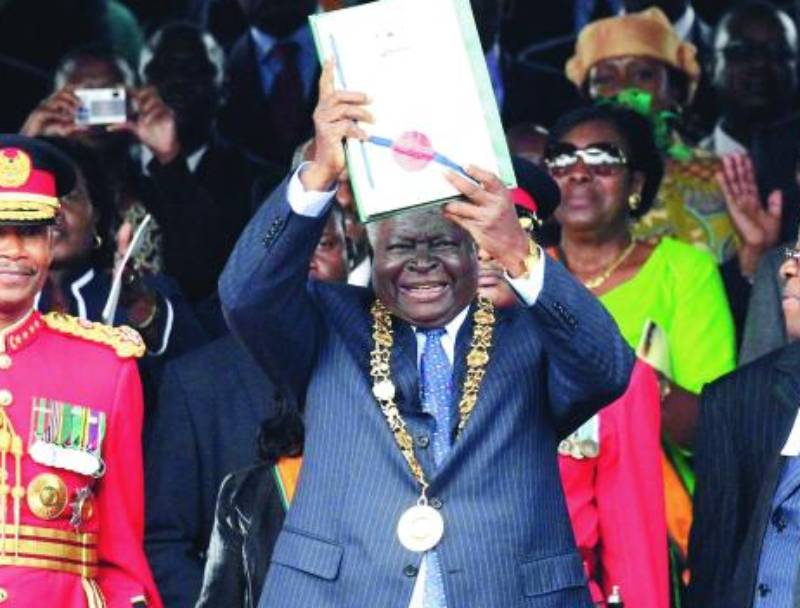 In an excellent article about two weeks ago in The Standard, Karuti Kanyinga explained clearly the place of ethnicity in Kenya's politics.
He explained why the leaders of the bigger tribes can hug each other one day, fight bitterly a year or so later, may be fight again before the next elections, form a government together and fight again. And so on and so forth.
I was naïve enough to think that politics was about good and effective governance, implementation of policies relating to national unity, values and rights of citizens (especially, or not, of minorities), power of the state shared between the centre and counties (of mixed races), and above all integrity.
On these principles, I helped establish the current constitution (see Art. 10) — somewhat quashed by politicians with the help of the Committee of Experts. Karuti now makes me look foolish.
But my colleagues and I were not naïve. I had already helped in the making of constitutions in several countries, most of them multi-racial and multi-religious. The 2010 Constitution does, in different ways, take care of Kenya's diversity. The preamble outlines the pride of our ethnic, cultural and religious diversity and expresses the determination to live in peace and unity as "one indivisible sovereign nation".
Read More
It recognises the aspirations of all Kenyans for a government based on the essential values of human rights, equality, freedom, democracy, social justice and the rule of law.
But the reality of it, now, is that formation of a national government depends solely on the decisions of rather selfish leaders of five major tribes -- who keep rejigging their line up every five years. One election they are bitter enemies; with their respective tribal supporters prepared to beat up, if not kill. And then the next elections they are willing to go to bed with them, and kill the leaders they slept with for five years.
Ethnicity from elections
My colleagues and I were not entirely unaware of how these tribes can fight in elections, threaten our security, and undermine nation building. So we tried to separate ethnicity from politics and elections. Kenya was made up of a variety of communities that British imperialism had put together, some brought from abroad.
In discussions on making of constitution to form nation and state of Kenya, both the smaller tribes and the "foreigners" had to be prevented from re-uniting with their original communities on promise of creating the united nation of Kenya -- fairly and equally.
Unfortunately, Jomo Kenyatta, the first head of government, abolished that constitution within a year, and imposed the hegemony of his own tribe. Ever since Kikuyu leaders have dominated Kenya except during Moi's Kalenjin rule. Jomo had expected that Kikuyu leaders would dominate Moi's regime, but for a long spell it was not to be, to their great annoyance. This proved that the five tribes are not always loving of each other. Undoubtedly, Uhuru and Raila realise it— BBI or not.
Communities and elections
The Constitution aimed to prohibit parities on the basis of ethnicity, because of numerous tribes, races, and religions. It considered that Kenya's future lay in separating members of tribes and other communities as such from national politics. This is made clear in the Preamble, accepted by nearly 70 per cent of Kenyans, that Kenya is one "indivisible nation".
Of the five major tribes, the Kikuyu are the largest (8,148,668), followed by Luhya (6,8823, 842), Kalenjin (6,3358,113), Luo (5,066, 966) and Kamba (4,663,910). Together these tribes are 32 million, more than half the total of 47 million. The politics of the last two years vary between conflict or partnership among themselves.
What ought to be a moment of great importance for citizens, in determining what policies would promote their interests and which candidates would promote them, ends up turning farcical. The role of trade unions in elections ought to be critical, alas not in Kenya. Here, the head of trade unions, Francis Atwoli, has no time or interest in the rights of workers but has instead elected to act as if he were the leader of a group of politicians among the five.
What is worse, is that even the very ethnicity is not used accurately here. Politicians largely refer it only to a superior-wealthy class within the tribes. While they have managed to get together, the poorer section seems not to be within their economic or social groups, nor benefit from it. They too should form their own parties drawn from the deprived of other tribes and communities — truly Kenyans.
Elections should be a key means to unite the country, integrating Kenya's diverse communities, not breaking it. Kenyans should be voting according to their values and needs, generally not based on race or tribe. This would also strengthen the coming together and organisation of workers.
Constitutional provisions
It is important to note that the Constitution does not denigrate ethnicities. People of all groups now have equal rights. Constitution of Kenya review Commission (CKRC) were mindful of conflicts when leaders of competing tribes prompt their followers to fight with followers of the opposing tribe. It was important that elections were in a sense equally important for the people as to the running of the state. For this reason, the title of the chapter is Representation of the People, not ethnic groups.
Every citizen has the right to free, fair and regular elections based on universal suffrage. Unfortunately, perhaps under the dominance of ethnic leaders, workers and others have not made use of these provisions.
The Constitution sets out the broad framework of elections: secret ballot, free from violence, intimidation, improper influence or corruption; conducted by an independent and transparent body, administrated in an impartial, neutral, accurate and accountable manner. Unfortunately the IEBC has never done much to follow the procedure laid in the Constitution. In any case many serious officers have not understood the intricacies of the electoral system.
Role of political parties
Article 91 says every political party should have a national character; a democratically elected governing body; uphold national unity; abide abide by the democratic principles of good governance; promote and uphold national unity; the right of all persons (including minorities) to participate in the political process; and promote human rights and gender equality. Among other principles a party must not be founded on sectarian grounds, must not engage in or encourage violence, must not engage in bribery or other forms of corruption; and must not deploy public resources to promote its interests or its candidate in elections.
The last of these points is of particular interest regarding the current behaviour of political parties as they fall into the laps of Uhuru and Raila (leaders of largest ethnicities — and enemies until recently), for the most selfish of reasons. The primary ethnic parties are now rushing for a union of all five ethnic parties.
The truth is that politicians have no respect for these norms. There is close connection with wealthy people within tribes — due to Jomo's policies, an early start. Parties are guilty of many violations of the Constitution. In a very simple way of solving the problem of the violations of the Constitution, Uhuru and Raila went to great lengths, BBI, completely unnecessary and expensive beyond imagination.
Why did not President Uhuru use the state's huge staff (including the police and the judiciary) to deal with those who break the Constitution? Uhuru is guilty of a major violation of his responsibility and extreme carelessness with state money. Raila must also take his responsibility.
Impact of ethnic politics
There can never be enough space to discuss the implications of ethnicity as a key factor in politics and state policies. One of them is in the way that devolution was reduced by a cabal of politicians, into 47 counties based on boundaries devised by the British, to keep ethnic groups apart contrary to the Constitution.
There have been many violations of the Constitution, particularly harmful consequences for minorities. Above all, Kenya remains a group of tribes, races, religion, norms, not a nation. The values of the Constitution have been lost in numerous violations of greedy and selfish politicians. And this makes nonsense of the aspiration of Kenya, recorded in the Constitution; of "one indivisible sovereign nation".