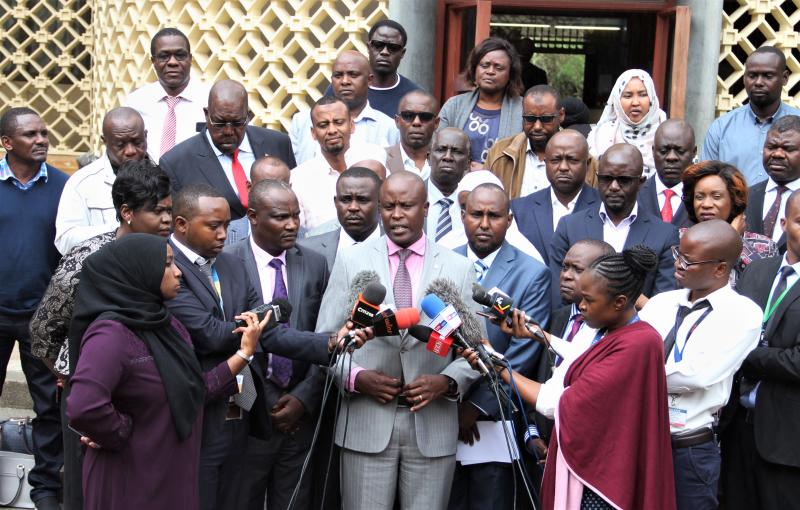 The push to clear hurdles in the way of passage of the Building Bridges Initiative (BBI) report and other government sponsored agenda in Parliament is at the centre of a rush by the ruling Jubilee Party to craft post-election coalitions, according to sources.
Among the Government agenda include any possible impeachment motions against the President or the Deputy, censure motions against Cabinet Secretaries and suppressing money bills that invoke a presidential veto and, therefore, require two thirds of MPs to overturn.
Except for the censure motions, which requires 117 MPs to move to the next phase, most of the high stake processes in Parliament require two-thirds majority of 233 members to sail through. It this magical number of 233 that Jubilee is working day and night to hit.
The party has already completed a post-election coalition agreement with Kanu, and a deal to have a closer working relationship with the Orange Democratic Movement (ODM), Wiper Democratic Movement and other parties are in the works.
"The passage of the BBI report in the House is among the key issues that we have on the table. We want its passage to have smooth sail in Parliament, that is why all hurdles must be removed. The passage of the report will create the ground for an all-exclusive government," a top source at the heart of ongoing schemes told the Saturday Standard.
Read More
Jubilee is sharply divided into Tangatanga wing, which is supporting the Deputy President - and Kieleweke, that is backing the President.
The party has 171 MPs, both elected and nominated. Assuming the 126 MPs who opposed changes to the party's National Management Committee last month remain with the DP, Uhuru retains 45 MPs.
Smaller parties
ODM has 76 MPs, Wiper 23, Kanu 10, Independents 14 and other parties have a combined membership of 72. These include ANC, Maendeleo Chap Chap, Ford Kenya, KNC, NAPK, CCM, CCU, Muungano, PNU, KPP, FAP, EFP and PDR.
A scenario that brings together Jubilee (Kieleweke), ODM, Kanu and Wiper will have 154 MPs. This excludes lawmakers from other parties such as Amani National Congress (Amani), Maendeleo Chap Chap, Ford-Kenya and other smaller outfits.
If they manage to bag just about half of the smaller parties (36), and half of the Independents (seven), Jubilee Coalition will have 193 MPs on its side, 40 MPs shy of 233.
This means that the President and Raila, besides winning back rebels and ensuring discipline in their parties, will have to successfully lure the middle ground lawmakers from the fringe political parties and independent members to their side.
ODM Chairman John Mbadi yesterday claimed that the looming reorganisation of party leadership in house committees is "normal exercise" and was not targeted at anyone or any group.
"Having run for two years, we know know the strengths of our various members, and we want to place them in places they can deliver. However, we are not going to be vindictive because most of our members have been loyal to the party," Mbadi said.
ODM has had its fair share of troubles after a number of their MPs, including vocal Malindi MP Aisha Jumwa, joined Ruto. Part of the struggle will be to bring them back even as Kenyatta on the other side works on his rebel MPs.
The DP, now operating on the edge of government, will equally mount a spirited campaign to retain his members and grow new ones if he can dream of controlling the National Assembly.
Last year, Tangatanga demonstrated its might when it gathered over 100 MPs in Naivasha for a meeting. It is the fear that the DP's side could take the battle for political control to Parliament is also behind a push to have changes in House leadership, with a number of Tangatanga allied MPs in leadership targeted for a boot.
Informal meeting
Among these are Majority Chief Whip and Mumias East MP, Benjamin Washiali, whose role includes marshaling numbers for crucial government business in the House.
On Thursday, ODM held an informal meeting that brought together party leader Raila Odinga, key officials and parliamentary leadership.
Political analyst Herman Manyora told Saturday Standard that numbers in Parliament will be key in pushing through Uhuru's agenda, including the BBI report.
"If you have numbers in Parliament, you don't need popular initiative to pass some changes to the constitution. Even if you want to have Raila, you can easily go to Parliament. The constitution gives our Parliament a lot of powers and if you have the numbers in the House, you can get away with a lot," Manyora said.