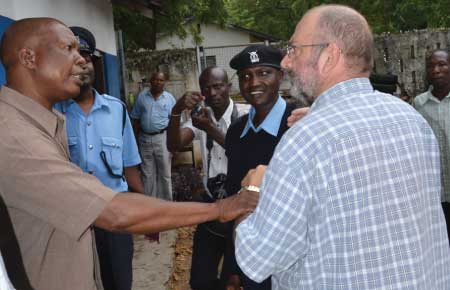 Police arrest a Belgium tourist accused of defiling a minor. The girl's mother was charged with colluding with the man. [Photo: Kevin odit]
By Linah Benyawa and Renson Mnyamwezi
Over one thousand children are sexually molested at the Coast every year.
And parents have been accused of colluding with the sex pests to abuse the children for money.
Most of these children end up being infected with Sexually Transmitted Diseases (STDs) including HIV/AIDS. And the number of children being sexually molested is rising in the province.
This trend is a growing concern to the community and child welfare officials.
Read More
Experts say some parents are working with wealthy tourists and molesters to introduce their children to prostitution for a fee.
Black magic
Besides drug abuse, tourism and poverty, reports now show that cultural factors are now an enabling factor behind this crime. But most worrying is the fact that most of these incidents are not reported when they occur due to ignorance of the law and stigma.
Mombasa County Children Officer Elizabeth Mbuka attributes the increase of cases of children being sexually molested to black magic, drug abuse and unemployment. She says people believe in ritual and black magic.
"There is this belief in black magic where people have been brainwashed that when you make love to a virgin one could get cured of HIV/Aids," says Ms Mbuka.
The provincial summary report of year 2011-2012 shows that there are about 107 cases of child prostitution which are currently in the courts with about 44 girls being involved in child prostitution while 63 (34 boys and 29 girls) were sexually abused. Unicef however places the number higher with their statistics showing about 2,000 to 3,000 children are sexually molested.
Tourism is one of the major contributing factors to the increased rate of child abuse with children as young as 12 being lured into sexual activities in exchange for money.
The sandy beaches along the coastline have been an attraction to foreign tourists some of whom take advantage of the little girls and boys touring the beaches. A few months ago, a Belgian national was arrested for allegedly repeatedly defiling a minor in Shanzu, Mombasa County.
Under reported
Mr Perniaux Allain Robert, 59, was accused of frequently luring the girl, 12, into his apartment before committing the act. He was suspected to have been defiling the girl in an apartment situated in an exclusive tourist resort in Shanzu, near Mtwapa in Kilifi County. This place has many such resorts frequented by foreign retirees some of who collude with intermediaries for cheap and unprotected sex with school children. Reports indicate the suspect had been colluding with the girl's mother to have the child visit him in his house for sex. The woman was charged together with the foreigner for abetting the crimes for economic gain.
Sexual exploitation of underage girls and boys, according to Shanzu residents, is rampant but under-reported at the Coast. This is just one of a few cases where girls and boys are sexually molested by the foreigners.
In another recent incident at Hamisi Estate in Changamwe, Mombasa County, another 12-year-old girl was infected with gonorrhea after her neighbour continuously defiled her.
The neighbour abducted the girl and kept her for three days and raping and threatening to kill her if she screamed or made any noise.
Pastor impregnates
In Samburu, Kwale County, different cases of child abuse have been reported with a recent one where a pastor is alleged to have slept with a Form Two girl and impregnated her.
In the same county, a primary school pupil was also impregnated by a head teacher of a nearby school and forced to procure an abortion. The teacher is alleged to have colluded with the girl's parents and paid them some money in exchange for their silence.
In Taita Taveta County, the cases are as rampant with both the primary and secondary school children affected.
Taita District Children's Officer Lenah Sitati says a total of 217 minors between the ages of five to eighteen had been sexually abused in the recent past.
Rampant cases
The number of boys sexually molested is higher than that of girls, she says.
"A total of 110 boys and 107 girls have been sexually abused between July last year to June this year. The month of March this year had the highest number with 34 followed by the month of June with 31 cases respectively," says Ms Sitati adding 37 children had been counseled, ten reintegrated with families, 22 others placed on supervision with court order, 11 committed to charitable children institutions and six parents bonded.
"Cases of child abuse have become rampant because some parents are protecting culprits making it difficult for law enforcement officers to end the vice. This habit must end to protect the girl child education that is under serious threat," says Ms Sitati.
In Kinango district, the area OCPD Silas Ringera gives the estimate to about 50 cases this year though he says there could be more cases that were unreported.
"Those cases are rampant in this area. In a month we can have roughly five cases and if you investigate, you will find that some family members and teachers are involved. Some of the cases do not reach the police which is quite unfortunate," says Ringera.
And even though the cases seem to be on the rise with little efforts being done to apprehend the suspects, Coast police boss Aggrey Adoli claims that the statistics of such incidences was minimal arguing that quite a few cases of child abuse are reported to police.