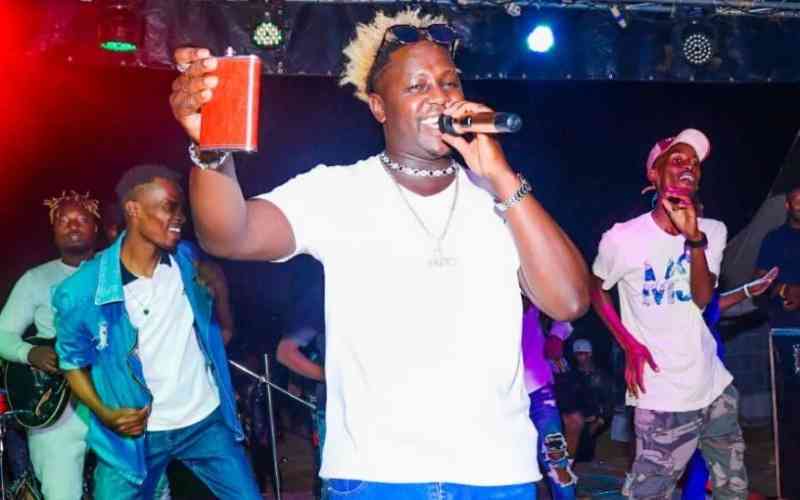 Lawrence Njuguna aka DJ Fatxo has won the Mugithi Artiste of the Year award by E360 Awards.
According to the company, the submissions were made in late 2022 and fans voted for their favourite artistes.
The winners were crowned during a gala held at the Nairobi Cinema on March 18, 2023, and Fatxo emerged the winner in the Mugithi category.
He had earlier rallied his fans (through social media) to vote for him although he is yet to comment on his win.
View this post on Instagram
The awards, which started in 2019, seek to identify and appreciate local talent, giving both established and upcoming artistes a platform to showcase their work.
Other winners included Fred Muyanga (gospel artiste of the year), Phelix Owiny (male model of the year) and Meshack Mwengei (most-voted male artiste).
Fatxo is currently a person of interest in the death of one Jeff Mwathi, who allegedly fell from an apartment in Kasarani.
The interior designer had met Fatxo to discuss a task he was to undertake in the DJ's shop and expressed his elation at landing the job in a phone call to his mother.
The two (Fatxo and Mwathi) are said to have visited several joints on that fateful day before going to the DJ's house later at night.
Fatxo claimed he left the house not long after and upon coming back he realized Mwathi was not there.
"I went with Jeff to my house and then I immediately left with three ladies then later came back after a few hours finding that Jeff was not in the house and the others were there, I am the one who went with them to report to police that Jeff is missing," DJ Fatxo said.
He added that he tried to reach out to Mwathi's family but in vain.
On March 17, the DCI stated that investigations into Mwathi's death were in high gear and the first group of witnesses had already been questioned.
Forensic examination of the scene had also been done as well as retrieval of CCTV footage that will be crucial in establishing what happened to the deceased.
Related Topics