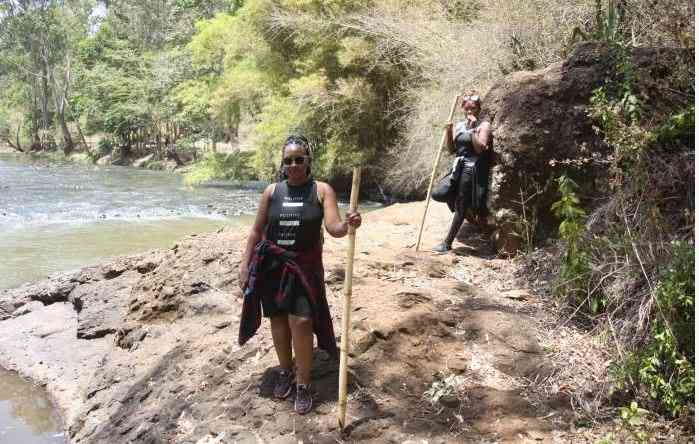 Something is refreshing about hiking along riverbanks, especially if the trail is a few metres away from the riverbank.
Take precautions when crossing rivers, especially during the rainy season.
Use a guide who will instruct on what works, what to wear, and what to do when crossing a river. If you have to cross a river, consider the following: The entry and exit points of the river, nature of the riverbed, speed of water at the crossing point, depth, turbulence, shape, and coldness of the river and the ability of the individuals in the group.
With this in mind, look for the safest crossing point, avoiding deep waters, fast flowing current, where the river is too wide and where the water is highly discoloured.
When crossing, take small shuffling steps, keeping a hawk-eye watch on the far bank.
If you are looking forward to becoming a seasoned riverbank hiker, consider practising crossing a river. You could start with the smallest and safest rivers, and build up your confidence.
The more the experience, the more confident you become towards a safe-crossing experience. Always take the opportunity to cross moving water when the stakes are low.
Tips for amateur hikers
It is fun crossing a river. To begin, find a slow-moving, shallow stream or river, and practice safe water crossing when the weather is warm.
Practice makes perfect – always train from close to home when the weather is fair and mild. Do this when in a relaxed mood, without any time pressure. When doing the practices, have access to dry clothing.
Have a clear picture, be confident when approaching the water crossing, be familiar with the risks, and consider safety measures to avoid making mistakes that would harm you.
If in doubt, first consider your ability or that of a team member to withstand cold, fast water. What would happen if someone were to slip and fall? Rivers that are fast flowing are dangerous and unsafe when crossing.
Then ask this crucial question: Do you have to make this water crossing?
Related Topics