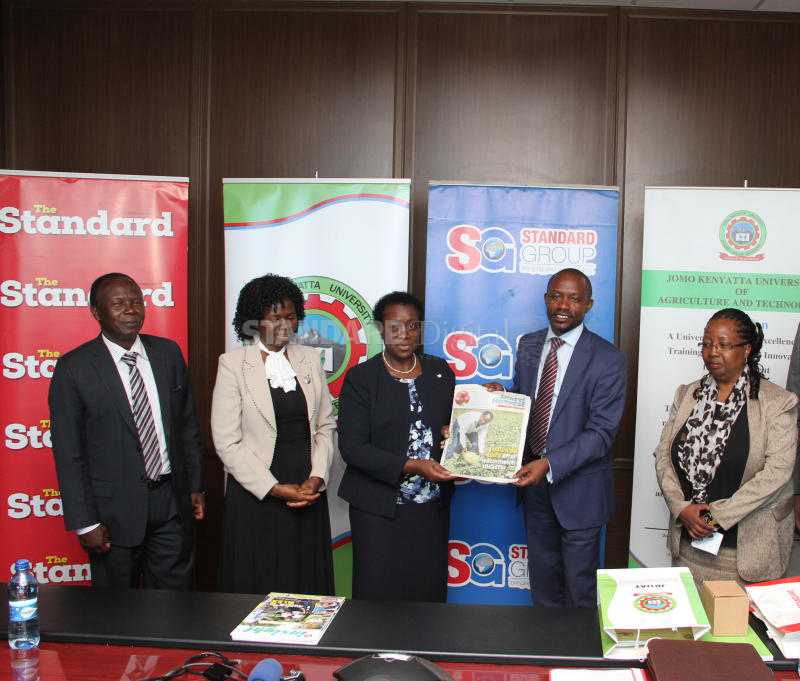 The Jomo Kenyatta University of Agriculture and Technology has partnered with The Standard Group to enlighten Kenyans on innovations at the institution that foster the country's development.
The two partners expressed commitment to promoting initiatives including those in food security, innovative water technology, manufacturing through value addition, and access to affordable housing and healthcare.
This is to be done through the Standard Group's media platforms, with The Smart Harvest agri-business magazine in the Standard on Saturday being the anchor product.
Speaking during the signing ceremony at the Standard Group headquarters in Nairobi yesterday, Vice Chancellor Mabel Imbuga said the various innovations and inventions by JKUAT would further aid the Government in achieving its development goals.
"Last year, President Uhuru Kenyatta unveiled the four pillars of development - food security, affordable healthcare, affordable housing, and manufacturing. As an institution, we are glad that our partnership with the Standard Group will help us educate and inform Kenyans on our key milestones, innovations, and research findings," Prof Imbuga said.
She added that as the official knowledge partner, JKUAT would supply Smart Harvest with a pool of experts to address reader concerns every week in addition to penning expert opinions on key areas in technology, farming, and agri-business.
"We have a team of experts in value addition, food science, food security, animal health, crop biotechnology, animal genetics, soil, and nutrition," she said.
Imbuga, who was accompanied by senior university staff, said Standard Group was a strategic partner in enlightening Kenyans on significant discoveries in the institution, and in exposing these innovations to potential manufacturers, who would commercialise them.
"When we run out of maize Kenyans say they are hungry yet we have alternatives. Many Kenyans, for instance, don't consume sorghum. We are coming up with sorghum noodles in the near future even as we push for alternatives," she said.
Among the officials present were Prof Mary Abukutsa-Onyango, the deputy vice chancellor (research, production and extension), Prof Victoria Wambui Ngumi, the deputy vice chancellor (administration), and Prof Benard Ikua, the principal, College of Engineering and Technology.
Research findings
Standard Group Acting Chief Executive Officer Orlando Lyomu assured the university that it would get the support it needed to market its research findings and publicise its innovations through the group's print, TV, radio and online platforms.