After two years of pain, couple still hopes to find kidnapped child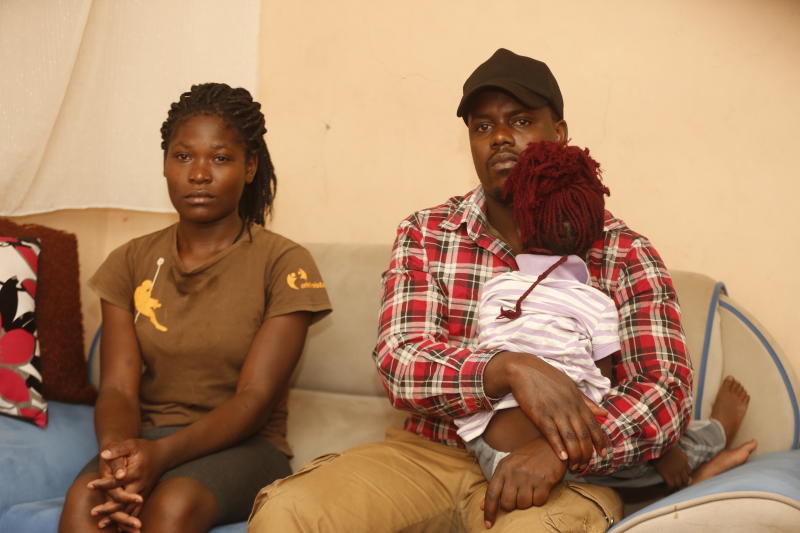 On May 2, 2019, Sheila Aura was born at Kwa Rhonda slums in Nakuru West Sub-County. Two months later, on July 1 that year, she was kidnapped.
Calendi Mwajuma, 23, and her husband Moses Aura were left in shock when their baby disappeared under the care of their neighbour.
Two and a half years later, the couple is yet to find Sheila. Nobody seems to know where she is.
"We do not have our daughter's photo, but she looked like me and her elder sister aged four. She had a full head of hair and a birthmark on her right leg," Mwajuma told The Standard yesterday. Moses described Sheila as a lovely baby who made them smile each day. "You couldn't leave her on the seat or the floor. She would cry," he said in tears. "She is two and a half years now but she doesn't even know her name. We are not sure what she looks like or where she is and it pains us."
Since their child went missing, Mwajuma and Moses have vowed not to have another child for five years with the hope that Sheila will be found.
"How did I let somebody steal my child? What are my responsibilities in life as a father? If I cannot protect my daughter who will I protect?" He said he is scared of getting another child and not protecting them. "I cannot get another child, knowing my daughter is out there waiting for me to bring her home. That is my priority," he said.
On her part, Mwajuma has had a contraceptive implant to keep her from conceiving for five years. She said she discussed it with her husband, and they opted to first seek justice for their lost daughter before having more.
"We had planned to have two children then wait for years before having a third child. However, our second one went missing and since then we have not known peace." Mwajuma went on: "It is still painful two years down the line. I carried my baby for nine months and she was gone in [what seemed like] minutes. I believe she is alive but I have no peace because I don't know what she eats or where she lives."
Since Sheila's disappearance, the distraught mother says she dreams of holding her daughter again. "I pick her clothes and hold them against my chest. I ask God why it happened to me. I have sleepless nights and sometimes [feel like] I lose my mind." The couple's hope of getting their child has been dwindling for the last two years.
What started as a joyous experience of getting a second child has turned into a nightmare, they say.
Mwajuma recalls May of 2019, when she came home and Sheila was gone. "I asked the neighbour but she didn't know where my child was. I screamed for help and we got a sigh of relief when a bodaboda operator said he had carried a woman with a child who seemed to be in a hurry," she said.
With the help of detectives, the couple trailed the woman and arrested her in Busia with a two-month-old baby on August 11, 2019. However, the woman insisted that the baby was hers, prompting Principal Magistrate Benard Mararo to order a DNA test. Results came in on September 26, 2019, ruling out Mwajuma as the child's mother. The family, still convinced that the child was theirs, pushed for another test and it was ordered in October 2020.
The results almost led to the separation of the couple following blame games on paternity. The couple was informed that the child was not theirs. In an earlier interview, Nakuru West Police Commander Samson Gathuku denied laxity in dealing with the case.
"It is sad that the couple is in distress. We have, however, intensified investigations," he said.