Prosecution fails to link suspect in murder of inmate to weapon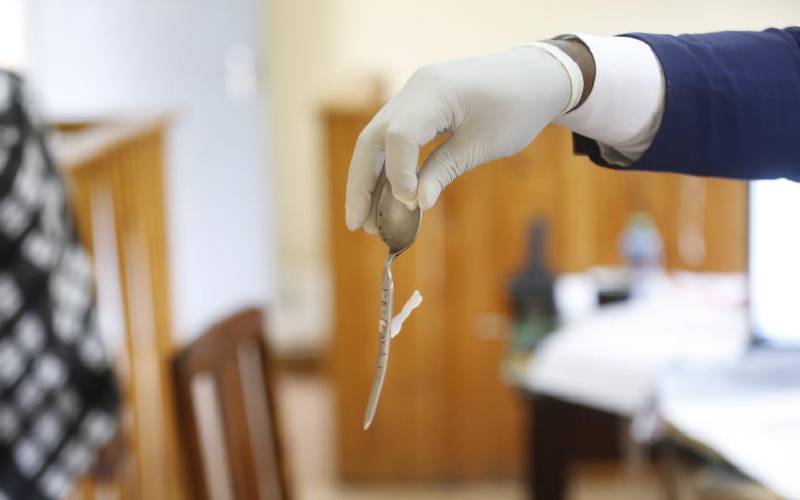 The prosecution in a case an inmate at Kamiti Maximum Security Prison is accused of stabbing a colleague to death has failed to link the weapon reportedly used in the killing of Harun Karanja to the main suspect.
It emerged that the sharpened spoon Victor Ochieng, alias Ochipoo, is accused of using to kill Karanja has no bloodstains or the DNA of the suspect.
Deoxyribonucleic acid, commonly known as DNA, is a complex molecule that contains all of the information necessary to build and maintain an organism. All living things have DNA within their cells.
Ochieng who is currently serving life imprisonment at the prison is on trial for the murder of Karanja, which he reportedly committed on October 4, 2017.
It is said the two disagreed over a "business deal" before Ochieng reportedly pounced on Karanja.
A forensic expert, Susan Ngugi, told Justice Teresia Matheka of the High Court in Nakuru on Tuesday that she could not trace any DNA materials on the improvised knife to match that of the main suspect.
Ms Ngugi said she was given the sharpened spoon to examine on February 6, 2019.
She also examined a grey sock that was torn, a white shoelace, and Ochieng's white and blue striped prison shirt.
"There was no DNA or bloodstains on the spoon, sock, and the shoelace. However, Ochieng's shirt had bloodstains with his DNA," said Ngugi.
The prosecution was hoping to strengthen its case by linking the murder weapon to Ochieng.
The findings by the forensic expert serve as another major blow to the prosecution after five prisoners the defence team had listed as its witnesses pulled out. On October 24, Josephat Kimeli, Eric Murunga, Muhamad Ali, Eric Roteritoi, and Anthony Ndungu declined to testify in the case even after the judge's order on May 19 that they should be produced in court to testify.
The prosecution was forced to proceed with the case without the testimonies of the five inmates.
It was reported that Ochieng killed Karanja and as he was escaping from the scene of the crime, met another inmate, Douglas Maina, who he also accused of stabbing twice using the same spoon.
He is then said to have surrendered himself to guards manning the gate and handed over the weapon he had reportedly used to stab his fellow inmate.
Karanja who was found lying in a pool of blood at the gate, five meters from the duty officer's office, was taken to hospital but pronounced dead.
The case will be heard on December 14.