Suspect accused of circumcising five women, two girls, now on the run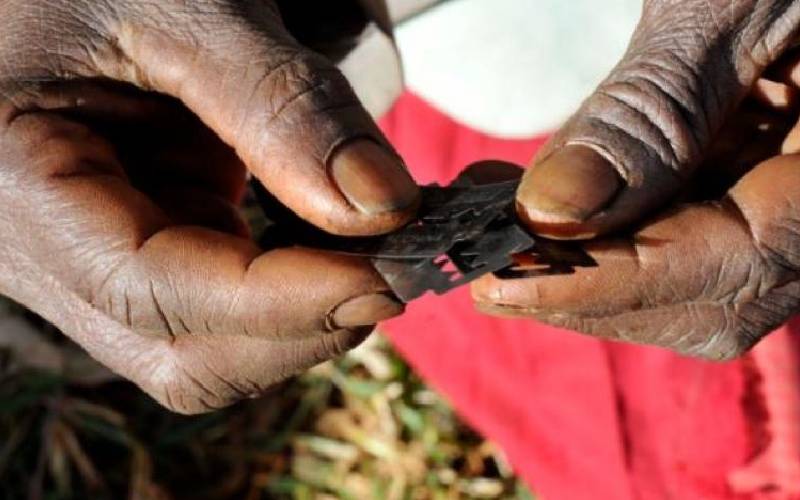 Police in Kacheliba, West Pokot County, are looking for a woman accused of subjecting five women and two girls to Female Genital Mutilation (FGM) at Emboasis last week.
FGM is the practice, traditional in some cultures, of partially or totally removing the external genitalia of girls and young women for non-medical reasons. It is illegal in many countries.
Area OCS Tom Nyang'au said they have been looking for the suspect for the last two days.
"We suspect she may have fled to Uganda on learning we are looking for her," Nyang'au said.
The victims were found at the suspect's home, recovering, after the cut, the officer said.

"The women and the girls underwent FGM between October 11 and 16. We have arrested husbands of two of the women and the mother of the two school-going girls," Nyang'au said.
He said they will not rest until they arrest the suspect and all her accomplices.
All the five women who were circumcised are married, said the OCS.
In the meantime, the officer said they have arrested two other women who are notorious for carrying out FGM in the area.
Emboasis chief Paul Achia said they will ensure the suspected circumciser is punished as per the law.
"The two girls are class five pupils at Maricha Primary School while the five women are married, some with children," Achia said.
He said the women went for circumcision due to stigmatization. There were claims that the women are members of a local religious group accused of supporting FGM.
"There is a church here that supports FGM. We have information that the same church also discourages children from going to school. One of the women was forced to undergo FGM after her sister, a member of the said church, stigmatized her," Achia said.
The administrator said they are also looking for leaders of the church, accusing them of forcing their female members to undergo the illegal cut.
"We are looking for them. We won't relent until when we arrest them," Achia said.
Granny, 98, attacked and raped
The victim was rescued on Thursday morning and taken to Mabusi health centre. A medical report showed she had been raped.