Nakuru police launch crackdown against notorious gang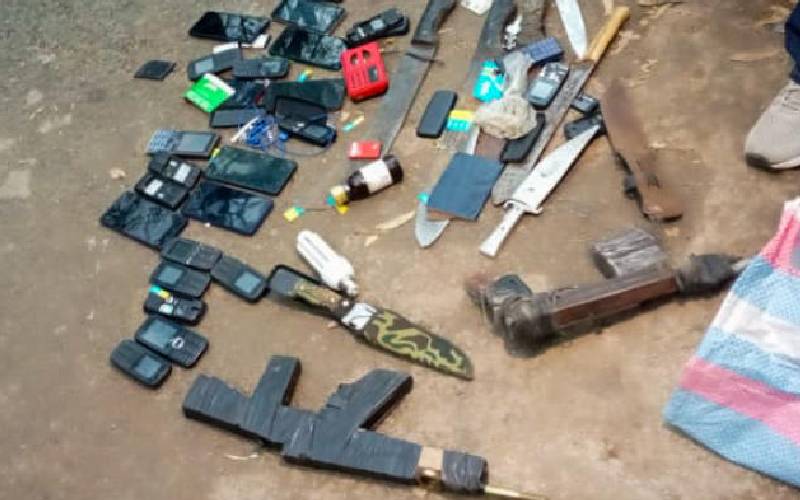 Police officers in Nakuru have launched a crackdown on members of a notorious gang.
The crackdown comes amid rising cases of gang violence in parts of Nakuru town East and West constituencies.
Police say for the past two months, residents of Kivumbini, Bondeni and Kwa Rhonda slums have been living in fear as splinter groups of a gang fight over an alleged betrayal.
On Wednesday, the officers conducted a sting operation 'code-named confirm' that saw some 13 suspected members of the gang arrested.
The operation also saw the recovery of a cache of weapons, mobile phones and sim cards from different telecommunication companies.
Acting on a tip-off from the members of the public, the police led by Officer in Charge of Operations Wilson Nduati stormed one of the houses belonging to a suspect in the Lakeview estate.
"Residents reported suspicious activity in one of the houses within the estate. We moved swiftly and surrounded the house where we found the suspects who have been evading our dragnets for some time," said Nduati.
He said the suspects appeared to have been plotting a criminal activity and might have been involved in swindling Kenyans money using mobile cash transfers.
"We recovered 12 mobile phones, sim cards, two homemade guns, four machetes, seven daggers, a motorbike with no registration plate and fifteen rolls of what is suspected to be bhang," he said.
Nduati said the suspects, all male, were aged between 18 and 21 years and are believed to be behind a recent wave of criminal activities that include break-ins and muggings in Nakuru estates.
"We suspect they have been behind incidents of robberies at gunpoint or using daggers in and outside Nakuru, snatching of mobile phones. Investigations are on and they will be arraigned in court," he said.
The police boss affirmed that they have enhanced a crackdown on the gang which was originally operating from Bondeni slums before spreading to other locations in Nakuru East and Nakuru West sub-counties.
"We shall continue with the operation to ensure the gang has no space in Nakuru and make our town a safe place for the residents. They either reform or face the law," said Nduati.
According to him, two weeks ago, the gang descended on an unsuspecting bodaboda rider near Nakuru South Cemetery leaving him with serious injuries and a lost tooth.
In retaliation, a group of bodaboda riders pursued the gang members to Kiratina area where they caught up with one member and beat him up to death.
A resident interviewed by The Standard said the gang was on the verge of collapsing as a result of internal wars among the members.
"Some members have reformed and are now a target of the rest terming them as traitors. Others are fighting to protect their territories based on the types of crimes they engage in," a resident at the Kwa Rhonda estate said.
Another resident from Bondeni estate revealed that a gang operating from Kwa Rhonda has been retreating to Bondeni after committing crimes in other parts of the town.
"They always hang around the cemetery when they realise they are being sought. This makes them clash with members of the other gang within Bondeni who disassociate themselves with physical crimes," said the resident.