Our son's killers will never know peace, say slain student's family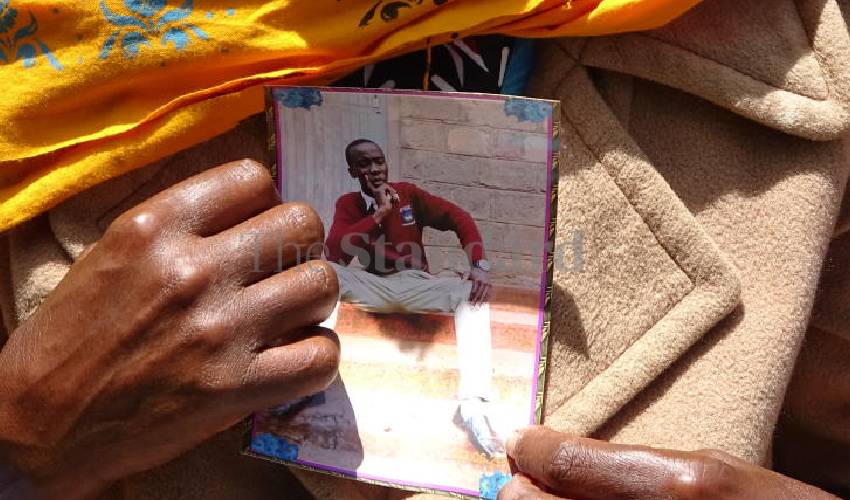 Lucy Chepkemoi, a distraught mother from Keongo in Kericho County, is crying for justice over the death of her firstborn son.
Gabriel Kiprotich, a student of Dedan Kimathi University, was last seen alive on August 20.
According to police reports, he was heading to Nyeri to activate his bank account, which he had opened the previous day.
A missing person report was made at Kabiruini Police Station in Nyeri County, but his body was later found with stab wounds.
Kimathi University Dean of Students Benson Ongarora said he didn't have the exact details of what led to the death of Kiprotich.
"We were expecting his family to come to the university today so that we can arrange for an autopsy to allow us to have some clue of what could have transpired, but the family postponed the trip to tomorrow," he said.
Dr Ongarora said he was out of office when the incident happened. At Kiprotich's home, neighbours were streaming in to condole with the family.
Family and neighbours were at a loss over how Kiprotich, whom they described as a staunch Catholic and who served as an altar boy at the Keongo Catholic church, met his death.
"The State is yet to provide me with answers. The university also has not provided me with any information. I sent my son to school hoping I would celebrate his success, but instead, I have received devastating news," said Chepkemoi.
Chepkemoi, 53, described the death of her son, whom she had financially struggled to educate, as a blow. "I knew it was just a matter of time for him to graduate, find a job and eventually support me. His death has hit us hard," she said.
According to Kiprotich's friend, Kipkurui Rono, he was seen alive on Friday. "His roommate told me he tried to contact him on Saturday morning, but his phone was switched off," he said. The deceased body reportedly had stab wounds on the thighs and had been dumped by the roadside. "His phone was missing. But the bank document containing his account details, and Sh500 were recovered from his pocket," said Rono.
Chepkemoi said she last talked to her son when the campus was closed due to student protests over a hike in tuition fees. Kiprotich's grandmother Robina Korir said: "We must know who killed Kiprotich and why." His uncle Daniel Tonui called on police to bring the killer to book.
Ms Chepkemoi, said even if the justice system fails to nail the killers, her son's murderers will never know peace.