Teacher's 35-hour ordeal with kidnappers on Eldoret highway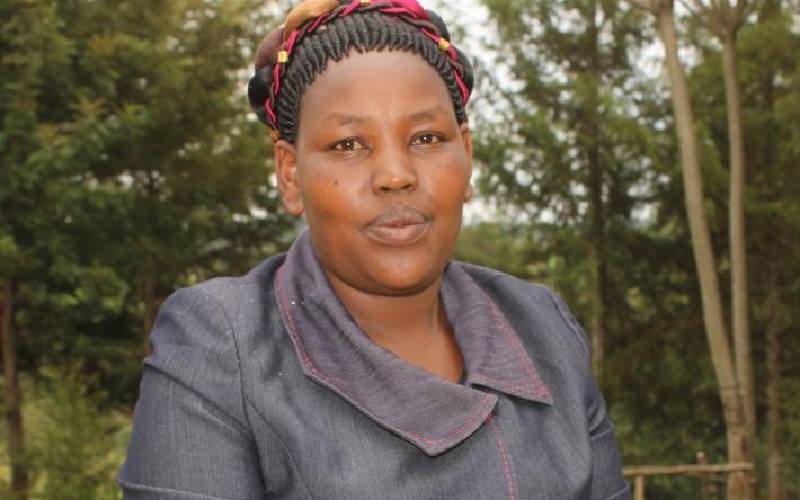 When Prisca Magut left her Mosoriot home in Nandi County on Sunday evening, all seemed well.
The teacher was reporting back to work at Kapkechui Secondary School, 15 kilometres from her home.
But on reaching the Eldoret-Kapsabet road, she unsuccessfully waited for a matatu at Mosoriot bus terminal before a private car pulled over.
The driver offered her a lift to school and she accepted, unaware that she had fallen into the hands of kidnappers.
"It was a few minutes to 8pm and I was anxiously waiting for a matatu but they were not available. A silver-grey saloon car then stopped by and the driver asked if I was heading to Kisumu or Kapsabet," she recounted.
Regained consciousness
The driver requested her to pay Sh50 fare. In the car, Prisca says there were three other occupants.
"A man was seated in the front seat. I sat with two other women in the back seat. They were all silent. I thought they were also passengers," she recalls.
While in the car after a few minutes, she said she started feeling dizzy and weak, before passing out.
"I regained consciousness almost 35 hours later. I still felt weak and could not speak," she said, adding that after regaining consciousness, she heard two people discussing where they would dump her.
"I was blindfolded but I overheard two people conversing. The car stopped and I was pulled out. They left me on the roadside at Awasi in Kisumu," she said, adding that the two other women she had found in the car were not there.
Her husband, David Magut, said that Prisca had promised to call after she got to school.
"I called her but she didn't my pick calls. On Monday morning her phone was off until around 11am. I was called by her colleagues asking about her whereabouts," he said.
Tracked phone
He reported the matter at Mosoriot Police Station, after which Directorate of Criminal Investigations (DCI) officers tracked Prisca's phone to Iten in Elgeyo Marakwet after it was briefly switched on.
On Tuesday morning, David received a call from the police that his wife was at Awasi Police Station.
She was found by a boda boda rider along the Awasi-Kisumu road who directed her to the police station. She was taken to hospital for examination and found to be in stable condition.
Chesumei sub-county police commander Bosita Omukholongolo said such cases were rampant along the Eldoret-Kisumu highway and investigations had been launched.
"We expect her to give us more details that can lead to the arrest of the culprits," said Omukholongolo.