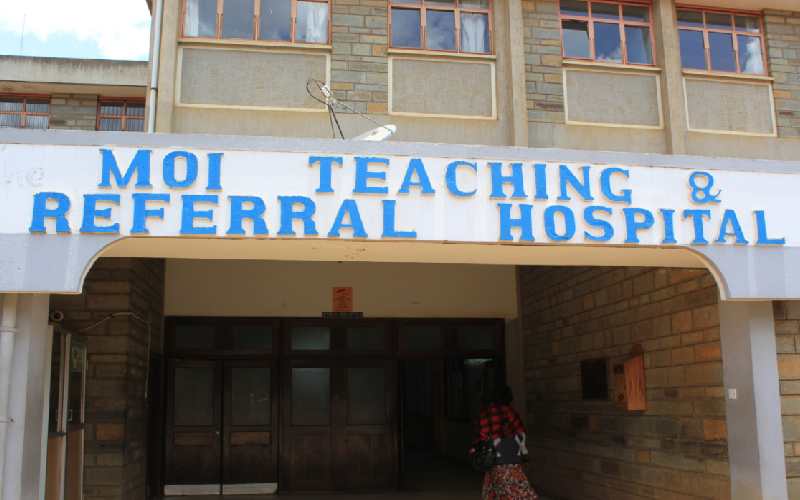 The country's second-largest referral hospital, which was overwhelmed by Covid-19 patients between September and December, ended 2020 with a reprieve.
The Moi Teaching and Referral Hospital (MTRH) was overstretched following the second wave of the pandemic, but on Friday, the facility said it was crossing over to 2021 with less pressure on its medical structures.
Two weeks ago, the hospital received 20 ventilators from the USAID, which further helped ease Covid-19 management.
Hospital Chief Executive Officer Wilson Aruasa, whose term was extended for three years, said despite the pressure from Covid-19 plummting, residents from the 22 Western region counties it serves should not lower their guard.
Read More
By yesterday, Dr Aruasa said, the facility was managing 15 Covid-19 patients in its isolation ward, down from over 100 in late November.
He also reported that 10 patients were under home based care after many recovered towards the end of 2020.
"An average 25 patients are evaluated daily at our Covid-19 evaluation area," he said.
Dr Aruasa said the hospital was hoping coronavirus vaccination would start earlier in the new year.
On Wednesday the North Rift region recorded one Covid-19 case from Uasin Gishu County.
"It is not time to drop our guard. We must continue with preventive measures as we look forward to the rolling out of mass vaccination exercise by the Ministry of Health," said Aruasa.
The hospital was battling Covid-19 pandemic, with only 30 ventilators, which could not effectively handle the influx of patients requiring life support machines.
Aruasa commended the Covid-19 fund board that collaborated with Equity Bank to donate 300,860 personal protective equipment in November. He said the support helped frontline health workers in the fight against Covid-19.
Aruasa said MTRH's ICU was overwhelmed following the strike by nurses and clinical officers, which has forced hundreds of patients who would be treated in county facilities to seek services at the referral hospital.
He said at the beginning of November to mid-December, their hospital's ICU beds had been fully occupied by Covid-19 patients. He said MTRH leadership has, in collaboration with the Ministry of Health, implemented all collective bargaining agreements for the health workers attached to the facility, and this is why the medics are not on strike.
"We have implemented our CBA with the medical team working with us, which includes comprehensive medical covers and enough protective equipment, and this has really motivated our service providers," said Aruasa.