Nakuru County calls for revival of Itare dam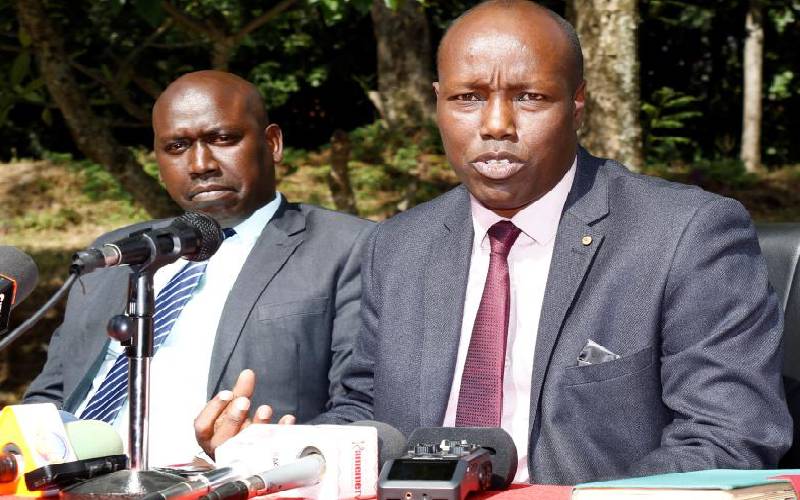 The Nakuru County Government wants State agencies to speed up investigations into the multi-billion shilling Itare Dam project that stalled due to corruption allegations.
Deputy Governor Erick Korir (pictured) said the county had been banking on the completion of the project to meet growing demand for clean drinking water.
Speaking during a burial ceremony in Ngata on Saturday, Dr Korir said that future developments in the county depended on the project's success.
The dam, he said, was expected to produce nearly 100,000 cubic metres of water daily to serve over one million residents.
"That project is key to our development agenda. We want to see the project back on track so that we can quench the thirst of residents and plan ahead. We expected that once completed, the project would end the water crisis in the county," he said.
The project that was launched four years ago stalled after CMC Di Ravenna, an Italian company contracted to carry out construction, was declared bankrupt.
Last year, Water Cabinet Secretary Simon Chelugui said he had prepared a report on the project for tabling before Cabinet.
More than 800,000 residents of Molo, Njoro, Rongai, Kuresoi and Nakuru towns had pegged their hopes on the dam.
Stephen Kiprotich, a resident of Kuresoi, said it was unfortunate that the project had stalled.
"Our hopes have faded; the light at the end of the tunnel faded a long time ago when we gave up on the project," Mr Kiprotich said.
The resident said that even visiting the site of the dam was painful because machines had been left to rust while deep excavations posed a danger to villagers.
He expressed concern that taxpayers would be forced to pay for a white elephant project.
Kiprotich said investigations should be fast-tracked and those responsible for misusing funds brought to book.