They used and dumped us, Mau evictees claim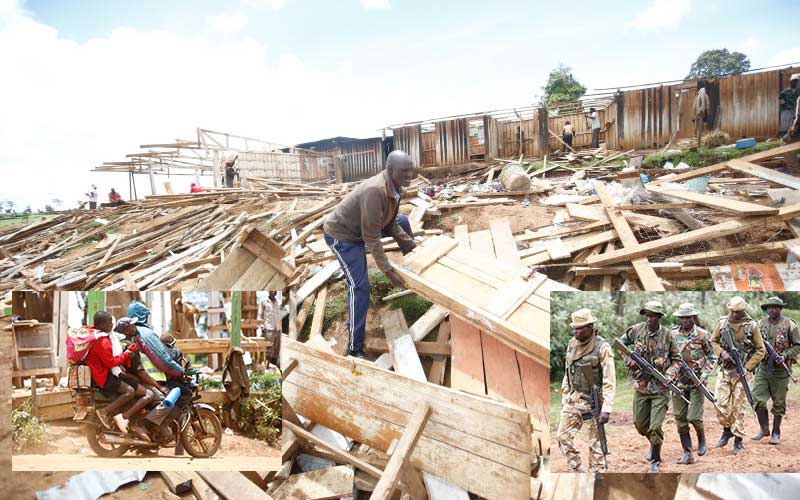 Destroyed. Flattened. This best describes what was once Sierra Leone, a shopping centre in the Mau Forest Complex.
The centre is no more after police officers descended on it at about 5am yesterday and demolished all the structures.
At day break, the locals, many of them with broken spirits, were left rummaging through the debris, looking for anything they could salvage.
Donkeys were overwhelmed by the burden on their backs as they carted away their owners' belongings.
Some of the traders watched in disbelief as what was once a source of income was brought down.
The buildings were brought down under the supervision of police officers in what the locals summed up as "being used and dumped by politicians".
Geoffrey Ng'etich said their leaders had abandoned them and they had no option but to leave "however painful it is".
"Where are the people we woke up early in the morning during the last General Election to vote for?" he posed.
"I want you to tell the President, his deputy and all Jubilee leaders from Rift Valley that we are of no use to them now. We pick our pieces and wait for 2022," added a tearful Ng'etch.
Smallholder farmers
Ng'etch is among smallholder farmers who used to supply fresh farm produce to Narok and Mullot.
Stanley Towett, another resident, bitterly recalled sometime between 2016 and 2017 when they had to be ferried to Nairobi to meet top Jubilee leaders who assured them that they would not be removed from their land. To their surprise, the said leaders have since gone silent.
"The leaders have abandoned us. I remember I was among 51 people who were taken to Deputy President Ruto's residence in Karen just before election. We met him and he assured us of our stay here in the Mau. President Uhuru Kenyatta also assured us of our stay but we are here suffering, where did we go wrong?" Towett said.
Towett claimed Ruto visited Sierra Leone with Narok Governor Samuel Tunai and assured them that they would not be evicted.
"Ruto said our issues had been addressed and we clapped and stood with him. Tunai also took us to a hotel in Naivasha where he told us things had been streamlined and what remained was we assure him of our support," he said.
Towett's Sh500,000 investment at the centre is no more.
The Government had issued a directive to the settlers to leave the Mau Forest but most of them adopted a wait and see approach. Some of them carted away their families and belongings but waited to see if the eviction order would be effected
The demolitions that started last Friday caught many settlers by surprise.
As women and children fled the area, men rummaged through the rubble to recover building materials.
"We are being moved out, none of us is leaving voluntarily. The demolition you are seeing is by force, officers sent here have been moving around since Friday, kicking our shops and telling us to demolish them," said Simeon Lelei.
Lelei wondered whether the 60 days ultimatum the Government issued through Rift Valley Regional Commissioner George Natembeya had expired.
"It is like the 60 days notice has expired without our knowledge. The Government promised a humane eviction but what we are now seeing is brutality and destruction of property," he said.
Leonard Lang'at, who operated a lodge, shop and a hotel, said he had suffered huge loss.
"I invested over Sh1 million at the centre and I was making a return of not less than Sh80,000 a month. All that is now gone!" he said, watching pensively at the rubble that was once his business.
Bernard Bett who owned a barber shop and retail outlet said he closed it due to frustrations.
"He lost investment valued at Sh200,000. I do not know what to do next," said Bett.
His neighbour Catherine Bett, a mother of eight, said her shop was broken into and clothes stolen.
Ms Bett alleged that police officers deployed there were looting the shops before bringing down the buildings.
Rift Valley Regional Commissioner, however, denied the claims.
Mr Natembeya said residents of Sierra Leone are cooperative but those in Kipchoge, Kitoben and Kass FM are trying to resist.
"You cannot resist and we have allowed you time to leave peacefully," said Natembeya.
He said those with crops will be allowed time to go back and harvest and that the officers are manning the crops.
He said some people were financing the resistance, adding that after an officer was shot at Kass FM, one person was arrested with Sh180,000.
Has termed
Former Bomet Governor Isaac Ruto has termed the demolition unlawful.
He said the forced eviction is a disaster and that the Government refused to have discussion yet the matter is in court.
"We don't know what the Government is up to. The land was given out by Government. You can't use force at this time. I'm shocked and surprised even by the deputy president," said Ruto.
Belgut Member of Parliament Nelson Koech said President Uhuru Kenyatta must now pronounce himself on the issue.
"Uhuru must now pronounce himself on this issue. There are three cases pending in court and the 60-day ultimatum is not over," said Koech
Narok North MP Moitalel ole Kenta has, however, supported the eviction.
The ODM legislator said the government is right in the eviction to save the Mara ecosystem and the country at large.
Senate Majority Leader Kipchumba Murkomen has protested the evictions, saying the targeted settlers were not on government land.
"In efforts to preserve Mau, the Government has conducted evictions in an abusive and unlawful manne," he said.
In August this year, the government announced plans to evict 10,000 people from Maasai Mau forest.
The second phase of the Massai Mau eviction targets people on a block managed by the Narok County Government that is held in trust under the Mau Trust Land.