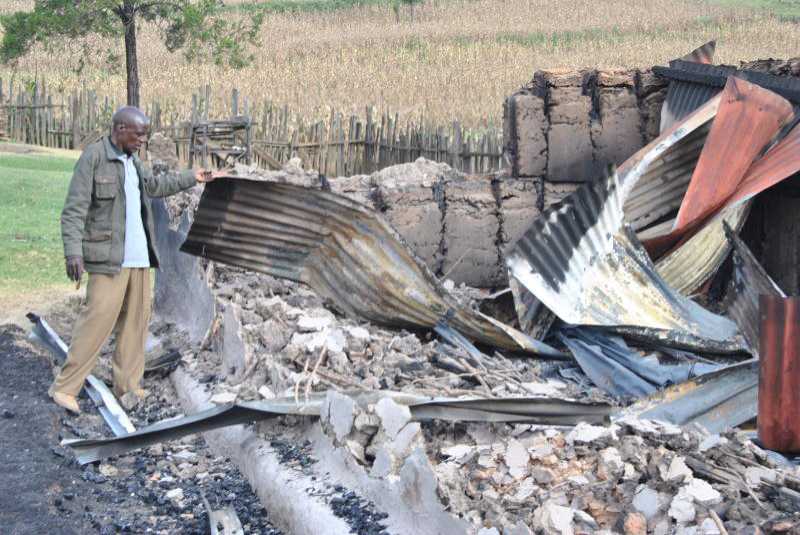 An uneasy calm has returned to about 10 villages affected by the recent violence in Narok South sub-county.
The clashes left at least four people dead and 60 houses razed.
County Commissioner George Natembeya has asked residents to return to their homes and reassured them that security had been beefed up in the affected areas.
"We have a contingent of about 70 officers who we have temporarily stationed there. We zoned the areas into seven zones, each with 10 officers. For the last two days, we have not had any attacks," said Mr Natembeya.
He said the Government would deploy more officers to the nine affected schools to ensure preparations for the national examinations went on uninterrupted.
Some of the residents who spoke to The Standard narrated chilling encounters that they said had left them traumatised.
Normal life
Peter Tenkeet, 65, led a normal life until September 7. He had a good house, a lush farm with maize and beans, and his stock was breeding well.
But as fate would have it, his dream of enjoying his sunset years in a place he had lived all his life was shattered when arsonists struck.
Mr Tenkeet lost his two-roomed house, a kitchen and two houses belonging to his sons as well as his granary, which had about 10 bags of beans and hundreds of bags of maize.
"I feel so pained. I had invested a lot here in my productive years but I salvaged nothing from my house. I just cannot imagine starting life all over again," he said.
The father of 18 children wondered what wrong he had done to his neighbours, who had lived near him for several decades.
Tenkeet urged the Government to ensure that normalcy returned to his village.
But despite calm returning to Ololoipang'i, Ololoisho, Olooiser, Esimendwa, Oldupoi and other villages, the locals have expressed fear about going back.
Wilson Lemaiyan, 35, a head teacher at Ololoipang'i Primary School, also had two houses and a maize store full of harvest razed.