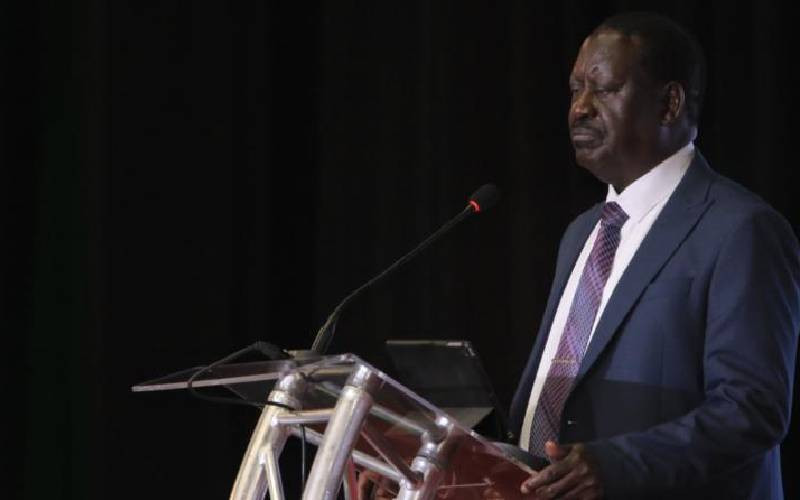 Azimio la Umoja One Kenya flagbearer Raila Odinga will be in a crunch should he be sworn in as Kenya's fifth President.
Raila's intent to tap into the experience of five incumbent Cabinet Secretaries - who were implored upon not to resign by President Uhuru Kenyatta to steady Raila's government should he win - has presented a plethora of complexities that will require Solomonic wisdom to resolve.
The fate of the CSs after the August 9 elections thus now lies with the former premier, and should he ascend to power and dole out the Cabinet slots to the five, it will be interesting to see how he will appease the rest of the country with the remaining 16 slots.
Interior Cabinet Secretary Fred Matiang'i, Joe Mucheru (Information and Communication Technology), Peter Munya (Agriculture), Ukur Yatani (Treasury) and James Macharia (Transport and Infrastructure) are pegging their future careers on Raila winning the elections.
The influential CSs with heavy-budget dockets have been campaigning for the Opposition chief, alternately chiding his competitor, Deputy President William Ruto. Their vigour on the campaign trail shows what is at stake post the polls only 43 days away.
This, after President Uhuru Kenyatta - the Azimio One Kenya coalition patron - prevailed upon them to shelve their political ambitions and not resign in February, in exchange for plum posts in the next government should Raila win.
Agriculture CS Peter Munya had put up a spirited fight for Meru governor seat until last minute talks saw him back incumbent Kiraitu Murungi's re-election bid.
In the recent past, Uhuru has hailed Munya for turning around the fortunes of farmers and taking charge of the approximately 25 parastatals under his docket, the most notable being Agricultural, Fisheries and Food Authority, Kenya Agricultural and Livestock Research Organisation and the Kenya Meat Commission.
Should the chips fall in Azimio's favour, Munya will be transferring his expertise to Raila's administration. Prior to assuming the Agriculture docket, Munya wore many hats including that of the CS Trade and Industrialisation as well as East Africa Community and Northern Corridor development.
ICT CS Mucheru has been most vocal campaigning for Raila and has even at one time prophesied a round-one win. Should the future be kind to him, it would be interesting to see his place in the next government.
Despite him not expressing a desire to run for political office, his steadfastness in championing for a Raila presidency has put him at loggerheads with the Kenya Kwanza camp, which has read malice in his actions given that he controls a key docket that plays a crucial role in elections.
The Ruto-led Kenya Kwanza fold has on numerous occasions called for the resignation of Mucheru claiming he was orchestrating a ploy to sway the outcome of the August elections in Raila's favour.
Mucheru's ministry controls seven parastatals, including the Communications Authority of Kenya (CAK), the Kenya Broadcasting Corporation (KBC) and the Information and Communications Technology Authority whose functions are interlinked with the electoral process.
Mucheru has, however, maintained that he is only out to fulfill his role as minister, and no one can stop him from expressing his views on who he supports or doesn't.
"I have not instructed or directed anyone to vote in a specific manner. I've already decided where I'll vote and how I'll vote," he said recently.
His Interior counterpart Fred Matiang'i is also keen on ensuring a smooth transition of President Uhuru's government and handing over the power baton to Uhuru's successor. His being in good books with the Head of State – thanks to his uncompromising style of leadership - means he expects a slot in Raila's administration, which has in the past promised continuity.
He has also not been spared by the Kenya Kwanza leaders who have criticised his "partisan views" on politics and alleged directives to administrative officers under him to respect President Uhuru Kenyatta's preferred presidential candidate, actions that Kenya Kwanza says dent the credibility of the outcome of the August polls.
Matiang'i controls the Interior and Coordination of National Government affairs where security apparatus are domiciled, as well as parastatals such as NACADA, registration of persons and immigration services.
Then there is Treasury CS Ukur Yatani who was appointed through a reshuffle that saw Henry Rotich shown the door amid graft allegations. Yatani, who recently led the proposal and adoption of a new Sh10 trillion debt ceiling by Parliament, was seeking a second tenure as Marsabit governor and his footing in the county told of a man ready to battle it out with incumbent governor Mohamud Ali who is vying on UDM party, Yatani Wario (UPIA), North Horr MP Chachu Ganya (Kanu) and Sunya Ore of ANC.
But given the sensitive nature of his docket, Yatani rescinded his decision following high level consultations with Uhuru, who managed to talk him out of his pursuit of a political future, presumably with the promise of a lucrative position in the Raila administration.
In his current role, Yatani oversees 16 parastatals key among them the Kenya Revenue Authority (KRA), the Capital Markets Authority, Public Procurement Oversight Authority and the Competition Authority of Kenya.
Transport CS James Macharia had also hinted at running for political office but chose to stay put. His experience overseeing the multi-billion infrastructure development projects gave him impetus to bargain for a place in Raila's administration.
His portfolio includes overseeing parastatals such as the Kenya Ports Authority (KPA), Kenya Railways and Kenya Airways.
Should Raila win the presidency, he faces a delicate balancing act of maintaining an identity in his government simultaneously rewarding loyalists, absorbing those from his Handshake brother's administration and appeasing fringe parties that would have been instrumental in his ascension to State House.
Azimio National Executive Council First Deputy Chairperson Adan Keynan said while multiplicity of interests ahead of the polls are a common identity of presidential contests, Raila will have a freehand on whom he picks for key state positions if he forms the next government.
"It's normal for loyalists to line up for goodies after elections, and that is the real identity of politics world over. But Raila as president will be his own man, and will have the final say on who he wants to assign duties to as he forms government," said Keynan, who is also the Jubilee parliamentary secretary.
COTU Secretary General Francis Atwoli, an ally of the Azimio One Kenya chief, was confident that Raila's political experience was enough to help him wade through the formation of government.
"If you are looking for the most experienced leader, it is Raila Odinga and I am confident that he knows how to form his government without taking advice from anybody. All of us are his students and can only follow his teachings," said Atwoli.
University don Herman Manyora observed that it would be difficult for Raila to deliver on his promises should he concentrate on rewarding loyalists and those that shelved their ambitions in his favour.
"As an incoming President, you cannot satisfy everyone and trying to will only compromise the ability to deliver on your promises. Most of these people are old in the way they do things and you can't introduce change with them because they are only used to doing things in a particular way," said Manyora.
He, however, says there is a way out for Raila.
"The only way out is for Raila to have a different way of doing things; reward those he must by appointing them to Cabinet and even in parastatals but form an economic council to turn around the fortunes of the country. That way, the CSs are just conveyer belts of the policy documents and ideas generated by the council," added Manyora.
Political expert Tom Mboya says process of constituting government can be a thankless task given that it is impossible to satisfy all competing interests, but believes Raila would still have space to have an identity in his government.
"Apart from the five CSs, there are others in office hoping that there may be a continuation of their tenure but if it is Raila coming in, he will want to stamp his authority and demonstrate through his appointments the change in terms of direction that he wishes the government to take," said Mboya.
The analyst observes that it is possible for Raila to appease the rest of the county with the remaining 16 slots by dwelling on the constitutional requirement of regional balance. "He definitely would not want certain parts of the country to feel left out".