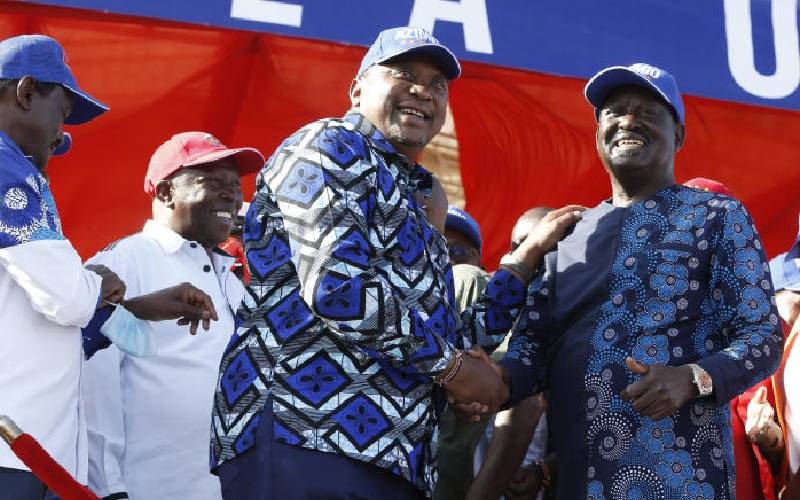 ODM leader and Azimio la Umoja presidential candidate Raila Odinga has said he will not abandon President Uhuru Kenyatta in case he wins the presidency in the August 9 polls.
In an interview with BBC's Sophie Ikenye, Raila said Uhuru has been instrumental to the stability of the country and economy and whoever wins the election cannot just edge him aside.
Raila said although he has not been part of the government as opposed to what has been said, his government focuses on inclusivity and would work hand in hand with Uhuru even in his retirement.
While dismissing claims that he is a state project, Raila said he has had a good working relationship with Uhuru since long ago.
"Raila cannot be anyone's project, I have worked with Uhuru. When I was Prime Minister he was my deputy and we worked so well.
"After the 2017 election, the country was headed to the south. He took an oath and I took an oath, people were fighting and dying but after detailed talks, we agreed that Kenya was bigger than the two of us….
"If I win the presidency, that relationship will continue, just as Uhuru has been consulting, I would consult him on many fields, he would become my advisor, a businessman or just like me, he can serve in various postings at the international community level," Raila said.
Last weekend, President Kenyatta formally endorsed Raila to succeed him as Kenya's fifth Head of State.
Uhuru made the announcement in front of Azimio la Umoja delegates at the Kenyatta International Convention Centre (KICC) from over 20 parties.
The President said Raila was the only one capable of uniting Kenya and moving the country forward towards prosperity and economic development.
"May God bless Raila, the fifth President of Kenya, to lead the country. I am confident Raila will move the country forward and ensure Kenya is respected globally," Uhuru said.
Uhuru said Raila will be able to tackle the corruption menace and form an all-inclusive government once he becomes president where no one will be left behind.
"I am sure he will not leave his brothers and sisters behind. We now have a team leader and when the next government is formed I know Raila will listen to Wiper leader Kalonzo Musyoka, KANU leader Gideon Moi, Kitui Governor Charity Ngilu among many others," he said.
And Raila who doubles up as the African Union Special Envoy for Infrastructure said although he had said he would not vie for the presidency after the 2017 election, he had received overwhelming calls from Kenyans across the country asking him to reconsider.
"The people asked me to reconsider my words because they have high hopes in me, it wasn't my own decision," he said.
"That time it is true I said I had the last bullet, but as a soldier, when you go to the war field you carry reserves. If you exhaust the reserves, you have a machete, a spear or an arrow, you do not stop fighting until you conquer," he said.
Raila said having been a victim of electoral fraud in previous elections, he hopes and expects that the IEBC would deliver a credible, fair and viable election.
"I am not IEBC to assure of a credible election, but as an independent body, they should ensure they have delivered without any influence from anyone," he said.
The former Prime Minister said he will be ruthless about corruption to ensure that all the loopholes are closed.
"Through the Babacare, I will ensure that despite having health insurance covers, Kenyans can access affordable and accessible health facilities with equipped personnel who are motivated through good remuneration," he said.
He said his government will also restore sanity in the criminal justice system to end cases of extrajudicial killings.
"The failure of the criminal justice system has forced people to take laws into their hands. Many suspects are arrested, charged and freed on bail and continue to terrorise innocent people to conceal evidence. This failure is responsible for extrajudicial killings and must stop," he said.
Raila said he will be held accountable for all the pledges he has made.
"These are pledges that I intend to accomplish because that is what I am signing as a contract between me and the Kenyan people," he said.