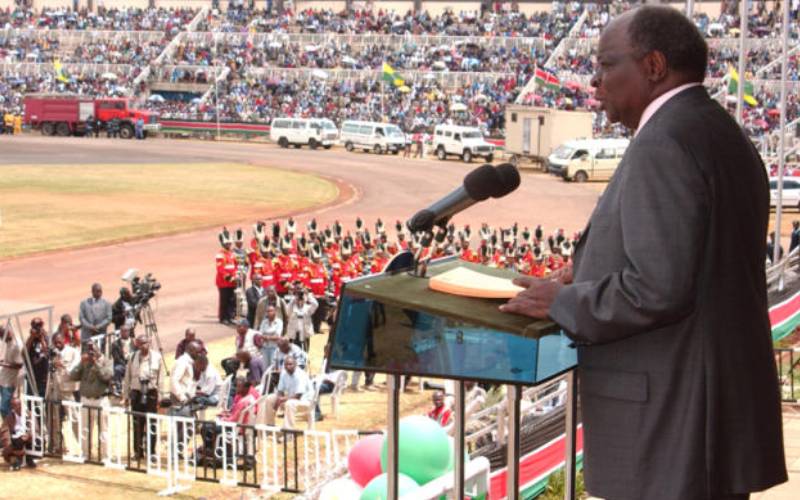 In presiding over their last public functions, Kenya's outgoing presidents have had a tendency of vouching for political stability while hinting at their preferred successors. And yesterday, President Uhuru Kenyatta was not any different.
Speaking at Nairobi's Uhuru Gardens during the commemoration of the 59th anniversary of Kenya's self-rule, the President left no doubt in the minds of Kenyans on where his heart really lies in the presidential poll that is 68 days away.
Same as Kibaki, who, on December 12, 2012, neither put in a word for Vice President Kalonzo Musyoka nor Prime Minister Raila Odinga - co-principals in Grand Coalition Government - Mr Kenyatta not only failed to seek support for his deputy, but declined to accord Dr William Ruto opportunity to speak.
Although Kibaki did not drum up support for Uhuru-Ruto pair in 2012, supporters of Mr Odinga and Mr Kalonzo, under the Coalition for Reforms and Democracy ticket, expressed disappointment over the then outgoing president's indifference. Dr Ruto would later brag during their swearing-in ceremony in April 2013, that "at least we know whom you (Kibaki) voted for".
Except for founding president Jomo Kenyatta, who died on August 22nd while still in office, Daniel arap Moi and Kibaki, who served as the second and third presidents of the Republic of Kenya respectively, gave indications of their preferred successors while presiding over their last public holiday celebrations.
Moi openly pushed the case for Uhuru in 2002, maintaining that the younger Kenyatta was best placed to succeed him. And just like his counterparts who wound up their tour of duty on a reconciliatory note, Moi tendered a moving apology to Kenyans during his last national address. "Kama kuna mtu ametukana mimi; namsamehe. Na kama kuna mtu nimesema kitu kimeumiza roho yake, unisamehe (I wish to forgive anyone who may have abused me. Similarly, if there is anyone to whom I may have said something that is hurtful, forgive me)," stated Moi.
Curiously, Jomo similarly struck a reconciliatory note when he presided over his last national holiday event, Madaraka Day, in June 1978. In his brief 387-word speech, the founding father celebrated the political stability in the country and urged Kenyans to continue nurturing a peaceful atmosphere.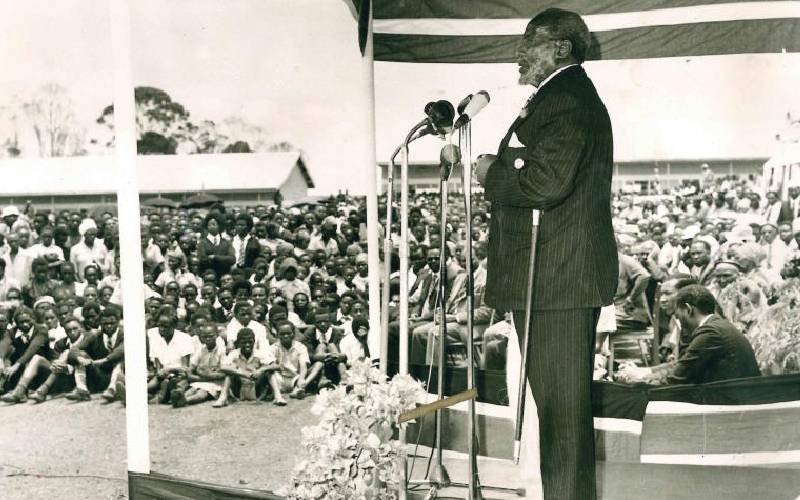 He outlined achievements of his 15-year government, attributing the same to peace, stability and faith in unity: "My Government has always responded to the wishes of the people in their aspirations to achieve self-reliance. This is the foundation of our peace and stability. We extend our domestic concern for peace and stability to other nations and respect their territorial integrity."
Historians and pundits argue that Jomo's endless stress on the aspect of peace was a deliberate and constant reminder to members of his kitchen cabinet, to ensure a peaceful power transition in the event of his incapacitation or even death.
Indeed when he died peacefully in his sleep, Jomo's right hand man and long-serving Attorney General, Charles Mugane Njonjo, ensured a smooth power hand-over to Moi.
Despite his bias towards Mr Kenyatta in the 2002 presidential race, when he addressed the nation during that year's Jamuhuri Day celebrations just two weeks before the polling day, Moi, too, argued the case for political maturity and stability.
"Tafuteni kura kwa amani, na kama mtu anakukataza kura, usikasirike kwa sababu hiyo ni haki yake (go out there and seek for votes peacefully. And do not get angry with anyone for not granting you his or her vote, because it is their right)".
And noting that he had indicated he would quit politics in 1998, a year after winning his second competitive presidential election after the reintroduction of multiparty politics in 1992, Moi reassured his audience that he was not keen on hanging onto power as was the case with most African leaders. "Mimi naondoka katika siasa moto moto na kuwa raia (I am quitting active politics to settle down as an ordinary citizen)".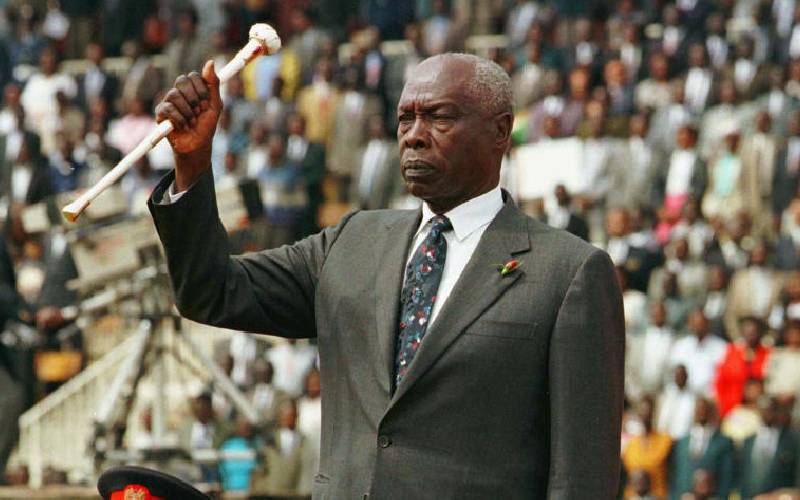 Kibaki similarly juggled his way coyly in his last speech on December 12, 2012, without causing much drama. He opted not to stay mum on the crucial poll that was three months away, only asking the contestants to go about "their thing" cautiously and peacefully.
Singling out the promulgation of the 2010 Constitution as one of the most memorable achievements of his tenure, Kibaki pointed out that his government had strived to promote political stability and asked the incoming government to faithfully implement provisions of the new Constitution. "I also call upon each one of us to promote peace and national unity in all our areas of influence. We should be free to disagree and hold divergent opinions, but as we do so, we must remain both peaceful and united. Indeed, our unity in diversity is our greatest strength," he said.
Yesterday, Mr Kenyatta sustained the thread of political stability, appealing to the fifth government to fight corruption as well, to realise economic growth. Singling out the second term of his office – when he fell out with his deputy – as the most trying era of his reign, Mr Kenyatta attributed his government's achievements to political stability resulting from the symbolic handshake Mr Odinga. [Oscar Obonyo]
And like Moi, the President tactfully drummed up support for his "handshake brother", when he stated that Kenyans had a great opportunity to elect the first female Deputy President on August 9. Seasoned politician, Ms Martha Karua, is Raila's running mate in the Azimio la Umoja-One Kenya.
Incidentally, the speeches by Jomo, Moi, Kibaki and Uhuru, were delivered on two specific days - Thursdays by Jomo and his successor Moi, and Wednesdays by Kibaki and his successor Mr Kenyatta.