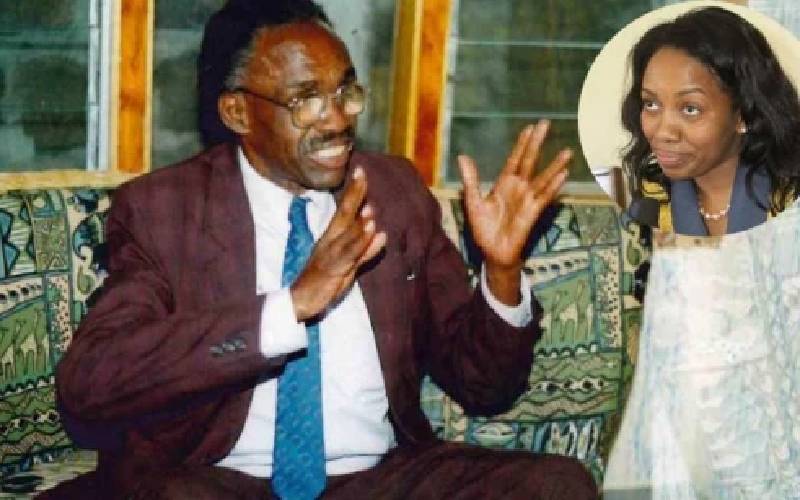 Governor-aspirant Susan Kihika is abrasively pushing to unseat Lee Kinyanjui.
In Susan is a case of like father like daughter, and confirmation that the fruit doesn't fall far from the tree. One of three elected female senators (the rest are nominated), Susan is as aggressive and abrasive as was her father Kihika Kimani who was MP in the 1970s and 1990s, and set a record getting elected in three different constituencies.
He was MP for Nakuru North in the 1970s and legislator for Laikipia West and Molo constituencies in the 1990s.
Fearless Susan has rubbed just about everybody the wrong way. As Speaker of the County Assembly in the last term, she rarely saw eye to eye with governor Kinuthia Mbugua, but at the same time she couldn't get along with the Clerk and members of the County Assembly.
The Jubilee senator was picked as Leader of the Majority in the Senate, but would soon be booted because of her zealotry in supporting the rebellious camp coalescing around the Deputy President. Indeed, she was among the first to openly defy the President even when the DP himself pretended all was well in a party that had clearly turned into the House of Babel.
Rock Jubilee boat
But alas, even within the DP's and United Democratic Alliance circles, Susan isn't everybody's cup of tea. Though Bahati MP Kimani Ngunjiri was her comrade in rocking the Jubilee boat, they had their differences before making up during a visit by Deputy President William Ruto for the sake of the party .
Whereas you would expect women to support their own, three female MPs in Nakuru, though in UDA, aren't keen to campaign for Susan to be governor. They reportedly are quietly campaigning for Governor Kinyanjui to punish Susan for allegedly backing rivals in the party nominations.
In his days, Susan's father Kihika was known for his caustic tongue. He would make pronouncements that today would get him in hot soup with the National Cohesion and Integration Commission, and the Director of Public Prosecutions.
When he was the same age Susan is today–48 years–in 1976, the father led a noisy and high voltage campaign known as Change the Constitution movement that sought to block Vice President Daniel arap Moi from succeeding President Jomo Kenyatta.
The group wanted deleted from the old Constitution a clause stipulating that in the event of the Office of the President falling vacant, the vice president would be acting president for 90 days. The fear was that once in office in an acting capacity, the occupant would manipulate levers of the State and be elected Head of State.
At one of the meetings held at Kinoru Stadium, Meru, on October 8, 1976, Susan's father openly threatened to assassinate anyone standing in the way of their succession plans.
Meru meeting
Ironically, while the father threatened to kill to stop the vice president from ascending to presidency, the daughter would die to have the Deputy President take over from the incumbent.
At the Meru meeting, the senior Kihika thundered that he feared nobody and would do anything to block Moi from State House. He boasted: "What do I care even if I should die tomorrow? I have 18 children some who are at the university ... so what would I lose by dying?"
At the time, Susan was the politician's last born with his second wife and only two years old. Her father went ahead to marry five other wives and sire about two dozen other children.
The following is an excerpt from the murderous speech Susan's father made in Meru:
"There is no section of the Constitution we cannot amend. And nothing will stop us from doing exactly that. It is I, Kihika, who is saying it. Let those longing to succeed Mzee Kenyatta know he will be President for the next 100 years! They will instead die and leave Kenyatta at State House. Let them know that we are very serious men and can dispatch to the other world anybody joking around.
"Yes, we can kill if need be! We can laugh with you but we can be very vicious if you play around with us. We don't entertain nonsense and people who try to take leadership of this country through funny clauses in the constitution. And who planted those clauses in our constitution in the first place? Is it not the same people who wanted their chosen cronies to succeed Kenyatta? We just cannot allow that to happen! We cannot give hyena meat for the second time. No way! This time we must tell the hyena to venture out there and hunt for itself. We are not going to hand over power to someone who hasn't worked for it, and wants to exploit some dubious provision in our constitution that allows lazy people to be President for 90 days!
Go for his neck
"As I speak here, Mzee Kenyatta is at Nakuru and knows well that I, Kihika Kimani, can single-handedly defend Nakuru even if it means death. If anyone, whatever his rank in government, gives us nonsense we don't see why we shouldn't crush him! We can tell the public to go for his neck and they will not spare him. Should he play with us we can go to State House and tell the President we don't want so and so for this and that reason. Should it come to that I am sure I can get a million people to accompany me to State House. We have never joked around!"
Eventually President Kenyatta ordered a stop to the Change the Constitution crusade on realisation it was tearing the country down the middle. Ninety-eight of the 158-member National Assembly had signed a memorandum to oppose Kihika's group as Attorney General Charles Njonjo warned it was treason to "contemplate or imagine death" of the President. In a private conversation with Head of the Public Service Geoffrey Kareithi, Mzee Kenyatta said the Kihika group had been "stupid" for the manner in which they went about their campaign. He reasoned that you don't show the cow the knife you want to use to slaughter it because it will fight back. In noisily going about their move, the Kihika group had alarmed pro-Moi forces who fought back just as hard.
Chop off fingers
The Kihikas are in a long line of hotheads who have made Nakuru the melting pot of Kenyan politics right from the colonial days. Before Independence, Nakuru was the bastion of white settlers who wanted to unilaterally declare themselves an independent nation the way their counterparts had done in the former Southern Rhodesia, now Zimbabwe. In the months to independence some white settlers in Nakuru had hatched a plot to assassinate Jomo Kenyatta.
After Kihika Kimani came a notorious Nakuru Kanu branch chairman by name Kariuki Chotara who put the fear of deity in all and sundry. After his death in 1987 many attended his burial in Naivasha not to mourn him but to indeed confirm he was gone!
After him came another rabble-rouser called Wilson Leitich who, at the height of the campaign for multi-party democracy, instructed Kanu young-wingers to chop off the fingers of anybody waving the two-finger multi-party salute!