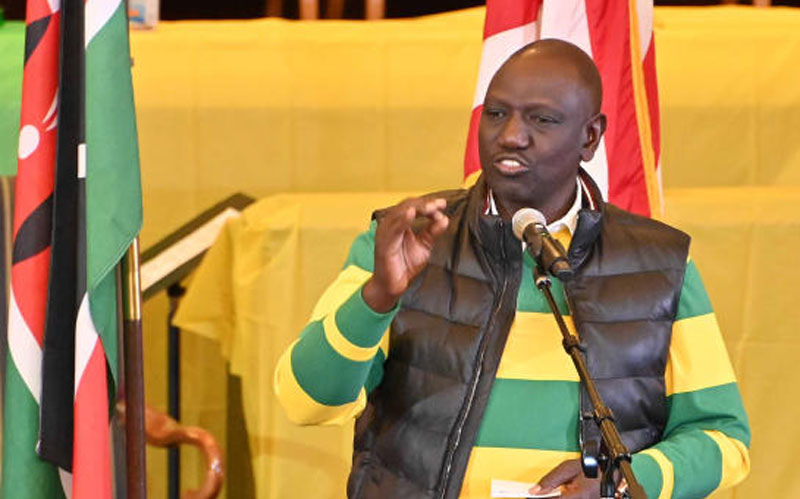 United Democratic Alliance elections board will today interview Deputy President William Ruto and two other aspirants seeking to be the party's flag bearer in the August 9 elections.
The National Election Board will ask the presidential aspirants why they are contesting and share their ideas of what they will do for the country if they win.
"We will be doing verification of the aspirants for the presidential seat. Do they have the requisite papers, what they stand for in terms of electoral issues and what they plan to do for the country if they are elected by the party," said Anthony Mwaura, the board chairman.
The interview will begin at 8.30am and end at 11am before Ruto begins his tour of Meru County.
UDA plans to have its National Delegates Convention (NDC) on Tuesday where the party will unveil its flag bearer and a number of resolutions.
Apart from endorsing their presidential candidate, the election board will also update the NDC on the planned primaries which according to Mwaura, has attracted over 6,000 interested persons. Mwaura said: "NEB will invite diplomats to be part of a historic journey by observing the primaries. We believe in a free and fair nomination and we want to demonstrate it to the world. We are doing several things to ensure all aspirants believe in the process."
Mwaura said the board held countrywide meetings where they listened to feedback from aspirants.
"Our message has been unequivocal; there will be no preferred aspirants. Certificates will be issued to those Wanjiku has chosen through a free and fair process. All aspirants are equal when it comes to nominations," said Mwaura.
He said the board updates the DP every day on nominations preparations. He knows parties remain strong or wither depending on how they carry nominations and he is very much in charge.
Mwaura said the decision on budget will be made depending on number of aspirants who will pay nomination fees and total number of party members who will have registered by March 26th.
He said the party will have transparent ballot boxes with seals and ballot papers to have photos of aspirants.
"The winner will get an interim certificate at the tallying centre before being given actual certificate by the board," said Mwaura.
He said the membership register will be ready by end of March.
"We shall be writing to IEBC this week to gazette polling centres, dates and on security. Manual and digital membership recruitment has been ongoing and shall close on March 26 when we shall prepare a membership list to be forwarded to ORPP, which we shall finally use," he said.
He added: "UDA has the highest number of aspirants, and we shall be fielding candidates for all elective seats across the country. We shall ensure a free, fair and verifiable process. By yesterday, we had 6,000 aspirants registered, Nakuru leading with 600, Kiambu 400 while Uasin Gishu was third."
He said UDA will use 25,000 IEBC polling centres across the country and that ballot papers shall have watermarks, serialised and no photocopies will be used.
"The party primaries will be between April 9 and 16. Once dates have been fixed for specific areas, there will be no changes in the process that shall commence at 6am and close at 5pm. Centres will be organised such that we will have one entrance and an exit and observers will be allowed to witness," added Mwaura.