Ruto, Raila face dilemma in bid to distance themselves from Jubilee's economic failures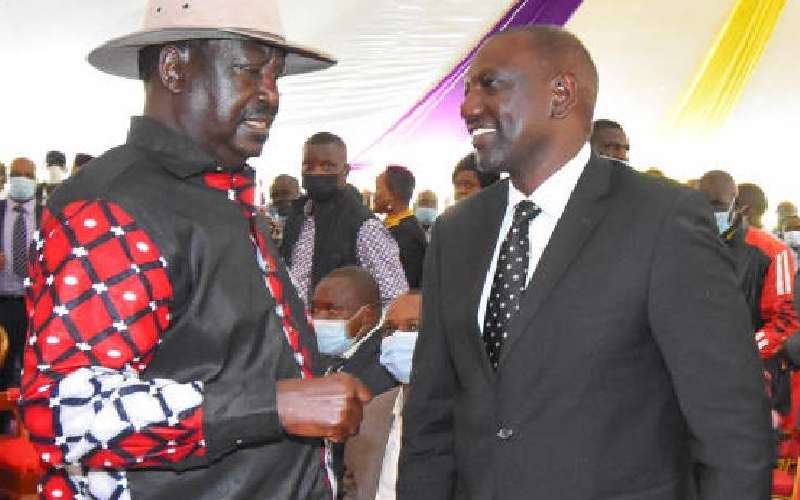 Determined to succeed President Uhuru Kenyatta, Deputy President William Ruto and Opposition leader Raila Odinga are struggling to shake off Jubilee burdens while also hanging on to its credits.
While Ruto's team is bringing Raila into the picture, the latter's team has been working to distance themselves from Jubilee ills, asking the DP to carry the Jubilee cross on behalf of his retiring boss.
After his reelection in 2017, Uhuru re-evaluated his government and committed energy and resources in his second term to achieve the Big Four agenda.
But things have not been rosy, partly due to the coronavirus pandemic.
Kenyans are feeling the effects of increased taxation with the price of basic commodities going up while the government has been busy populariing BBI.
In an appearance on Standard Group's Spice FM yesterday, Elgeyo Marakwet Senator Kipchumba Murkomen said that Ruto cannot be blamed for what has happened in the government over the past four years.
"He has not been part of the administration. He is there de jure but de facto he is not. The real deputy president is Raila Odinga," Murkomen said.
There has been a sustained campaign by UDA strategists to show Raila as enjoying government perks.
Murkomen's message was echoed by photos of Raila using a vehicle with government plates.
Uhuru's critics want the public to remember the unfulfilled plan to make healthcare free for all and Kenya food secure.
Ruto has been constant in his messaging that Raila 'changed the priorities' of the government, making reference to the Building Bridges Initiative (BBI) which Uhuru and Raila have promoted for the past three years.
Uhuru's administration has been heavily criticised for the way it handled the coronavirus pandemic but it instituted some relief such as tax breaks and has a trade agreement with the USA in the works.
Ruto was banking on the success of the administration to coast into State House but the Building Bridges Initiative, borne from Uhuru's and Raila's pact, has upended his plans.
Now Ruto is attempting to distance himself from the workings of the government as he comes up with strategies that will set him apart from Uhuru.
Some of those strategies include recasting himself as the pro-poor, pro-youth leader.
This has widened the rift between him and Uhuru and made Raila a bigger target.
"Be gentlemen and accept that you have caused the country monumental failure by virtue of overturning the priorities that we had.
"You will squarely have to carry the consequences of what has happened to us the last three years. It is obvious, every Kenyan knows," Ruto said in January, a message that he still spreads.
An acrimonious squeeze between the Jubilee and its supporters, especially in Mt Kenya, has been worsened by the adverse effects of the coronavirus pandemic and an underperforming economy.
Political analysts believe this will be a factor in next year's General Election and could explain why Ruto and Raila are trading blame.
"They are attempting to escape the baggage of the government's unfulfilled promises," says political scientist Amukowa Anangwe.
Unmet expectations
But Anangwe, who is a former Cabinet minister, says that Ruto cannot absolve himself of blame.
"The mere fact that he may not have participated does not mean he is not responsible for the failures of the government," said Anangwe. "They were together longer than they were apart."
He suggests that incumbency can be a problem, "especially because of unmet expectations. However, the most vocal was Ruto because he was very articulate."
Anangwe says that although heaping the blame on Raila for the performance of the government passes as a political strategy, it fails the test of logic.
"The mere fact that Raila benefitted does not make him part of the government. Raila did not make any pledges. Raila is a beneficiary of circumstance," he said.
"Ultimately, the buck stops with those who were given the mandate. You cannot be the crew of a vehicle and want to blame a passenger," he said.
But Anangwe reasons that Uhuru's relationship with Raila will have implications on the latter's chances in 2022.
"Before the Handshake, Raila was known as the Opposition leader who put the government on its toes," he said.
Anangwe said that while that particular quality endeared Raila to his base, it has now led to his estrangement.
"Some of his supporters will feel betrayed. They are in a quagmire. That is why the ground in Kisii, Coast and Western shifted," he said.
He argued that it will boomerang because Raila wants to endear himself to Mt Kenya more. "You can't have your cake and eat it too," he said.
The discontent with government is evident in the voting patterns in the by-elections held in Mt Kenya region.
But Dr Francis Owaka, a political analyst and lecturer at the University of Nairobi reckons that it is presumptuous to read the results of Kiambaa and Juja by-elections as an indicator of the shift in the region.
"By-elections are nothing to go by if push comes to shove. The real scenario will be evident from February," he said.
Kieni MP Kanini Kega has said that by suggesting Raila has a stake in government, the DP and his allies were trying to absolve themselves of their failures in government.
"It is very mischievous. How can a person who is not in government, does not have an office and who does not enjoy the perks be responsible for what happens in the government?" posed Kanini.
Kanini argued that a better strategy would have been Ruto exercising his patience and waiting for the government agenda to actualise and then using that to catapult him to State House.
"Some of the government projects have been affected by Covid-19 but they are on course. In a few months, people will start taking credit," he said.
Kanini also defended Raila from accusations of using government vehicles for his personal business.
"That vehicle belongs to (Suna East MP Mohammed) Junet who is assigned a car because he is National Assembly Minority Whip.
Junet confirmed yesterday that the vehicle was assigned to him.
"The vehicle is mine, given to me by Parliament by virtue of my position. Raila was visiting me and so I picked him up from where his chopper landed," he said. "How does that mean that he is in government?"