Impeached Wajir Governor insists that court order puts him in charge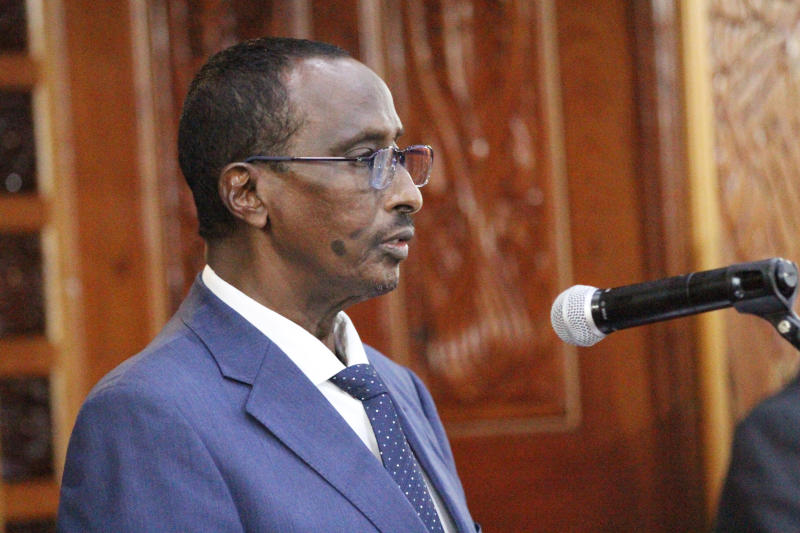 As the supremacy battle intensifies in Wajir County, embattled Governor Mohamed Abdi Mohamud has insisted that he is still the centre of power.
Speaking at a press conference yesterday, Mohamud said that for the fourth time the High Court had issued an order, giving him powers to be in office until his petition is heard and determined.
The three-judge bench ruled that on May 18, the orders had been issued and were confirmed to be in force on May 24.
Last month, the Senate upheld the impeachment of Mohamud by the county assembly. His deputy Ahmed Mukhtar was sworn in following his ouster. Recently, Mohamud and Mukhtar attended two different official functions in Nairobi.
Mohamud attended the official relaunch of 4K Clubs by President Uhuru Kenyatta at the ASK showground in Jamhuri, Nairobi. He joined other governors at the function among them Council of Governors chairman Martin Wambora.
Mukhtar, on the other hand, assented to the county supplementary budget which was recently passed by the county assembly.
However, Mohamud said that disobedience of the orders issued on May 18 and 24 would lead to anarchy and lawlessness, adding that Wajir residents support him.
"I won the people's confidence in the 2017 elections and I have reconfirmed their joy in the ruling, I am ready to unify all the residents of the county," said Mohamud.
Mohamud obtained the conservatory orders from Meru High Court declaring that all orders given by the court would remain in force as the Chief Justice appoints a bench to determine the matter.
Mohamud was removed from office following a successful impeachment process by the county assembly of Wajir, which was also adopted by the Senate through the recommendation of a special committee.