The political calculus of succession: Who will get it right?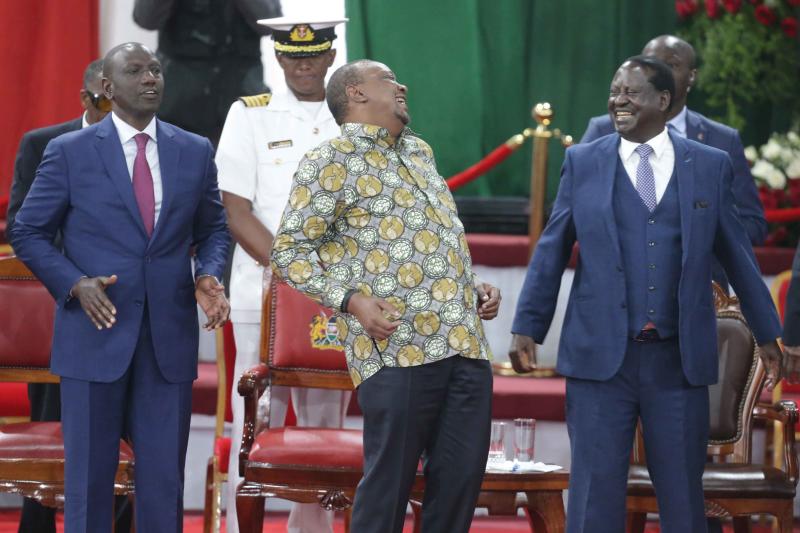 When, seven months ago, Bishop David Oginde predicted that political foes Deputy President William Ruto and Orange Democratic Movement (ODM) leader Raila Odinga would be on the same side in the 2022 presidential contest, many laughed it off as wishful thinking.
Yet today, few can confidently dismiss this prophecy by the Christ Is The Answer Ministries clergyman as falsehood.
Similarly, the possibility of President Uhuru Kenyatta throwing his support behind a most "unlikely candidate", other than close allies like Raila, Amani National Congress (ANC) leader Musalia Mudavadi, and Kanu party leader, Gideon Moi, who are touted as his favoured options, cannot be ruled out.
And the realisation that the Building Bridges Initiative (BBI), which proposes to create three new positions within the Executive, would spice up these alliances even the more.
But failure of BBI to come through could lead to an influx of more presidential candidates on the ballot. Already, former Kiambu County Governor William Kabogo has stated that the larger Mt Kenya region is also nursing the ambition of fielding a candidate to succeed Uhuru.
These varying fallback scenarios amount to what political strategists call "Plan B". Former Teso North MP Arthur Odera aptly puts it: "The Plan Bs will soon take effect and will mainly consist of two groups – those who are assembling and those who are being assembled to coalitions...."
Here are some of the possible scenarios:
UHURU KENYATTA
Although he exits from power in 14 months time, President Kenyatta has openly demonstrated his disinterest in being succeeded by his deputy, Ruto. This paints Uhuru as a man with two clear agendas: to shape his legacy and his succession.
Odera views the BBI as the magic bullet that could help the Jubilee party leader adequately fix his agenda – courtesy of an expanded Executive that will allow political inclusivity and the creation of 70 new constituencies, the bulk of which are in his Mt Kenya backyard.
"Besides serving as a political gift to members of his community, the new constituencies will serve as a sweetener to voters thereby enabling the president to win back their support and thereby firmly take control of his own succession," says Odera, a political affairs commentator.
But Uhuru's plans could backfire within the next three or four months following a petition against a ruling on BBI by the courts and a by-election in his backyard, Kiambaa constituency in Kiambu County. A loss on either or both fronts will force him back to the drawing board.
With Ruto identified as his main political foe, pundits have argued that the best way is to rally members of the old NASA outfit to stick together and top up his share of votes – however small the fraction – to NASA's 2017 figure. This will guarantee their victory.
Alternatively, he could patch up his differences with the DP and strike a deal of sorts with him. This will give him a lesser headache, as opposed to an indefatigable fighter who is currently enjoying near fervent support in the president's backyard. There are fears, though, of Uhuru risking political reprisal if Ruto becomes boss.
WILLIAM RUTO
Ruto has fewer options but try to be president since he cannot serve for more than two terms as DP. This complicates his negotiation space with other players in coalition building.
As Nandi Senator Samson Cherargei rightly observes, the DP's Rift Valley backyard is solidly behind him.
These realities offer Ruto only one painful Plan B – to opt out of the race if he finds that his political road is strewn with thorns and he cannot make it to State House, or proceed nonetheless but shift interest to Parliament and push up the number of MPs allied to him. He can also anoint a candidate and settle for the less influential position of PM. But that will depend on the fate of BBI, which Ruto is opposed to.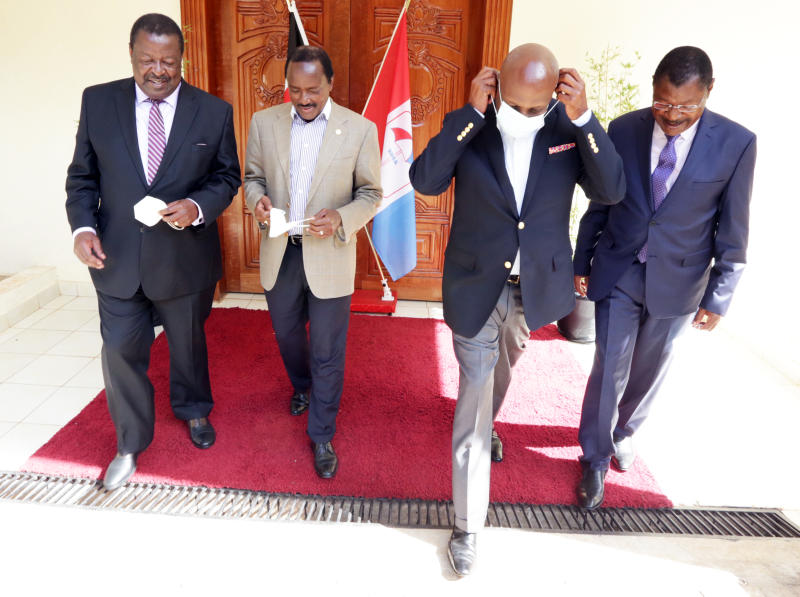 RAILA ODINGA
Raila handlers are plotting his fifth and final stab at the presidency. The 76-year-old politician hopes to use his working experience with each of his probable challengers to woo them to utilise what is proverbially referred to "the last bullet".
One of his trusted foot soldiers, National Assembly Minority Whip, Junet Mohamed, says they have softened their stand and "we are talking to everyone because we want to be in good relations with every player".
But in an apparent reference to a Plan B, the ODM director of elections points out that "Baba can only share out duties when he chooses to, so let the others wait for him to delegate".
In the event of Raila exiting the contest, possible beneficiaries of such a move would include his two deputies in the Orange party - governors Hassan Joho (Mombasa) and Wycliffe Oparanya (Kakamega) - Mudavadi and Dr Mukhisa Kituyi, the former Secretary General of the United Nations Conference on Trade and Development
Raila is separately thought to be thinking of "going it alone" if he fails to get support from the major players. It is believed he is cobbling together an outfit comprising the so-called Young Turks, the Second Liberation heroes of the late 1980s and early 1990s, who include Dr Kituyi, Makueni Governor Prof Kivutha Kibwana and Senate Minority Leader James Orengo.
The most reliable word on Raila's Plan B, perhaps is from Baba himself, who has pointed out that "this shall be made known after the referendum".
KALONZO MUSYOKA
Having participated thrice in the presidential race – once in 2007 as a presidential candidate and twice in 2013 and 2017 as Raila's running mate, the Wiper Party leader will go all the way to the finish line, according to his allies.
Nonetheless, the former vice president has demonstrated the ability to drop his personal ambition and embrace teamwork and nothing can stop him from doing it again in the face of heightened competition.
Senate Minority Whip Mutula Kilonzo Jr says Kalonzo's Plan B is on the cards: "We have drawn several scenarios to work with." Sources within Wiper Party say the former VP is keen on the Premier's slot.
MUSALIA MUDAVADI
Mudavadi is perhaps in a most unenviable situation, thanks to pressure from members of his populous Luhya community who are determined to field a presidential candidate this time around and the party's recently amended constitution.
According to ANC's deputy party leader, Ayub Savula, the amended Constitution stipulates that the party leader shall be the party's automatic presidential flag bearer. The import of this is that the new arrangement gives Mudavadi little room for manoeuvre, including entering coalitions.
"In the event he shies away from vying for presidency, he has to call for a National Governing Council to change the party's constitution again or seek permission to enter into a coalition arrangement," says Savula.
Although Team Mudavadi is tight-lipped on his Plan B, his allies confided to The Sunday Standard that he was determined to team up with the "big names in the game".
GIDEON MOI
The Kanu chair and Baringo Senator has two avenues of realising his presidential ambitions: through the cockerel party and the One Kenya Alliance where he hopes to be the flag bearer. And a possible backing from Uhuru, with whom he enjoys long-standing ties, could give Gideon a good fighting chance.
However, if these come a cropper, the son to Kenya's second president, Daniel arap Moi, could switch gears to gun for PM's role. Henry Wabwire, a political affairs commentator, believes Team Gideon can still market their candidate as Rift Valley's best option.
With the president's men claiming Uhuru has sworn not to hand over power to his deputy, Wabwire says Gideon only needs to portray Ruto's candidature as a stillbirth.
"He can tell his Rift Valley audience that he is the sole credible candidate since Ruto's bid is a troubled one. He can even claim that. 'I am not fighting this guy (Ruto), but he has fought himself out of the contest, so please don't fall with him.'"
Yet still, the senator could yield to the political wind in the region and back the DP. This could the easier option to save Gideon time and resources for supremacy battles and guarantee him and his allies political bargain and security.