Politicians need to unveil their brand and vision as elections near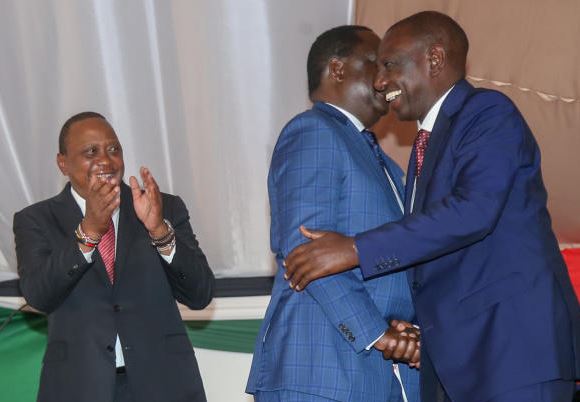 Public conversations on Kenya's top politicians and their dreams for higher office are largely empty.
They have been driven by irrational urges to glorify or condemn the politicos with little focus, if any, on useful visionary agenda.
Politicians are simply praised or condemned in vacuums. The slant has depended on who is in focus and who is talking about them.
ODM leader Raila Odinga and Deputy President William Ruto sit at the top of the pyramid of irrational praise and condemnation.
Friend and foe characterise them each according to their absurd label and libel, with little attention to any deep promissory agenda.
As the country marches towards the August 2022 elections, their followers and adversaries see them variously as 'demi-gods' or 'alien monsters'. The choice has much to do with ancestry and the culture of the herd.
Accordingly, narratives around them have been woven in locally generated myths and prejudices. These are then played out on the national stage, with regional franchises of the biases.
Take a quick survey and help us improve our website!
Take a survey
In recent times, the myths and prejudices have been shipped in the dual carriages of Building Bridges Initiative (BBI) and the notion of the Hustler Nation.
But, there has been little effort to go beyond the cover terms, to unbundle any useful missionary agenda within the buzz words.
This is in spite of the fact that both the BBI and the hustler narratives have been around for close to four years at the time of this writing.
Missed opportunity
Attendant to myth and prejudice is the reality the country has been trapped in a collective stagnant mind frame. Even the finest of the country's journalism has been wedged in myth pushing.
In this week's TV interview with the deputy president, an opportunity was missed to begin turning the narrative from raw tribal arithmetic towards the substantive questions of "Who are we? What do we stand for? What is our value proposition for the country?"
While the deputy president tried to push the conversation towards value-proposition, the interviewer was stuck in the comforts of familiar shallow waters.
He was safe with the usual questions of how elections may not be won without formation of tribal alliances, and with unsubstantiated allegations about theft, corruption and internecine Jubilee Party wars.
Yet, does this disposition speak to a bigger national dilemma?
The obsession with Ruto's alleged involvement with theft, Jubilee wars, and the need for ace politicians to coalesce in political ethnic clubs in order for them to win elections symbolises the sickness of our times.
The interviewer cannot, therefore, bear the sin of the whole nation. He only wakes us up to the reality that Kenyans have, consciously or otherwise, nurtured a political class that stands for nothing.
It will accordingly give them nothing.
But it is also true that Kenyans have not asked the political class for anything, therefore it does not seem reasonable to expect anything from the class.
The interview was rich with lessons for the future. For a start, journalism in the country needs to move away from the comfort zones of "he said, she said, you said."
Development-conscious journalism does not passively follow political agenda and sundry received narratives set by the politicians.
Good journalism gets into the heart of the great questions of the day and sets agenda for national conversations, for everybody.
Petitioned IMF
Elsewhere, Kenyans have demonstrated that they can set the agenda if watchdog entities abdicate their duty.
Two weeks ago, some 200,000 or so Kenyans petitioned the International Monetary Fund (IMF) not to lend the country some Sh255 billion.
While the IMF will not heed the petition, the political class has been put on notice.
A popular uprising is not out of the question. Today it is online. Tomorrow it will be in the streets.
To obviate this, the political class will be hard-pressed not only to place before the citizens believable and achievable value propositions, but to also deliver on the promises.
And journalists will play their watchdog role with more spice and credence than they have done this far.
Obsession with political numbers may need to go beyond raw tribal arithmetic that offers nothing outside a primitive headcount and delivery of an electoral victory based on the crude numbers.
Ace politicians often ask each other, "What are you bringing to the table?"
They understand that they each have a captive home base. In the base are fanatical tribal followers who are a factor of the culture of the herd.
Hence, each tribal community resembles a herd of cattle under the charge of one leader or the other.
The potential for such a leader to blossom into a full-blown tribal warlord, and to turn the whole tribe into a personal army under youthful tribal militias is real.
Hence the need to carpet presidential aspirants especially, and all other political aspirants generally, on their value proposition for their constituents–and to press them to deliver.
Development agenda
In the recent TV interview, the deputy president took away the initiative from his interviewer, to attempt to explain his bottom-up development agenda.
It only began coming out; much still has to be done before the country can buy in. The interview was largely a lost two hours that could have done more justice to the assignment.
A few things came through, nonetheless. The hustler notion, apparently, goes beyond the blue-collar worker to cover all who strive to achieve their dreams through hard work, without surrender.
There are blue-collar hustlers and white-collar hustlers, too.
The DP and his people still have a lot of homework to do to bring this notion home and how exactly the hustler dream could transform the country.
He attempted to talk mathematics and mathematical formations. This does not work in the broadcast media. You soon enough lose your audience in the mental arithmetic, calculus and algebra.
A simpler explanation of what the hustler thing is and why we should believe in it and vote for it will suffice.
Hustler narrative
Regardless that people will buy into the hustler narrative or not, it begins looking like a viable alternative to conversations of the tribal herds that will flock together.
The notion of alliance formation could steadily move away from raw flocks that do not understand why they vote the way that they do.
They could go beyond the 'knowledge' that, like Ruth the Moabitess, they must follow the tribal Naomi wherever she goes and be buried wherever she is buried.
Similarly, the notion of 'our people' begins changing as does the notion of alliances.
If the conversation takes traction, then future alliances are likely to be alliances of ideas, rather than alliances of ethnic kingpins. The country will wait to see.
In recent times, Amani National Congress leader Musalia Mudavadi comes closest to Ruto in the effort to have an issue-based political agenda.
The two seem to take the lead over the ODM leader, who has previously attempted to fashion some tangible agenda around which people should vote.
His historical 'Maisha Bora' message promised better living standards as a hopeful agenda. It promised to fight corruption, inequity in society and to make society ride on the wheels of good governance.
Regrettably, it also wore the face of ethnic hostility.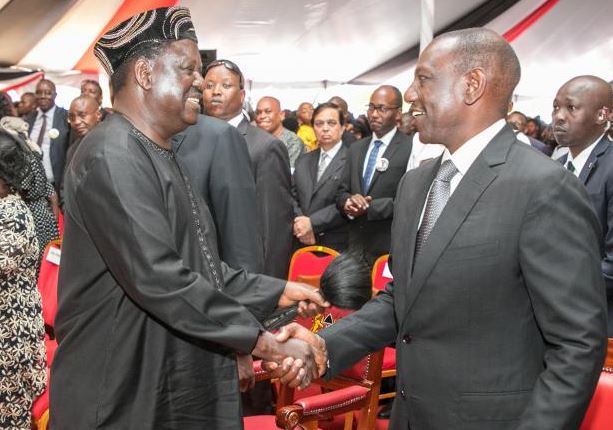 Cautious borrowing
Mudavadi pitches around the economy. This seems to be a good buzz word that makes parts of the country to warm up towards the ANC leader.
He builds around it thoughts about cautious borrowing, responsible management of public funds and debt rescheduling.
Yet he still needs to bring this message home in clearer terms. So what when we are not borrowing? So what after debt rescheduling? How exactly does he intend to resuscitate a dying economy? On whose back?
Why should we believe in him and vote for him? Can we trust him to be free from ethnic hostage takers, both from his tribe and from kingmakers from other tribes?
When he speaks to the country, both through his own initiative and on media-driven platforms, Mudavadi would do well to begin breaking these things down into smaller and delicious pieces that Kenyans can chew, swallow, digest and absorb.
It is difficult to tell what former vice president Kalonzo Musyoka stands for. His clarion call is, "We must unite this country."
It is a noble call, without a doubt. Yet devoid of context and a concrete future agenda, it could mean anything and nothing at the same time.
Put on the carpet on TV in recent weeks to say what his government would achieve in the first 100 days, Kalonzo was curiously tongue-tied.
He hemmed and hawed, making inertia-based excuses for the media house and the audience alike.
This notwithstanding, Kalonzo has a dedicated herd of followers. They will stand with him wherever he stands and fall with him where he falls.
Former Machakos Senator Johnson Muthama has learned this lesson the hard way, when he tested Kalonzo's mettle in the recent senatorial by-election in Machakos.
Even without any clear agenda, Kalonzo and his candidate, Muthama's former wife, licked Muthama's candidate hands down.
Yet, together with his handlers, Kalonzo still needs to carve out some promissory agenda that citizens could believe in, beyond vague unity based sound bites.
Kanu's Gideon Moi has yet to come out.
The day he gives his first exclusive live interview, the rest of the channels in the country may find themselves hard-pressed for viewers.
A presidential hopeful of Gideon's stature has most of his cards and marks intact – to keep or to squander the moment he removes the veil.
His time for a one-on-one with Kenyans is here.
Within the unofficial One Kenya Alliance to which Gideon, Mudavadi and Kalonzo belong, there is also Bungoma Senator Moses Wetang'ula.
Some would say that Wetang'ula is Mudavadi's understudy in their native Western and that this unburdens him of the responsibility for a clear visionary agenda. Yet the place for such agenda is personal.
Visionary agenda is the active ingredient in strong personal branding. What is the one critical thing that the country thinks of when it hears your name?
Personal brand
Indeed, personal brands go beyond the graphics, designs and colour works, and sundry insignia, that people often fashion to say that a politician is now branded. Such graphics are useful for aesthetic appeal. Yet they are not the brand.
The brand is the one crucial community-felt need that the politico stands for.
A strong brand association exists between the person and the community need. For some it is food security. For others it is water and yet for others health, or some other value.
For Raila, it was democracy and good governance, for the longest time. It is not clear whether this still holds after his current sojourn in Jubilee's Kieleweke house. He will need to test it. But, at least, that is a brand he has been associated with.
What is the brand for everyone else? Presidential upstarts like governors Wycliffe Oparanya (Kakamega), Alfred Mutua (Machakos), Kivutha Kibwana (Makueni) and Hassan Joho (Mombasa) also need to address the same questions.
What is their brand and their visionary agenda for the country?
In the coming days it will be interesting to see whether Kenya can move away from the politics of ethnic-based deceit and mobilisation, serial breaking of political treaties and betrayal of allies, towards useful visionary agenda.