Mbadi: Ruto is confused and conflicted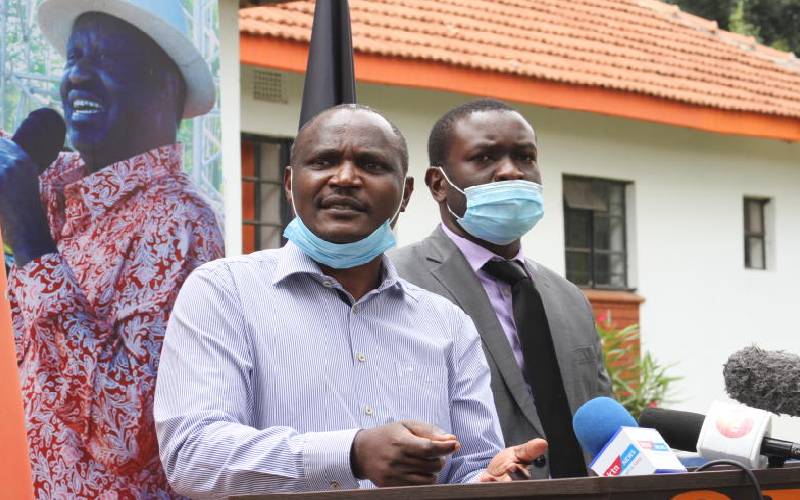 The Minority Leader at the National Assembly John Mbadi has said that Deputy President William Ruto is indecisive on which position to support with the 2010 Constitutional Amendment Bill.
Speaking in an interview on KTN News, Mbadi said, "I think Ruto is showing some level of confusion. He is conflicted. He wants to go NO but does not have the courage to do so."
Mbadi also went ahead to question why Ruto went silent on the whole BBI process only to voice his concerns at the last minute.
"He is the one who immediately after the handshake and formation of the BBI Taskforce disengaged from the process completely. For reasons best known to him, we are aware he has not denied that the president consulted him during the formation of the task force and the process leading to the handshake," he said.
Mbadi went ahead to say that the BBI document has been extensively discussed by all the parties involved.
"The president mentioned that Ruto helped him constitute his side of the BBI taskforce and he was briefing him all through the process leading to the handshake. What reasons has Ruto given to Kenyans why he decided not to participate in this process?" he said.
"Why did the Deputy President, who is a very senior Kenyan, choose not to participate in the process and waited until now when we have kicked off the signature collections?" he also posed.
He urged the Deputy president to not only criticize the provisions but also to offer solutions.
"On the issue of the Prime Minister and Deputy Prime Minister, can he (DP Ruto) tell us exactly what he wants because he is one of the people who were against creating two centres of power," he went on to explain.
He also told off those who argue that their views were not well-captured in the BBI
"In a Constitution-making process, you do not always get everything you want."
Mbadi also stated that we have had the current constitution for ten years and that a time had come for an amendment.
"This is a Constitution that is ripe for amendment. We passed it knowing that there is a portion of it that required future amendment. A time has come for that and we must do it," he said.
Deputy President yesterday held a meeting with several leaders at his Karen residence where he said that a referendum is not a priority for the country.
Some of the provisions the deputy president wants to be changed in the BBI before the country goes into a referendum include getting rid of the provision requiring the appointment of the Judiciary Ombudsman by the Executive and the re-introduction of 47 women Representative in the National Assembly.
Download the BBI Judgement by all seven Judges - Civil Appeal No. E291 of 2021