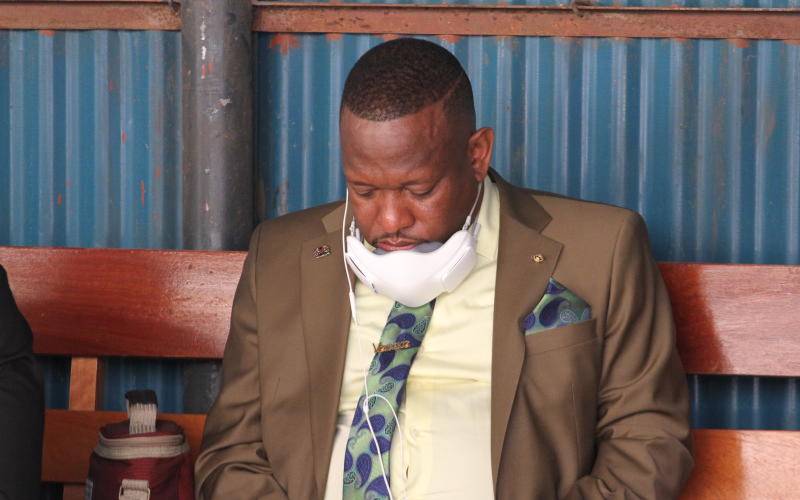 Besieged Nairobi Governor Mike Sonko might be radiating defiance in public, but all indications are that he is working behind the scenes to torpedo an attempt by MCAs to boot him out of City Hall.
The latest offensive –an impeachment motion– is the most serious of the many tribulations hanging over the governor's head.
"I'm ready to go home. As I said before, there is life after politics. My father was not a politician," he bravely claimed yesterday.
Read More
The chest-thumping continued: "I don't need to be saved. I will stand firm like the Senate when they were dealing with the County (Allocation of) Revenue Bill. I will not, I shall not and I am not going to append my signature to give funds to an illegal entity."
But despite the swaggering braggadocio, sources intimated that Sonko had reached out to ODM leader Raila Odinga to try and plead his case.
On Thursday, Sonko is said to have led a delegation of 20 MCAs to Jubilee Secretary General Raphael Tuju's Nairobi home in a failed attempt to reach President Uhuru Kenyatta's ear.
"It hit a brick wall... the constant refrain is that Sonko signs the budget and allows the General to carry on or he is impeached and the General takes away everything in his absence. The issue of BBI support is also beginning to creep in," said a source.
The sources was referring to Nairobi Metropolitan Services (NMS) boss Maj-Gen Mohamed Badi.
By last count, 86 MCAs out of 122 had appended their signatures in support of the ouster motion, easily surpassing the one-third (42 members) threshold required by law.
According to the Nairobi County Assembly Standing Orders, the governor has one week to argue his case by presenting evidence against the grounds for his ouster. ODM Minority Leader Michael Ogada tabled the ouster motion.
The impeachment motion is slated for December 3.
Sonko is accused of abuse of office, gross violation of the law, committing crimes under national and international laws, and lacking the physical and mental capability to run the county government.
He is further accused of crippling operations of the Nairobi Metropolitan Services (NMS) and the County Executive through failure to assent to a Sh37.4 billion budget.
The NMS had been allocated Sh27.1 billion to run operations in the transferred functions of health, transport, public works and housing.
If the motion is passed by two-thirds of members of the assembly, Nairobi Assembly Speaker Benson Mutura shall inform the Speaker of the Senate of that resolution within two days.
Declare vacancy
If the Senate gives its approval, a vacancy will be declared in the Nairobi County Assembly.
Ogada said he is optimistic that Sonko's fate is sealed, adding that the city boss had failed to perform the few functions he did not sign away.
"We will not keep on watching and waiting forever. As Nairobi MCAs, we have made a decision to bite the bullet and make sure normalcy is brought back to the city," he said.
Assembly Majority Leader Abdi Guyo said Sonko's survival chances are slim because the motion enjoys support from members across the political divide – support that is borne of wider consultations at the apex of the major parties.
"We are resolute in our action. Ours is to do our work and then hand over to the Senate, which I am optimistic will see that our grounds for impeachment are credible," said Mr Guyo.
Deputy Minority Whip Moses Ogeto said Jubilee and ODM had reached a consensus to whip their members into supporting the motion.
"As ODM, we will make sure the impeachment plane lands safely because the residents of Nairobi are depending on us to deliver services but we can't because of one Mike Mbuvi Sonko who has proven to be an impediment," said Mr Ogeto.
Sonko's allies, however, said it would not be easy to get rid of him. Led by Roysambu MCA Peter Warutere, they argued that the grounds for impeachment were frivolous. They said most of the issues being raised were legal matters that should be left to the courts and addressed through dialogue.
"Even if the governor is impeached, he has other avenues such as the courts and the Senate where he can seek redress," said Mr Warutere.
Highrise MCA Kennedy Oyugi was also optimistic that the impeachment plan would backfire. He said it was improper for ward reps to introduce an ouster motion to 'arm-twist' the governor into giving in to their demands.
Sonko's spokesman Ben Mulwa said his boss was rallying allies in the assembly and Senate to ensure the ouster motion was 'dead on arrival'.
"There is no way those grounds will hold. Ninety per cent of the issues the MCAs are raising are before a competent court of law. To proceed with the impeachment motion would be to purport to start a parallel prosecution of the governor," said Mulwa.
If the motion succeeds, Mutura will take over as acting governor for 60 days in readiness for a by-election.
According to the County Governments Act, if a governor is impeached, the deputy automatically takes over. This is what happened in Kiambu when Governor Ferdinand Waititu was kicked out and replaced by James Nyoro.
But because Sonko has been working without a deputy following the abrupt resignation of Polycarp Igathe in January 2018, Nairobi residents will have to go back to the polls.
Sonko's defenders have argued that a mini-poll would destabilise the capital city and the country.
"The schemers of this sinister move do not care about this country. They care about narrow personal interests and that is why they are persecuting the governor without any regard for the consequences," said Mulwa.