Leaders hit out at Uhuru over plot to extend his term in power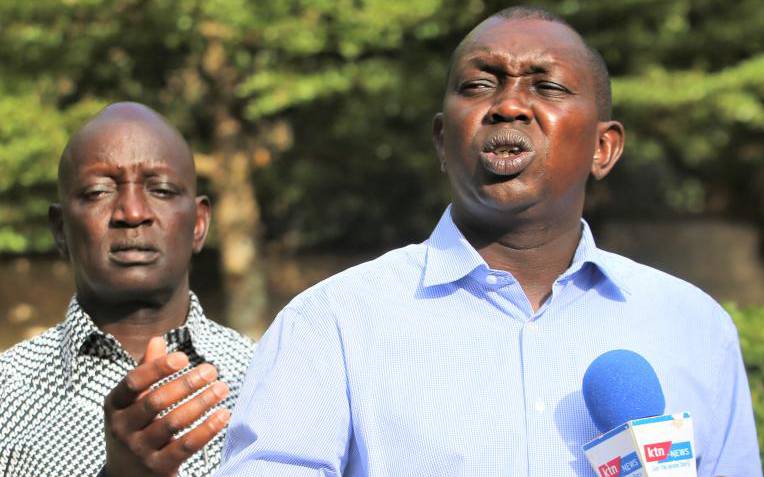 Rift Valley leaders want President Uhuru Kenyatta to state whether he has ambitions to run for a third term.
They claimed his dalliance with Opposition leader Raila Odinga following the handshake had brought forth uncertainties on leadership plans in the country.
The leaders, who spoke yesterday at AIC Kimoson Church during a fundraiser, maintained that President Kenyatta should come out clear on whether he was interested in another term instead of hiding under the veil of the handshake
First to launch the attack was Kapseret MP Oscar Sudi who said Uhuru should be completely honest with Kenyans on the handshake plans.
Amend law
"Kenyatta should tell us what plot he has. If he wants to remain in power, he should come clean on his ambitions so that as legislators, we can see how to amend the Constitution," he said.
He added: "As leaders from the Rift we are tired with all the nonsense that we are witnessing in Government. If Kenyatta does not want to retire, he should speak up so that we can meet and discuss the way forward, but the matter of chasing and arresting one individual after another as a plot to target Ruto (Deputy President William Ruto) should stop because Kenyans are now intelligent."
He claimed that the veiled attacks on the DP were because of his 2022 presidential bid — a move that has not augured well with some individuals.
"When Ruto was supporting the former premier, nobody branded him as a thief, similar to when they worked together with Kenyatta but why is it that when he has declared interest in the top seat, he is being fought. We know those who are leading in theft in the country and we are willing to speak about it, time will tell," he added.
The MP claimed that the ongoing investigation into Arror and Kimwarer dams in Elgeyo Marakwet was a diversionary tactic from the Jomo Kenyatta International Airport (JKIA) saga that is being investigated in Parliament.
Kimilili MP Didmus Barasa said Kenyans had lost hope in the current regime because of Raila's presence and plot to amend the Constitution to benefit a few individuals.
"If he has hopes of the premier position in the next government, we will also advice Ruto to stop his presidential bid and opt for the same seat. No one says that Raila should be the ultimate person for the prime minister post," he said.
Uasin Gishu Governor Jackson Mandago challenged the Directorate of Criminal Investigations (DCI) to probe graft cases without interference.
"As the chairperson of the North Rift Economic Bloc, I will not accept individuals to start politicising projects such as that of dams because it is beneficial to the citizens and investigating agencies should not be coerced or lean on one side, they should base it on facts," he added.
Political wars
Bahati MP Kimani Ngunjiri criticised Uhuru's claim that the handshake between him and Opposition leader Raila Odinga was meant to unite the country.
Speaking in Nakuru during a press brief, Ngunjiri said it was not right to sit back and watch Raila and Ruto engage in political wars.
He said the country was doing badly even after the handshake.
"We are not doing well as a country and President Kenyatta should tell us if he is overwhelmed. You cannot see your deputy being fought while you remain silent, come out and defend him, don't lie to us that you are uniting Kenyans, you have divided us," said Ngunjiri.
The President, he said, seems to have neglected Ruto and instead declared support for Raila. He said some people in and outside Parliament were working on a structure to divide the country come 2022.